Elise GT1, 1997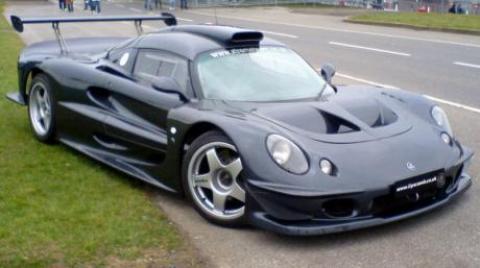 In 1997 Lotus unveiled the Lotus Elise GT1, a derivative of the Lotus Elise and powered by a 3.5 litre eight-cylinder engine. A Hewland six-speed sequential gear box helped transfer the 580 horsepower to the rear wheels. The body is carbon-fibre and the chassis is an aluminium unit borrowed from the Elise. Ventilated disc brakes were fitted on all four-corners. Performance is 0-60 in 3.8 seconds, and top speed is 200 mph. For more info click here or tech spec here (pdfs), or the Wiki entry here.
Twin Turbo V8, Displacement 3506cc
Transmission: 6-Speed Manual
Horsepower 580 BHP at 7500 rpm
Torque 390Nm / 288lb/ft at 6500 rpm
0-60 mph in 3.8 sec, Top Speed 312 kph / 195 mph
Brakes: Vented Discs
Weight: 1052 kgs / 2315 lbs

The original GT1 was planned to have the Esprit 3.5 V8 engine, but 2 other configurations exist - a 2.8 turbo and a 3.5 turbo
When the rules were changed, apparently favouring atmospheric induction, big capacity engines, so at Lotus they decided to use the Corvette-based motor (developed at Lotus Engineering). Italian team GBF decided to stay on the turbo route, and developed, with the help of former Ferrari technical boss Mauro Forghieri company (Oral Engineering), a smaller capacity V8, trying to take advantage of the lesser weight the rules allowed.
Former factory driver Mike Hezemans of the Netherlands, feeling that the Elise GT1's main faults were in its power and aerodynamics, decided that the car should not be abandoned. Buying two former Elise GT1 chassis, Hezemans turned to Bitter Cars of Germany to modify the car. The front end was made longer and smoother in an attempt to increase front downforce. To replace the Elise GT1's Chevrolet V8, Hezemans and Bitter turned to Chrysler, buying Viper GTS-R 8.0L V10s which were being used in their GT2 class racing cars. However, they were not very successful
Elise GT1 Type 115 technical data
Performance

Max speed
198.4 miles/h (320 km/h)
0-100 km/h
3.8 seconds
Engine

Power
261 kw (350 bhp / 355 ps)
Torque
400 Nm (296 lb-ft)
Displacement
3.5 liters
Engine type
V8 twinturbo
Engine location
middle
General data

Gearbox
6
Drive
rear
Mass
1050 kilograms (2310 lbs)
Calculations

Power to Weight ratio
333.34 hp/tonne
Power per liter
74.57 kw/liter
The return of the GT1, 2005
See http://www.teameliteracing.com/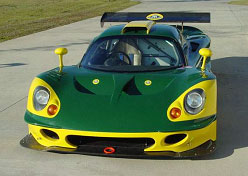 Elise GT1 raced at Sebring in March 2005 in the LMP1 class of the American Le Mans Series. Team Elite planned to use 2004 as a test and development season in preparation for a full two car assault on the 24 hours of Le Mans and ALMS in 2005.
"This is an exciting year for Lotus with 2004 being the 50th anniversary of Team Lotus " said Gary Ankenmann, Director of Team Elite.
Johnny Herbert assisted with the cars testing and development prior to its historic first race at the Mobil 1 Twelve Hours of Sebring in late March. Johnny has a history with Lotus, being one of their last Formula One drivers. Other drivers considered were Marino Franchitti, Alex Zampedri and Ian Boss.
With the Management based in Toronto, Canada, Team Elite operated out of Florida with Technical Direction by Jim Higgs, owner of JB Racing Inc. A Florida-based company specializing in the manufacturing of high-performance parts and race engine building and development, JB Racing, Inc. was selected by Team Elite to revive the Lotus GT1 racing program.
Keith Smout, who has been Commercial Director for both BAR and Jaguar Formula One teams before returning to Canada in 2002 and Elite Motorsports Management Director, Gary Ankenmann was involved in commercial marketing activities for the previous 7 years ran the teams operations on a day to day basis.
In the race, it qualified back of the pack and when the race started it only lasted a few laps.
Press release from Team Elite, 2004:
Team Elite mixes youth with experience at the Sebring 12 Hours

Team Elite, which is bringing the Lotus name back to international motorsport, heads into its debut race at Sebring on March 20 with a driver line-up that blends youth with experience. Seasoned sportscar campaigner Jay Cochran, who scored a debut victory for the Ferrari 333SP in 1994, heads up Elite's driving strength. He will be joined in the team's Lotus Elise GTP by Ireland's Damien Faulkner, a former Indy Lights and Dallara Nissan World Series racer who is now forging a career in long-distance racing. A third driver will be announced in the run-up to the race.

Team Elite principal Keith Smout said: "We wanted a combination of talents in the car for our debut at Sebring. We believe that Jay and Damien fulfil our requirements. Everyone knows Jay's sportscar pedigree and we've chosen him to help develop the Elise GTP. His experience will be invaluable for what we are viewing as a public shakedown for the car. Damien is a young talent who can bring a lot to our programme. I believe he has a big future in sportscar racing."

Jay Cochran, 41, said: "I've raced for Ferrari and Jaguar, so it is great to now say that I'm a Lotus driver. I'm very excited about this project and the chance to go back to Sebring."

Damien Faulkner, 28, said: "This is a great opportunity for me to establish myself in sportscars. Team Elite are an ambitious team with big long-term goals, so I'm happy to forge this alliance with them early in their programme."

Team Elite is joining up with Dunlop for its 2004 sportscar programme. The LM-GTP class Elise will run on Dunlop tyres throughout the season.

Smout said: "This is a major bonus for Team Elite. Dunlop has extensive experience of the LM-GTP category from its years with Bentley at Le Mans in 2001-02 and will be working closely with us during the year."

The V8-engined Elise GTP will celebrate the 50th anniversary of Team Lotus, the name under which the historic marque won 13 Formula 1 World Championships between 1962 and 1979. The car will run anniversary decals incorporating the famous green-and-yellow Team Lotus roundel at Sebring.

Team Elite has also announced a tie-up with a new, state-of-the-art motorsport facility in British Columbia, Canada. The Active Mountain Raceway, 120 miles east of Vancouver, will be used during the Elise GTP's test and development programme.

Team Elite's headquarters are in Toronto, Ontario, Canada, while its technical base is in Tavares, Florida.