Exige 265E Bio-Fuel: British, Racing and Very Green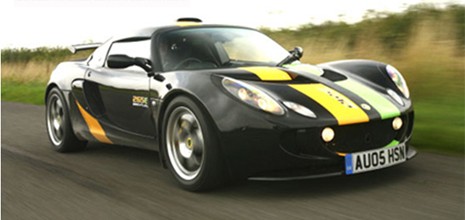 Lotus Engineering, the engineering consultancy division of Group Lotus Plc has developed a bio-ethanol E85 version of the Lotus Exige. The research vehicle is a true Lotus (it weighs just 930 kg unladen) and is called the Lotus Exige 265E.

The Lotus Exige 265E – the most powerful road version of the Lotus Exige ever – and it runs on environmentally friendly Bio Fuel.
Scope - "Efficient Performance"
The 265E engine started off as a production specification Exige S engine. It then underwent a series of modifications to allow it to run on the E85 fuel.
Four enlarged fuel injectors have been fitted to increase fuel flow into the engine under normal operating conditions. Two additional fuel injectors have been fitted at the supercharger inlet to increase the amount of fuel being injected into the engine under higher engine speeds and loads. This has also enabled the engineering project team to take advantage of ethanol's higher cooling effect to further cool the charge air prior to combustion, which in turn reduces the amount of power required to operate the supercharger.
A true Lotus solution where the ethanol does more than just provide energy for combustion!
The Lotus T4e Engine Management System then had to be calibrated to optimise engine performance when running on various mixes of the high-octane bio-ethanol fuel and gasoline. The re-calibrated EMS coupled with an ethanol sensor in the fuel system provides true flex-fuel capability.
This has resulted in the fastest road going Lotus Exige produced and the most environmentally friendly.
Technical
- Engine - Supercharged 1.8 litre VVTL-i Air/air intercooler
- Power - 264 bhp (197 kW) (268 PS) at 8000 rpm
- Torque - 184 lbft (249 Nm) at 5500 rpm
- Transmission - C64 six-speed gearbox Torsen type LSD
- Performance - Maximum speed: 158 mph (254 km/h)
- 0-60 mph: 3.9 seconds
- 0-100 mph: 9.2 seconds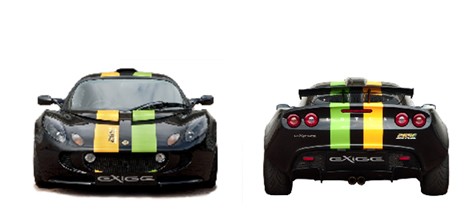 Technical Demonstrator Vehicle Features
- Renewable fuel source - BioEthanol E85
- Calibrated for flex-fuel operation
- Carbon cycle corrected CO2 output <100 g/km
- Lightweight Lotus Sport five spoke forged alloy wheel
- Lotus Sport Big Brake Kit (front)
- Uprated rear brake pads
- Lotus T4e engine management system)
- 284 bhp/tonne (212 kW/t)
- 930 kg (unladen)
- When compared with standard Exige S: 21% more power 16% more torque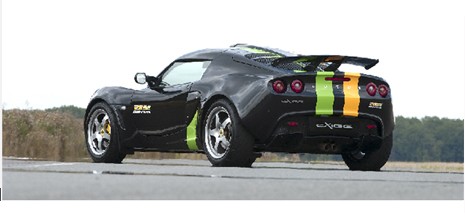 Full details here