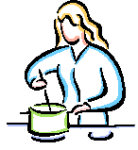 Cookery Favourites
Having lived in Germany and Spain, I assembled a few of my home based favourite recipes, which grew to include local specialities. At first this was just cuttings and bookmarks, but I've tried to collate them here in one place.
My cookery bookmarks are here, and some common fuit and veg suggestions for common ailments can be found here
Next will be to sort some kind of database for my collection of recipes....but in the meantime....
General
Come Dine with me menu
Gweneth Paltrow's detox diet
MGBBS
Mention here must also be made to Joint Service Publication (JSP) 404 - Manual of Catering Services, which contains many traditional recipes and helpful advice / guidance
Can't find the recipe you're after?.... then try this search engine....