Elise Model Guide
96
97
98
99
00
01
02
03
04
05
06
07
08
09
10
11
Elise S1, 1996
Type 111
VIN: T 0017 onwards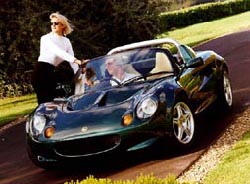 Conceived as a low production model, the Elise has shattered sales expectations and returned Lotus to the forefront of sports car production. This car has also spawned some very interesting limited editions, including the 340R, the Exige coupe, and several motorsport derivatives.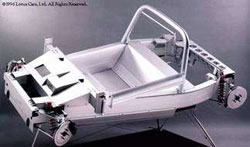 The standard engine is a Rover K-series 1796cc with 4 cylinders in line, and mid mounted transversely. It has an aluminium engine block and aluminium cylinder head with double overhead camshaft, hydraulic tappets, and fuel injection. Peak power is 118bhp (88Kw) at 5500rpm, peak torque is 122 lb.ft (165Nm) at 3000rpm Click here to see the S1 Brochure, or here to see more


In 1997 Lotus unveiled the Lotus Elise GT1, a derivative of the Lotus Elise and powered by a 3.5 litre eight-cylinder engine with 580bhp. The body is carbon-fibre. Performance is 0-60 in 3.8 seconds, and top speed is 200 mph. For more info click here
Sport 135, 1998
VIN: X 5401-5450, 6001-6035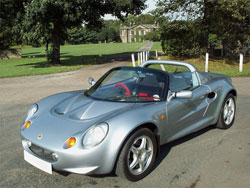 The Sport 135 was first launched as a limited run of 50 in November 1998, VIN: X 5401 - 5450. It has some improvements to increase the power to 135bhp (although it seems 145bhp is not unusual). Other additions include close-ratio gearbox, sports exhaust, drilled brake discs (cast iron), blue tinted metallic silver paint (Quicksilver), dark blue hood, corbeau sport seats, silver roll over bar, racing steering wheel, headlamp covers, driving lights, and unique Sport 135 body graphics. The catalytic converter is replaced by a through pipe which means the car has to be homologated and this is the main reason for the limited first production run.
The second batch of cars were produced for the 1999 year (VIN: X 6001 - 6035) and had 111S wheels, tyres and spats, black painted fuel filler cap, matt finish alloy gear knob and Sport 135 '99' decals.
See here for more details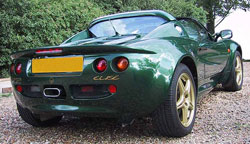 50th Anniversary Edition, 1998
VIN: X 5463 - 5816
This is a special edition car based on the standard model. It was launched in late 1998 and only 50 were produced. It was available in one colour only, a metallic green with two tone green/beige leather seats & gold wheels.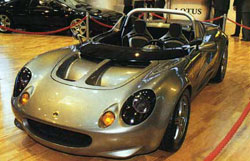 This car was originally called the Sprint and shown in a windowless format, but later re-named the 111S when it was launched at the Geneva Motorshow in 1999. The main difference on this model is that it has the Rover K-series 1.8 Variable Valve Control (VVC) engine which gives 143bhp giving improved performance figures of 0-60 in 5.38 secs, 0-100 in 14.4 secs, and a maximum speed 133mph.
The VVC progressively changes the cam profile, unlike the Honda VTEC engine which is more of an on/off action. These means that it also comes into effect lower down the rev range, giving a wider and smoother power band.
The 111S also features wider 225 section rear tyres and some controversial cosmetic changes such as new 6-spoke wheels, a spoiler, an egg-crate grille, and a carbon effect dash. It also has aluminium window winders and optional 111S decals.
This car was replaced by a 160bhp version of the standard engine named the Lotus Sport 160 in August 2000.
My 111S page can be found here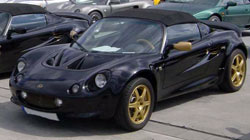 Heritage / Type 79 (JPS), July 1999
A limited run of 100 left-hand drive Elises in Black with gold wheels and grilles. The interior has a yellow/gold chamois effect seat panel and yellow/gold dash. These were a special run at the request of the Italian dealer network and although they are in JPS colours (gold instead of the original yellow), they are badged as 'Heritage' since Lotus don't hold the rights to the JPS mark. A limited run of 50 was planned in right-hand drive form and were sold as the Type 79. These were available with either standard or VVC engines.
Type 49, Oct 1999
Unveiled at the 1999 London Motorshow at Earls Court, this special edition Elise is painted in the same red, gold and white colour scheme as the Lotus Type 49 Formula One racing car. Also available with a yellow, white and gold colour combination. It was available with the standard 1.8 or the VVC engine.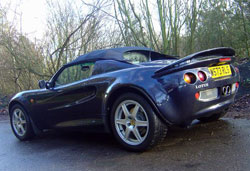 Millenium Edition, Oct 99
VIN: X 8177 (approx.)
Available based on either standard or 111S versions. Atlantis Blue body colour. All cars have blue Alcantara steering wheel pad and sill trim panels, 111S type black leather seats with blue Alcantara centres. Standard versions also have 111S type road wheels, rear wheelarch spats and headlamp covers. Cars were usually supplied with a range of dealer fitted Lotus accessories.
340R, 1999
VIN: Y 0004 to 0009, 9640+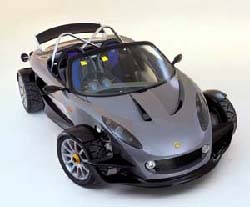 Launched at the Hippodrome in London in August 1999. First called the 340R due to it's power to weight ratio (170bhp and 500kg) and because only 340 were built.
The 340R is powered by a 1.8-litre VHPD (Very High Performance Derivative) K series engine producing 180PS. And in an extremely light car, equipped with a close ratio gearbox, giving a performance of 0-60mph in 4.4secs, and a top speed of 133mph (214km/h).
The addition of the power enhancement as part of the track pack (uprated ECU, no cat, motorsports silencer, 101 inlet cam pulley, 82deg t'stat, oil breather catch tank) give 195bhp. The dry weight of the standard car is 658kg, the power enhanced version being about 5kg less due to the lighter exhaust. The full track prepared car, stripped out and with the track pack weighs 571kg.
M250, Frankfurt Motorshow 1999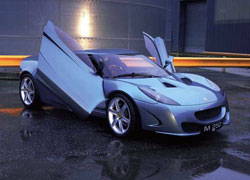 The concept behind M250 was to "produce another superlative driver's car in the same mould as the Elise, but with technical refinements and enhancements made possible through what we've learned from over 50 years of sportscar development."
Powered by a mid-mounted Lotus-tuned 3.0 litre V6 engine that drives the rear wheels through a six-speed gearbox, project M250 was aimed to slot into the Lotus line-up between the Elise and the Esprit. The M250 sadly never made it into production
Click here for a preview of the M250. More info from Pistonheads.
Unfortunately this programme was cancelled :-(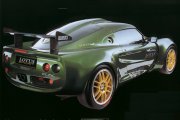 Designed for a special Lotus managed race series it features a tuned VHPD K-series engine giving in excess of 200bhp. This Elise based coupe has lots of carbon fibre components. (See also S1 Exige below)
Sport 160, Feb 2000
SVA: VIN: Y 0601 to 0650
WVTA: VIN: Y 0651 onwards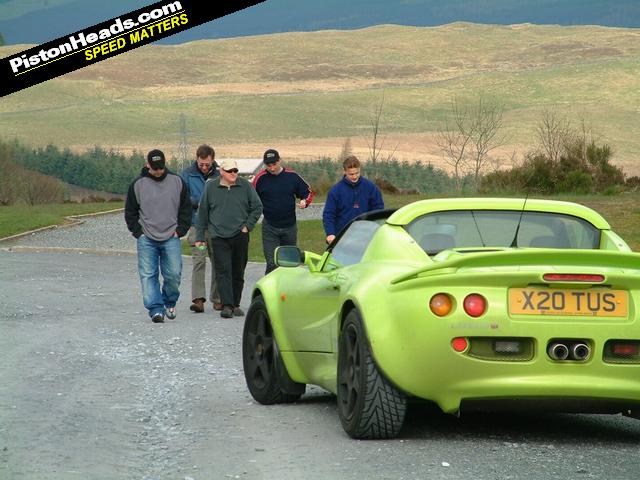 The Sport 160 was launched in February 2000. It featured an improved Sport 135 head with new cams and ECU. The first 50 cars had a GEMs ECU, later cars had a EFI Technology ECU. The GEMs unit lives in the engine bay, the EFI lives in the boot.
The first 50 Sport 160 cars underwent Single Vehicle type Approval (SVA) testing (identified by a VIN between 0601 and 0650), and are factory built with catalytic converters and 'Sport' exhaust to produce 160PS @ 7000 rpm and 178Nm torque @ 5000 rpm. Subsequent cars were Whole Vehicle Type Approved (WVTA) and were factory built with catalytic converters, 111S exhausts and dual intake air cleaner/muffler assemblies to produce approx. 150 PS, but were readily converted to 160 PS specification by carrying out an intake airbox modification, and fitting the 'sport' exhaust
For more info on the 160, and a link to the online brochure, click here
Exige, Apr 2000
VIN: Y 0001 (Character 13 = 8) - model specific serial number sequence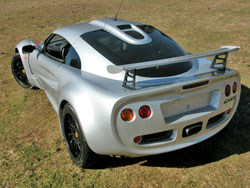 Officially launched by Lotus at Brands Hatch at the first round of the Lotus Motor Sport Elise race series (9th April 2000). This fixed roof coupe has the same 170bhp engine as the 340R with option to upgrade to 190bhp. It features Lotus sport suspension, the close ratio gearbox and anthracite wheels. Large carbon rear wing similar to Esprit 350 Sport. Optional sports exhaust and 340R style seats are available.
0-60mph in 4.7 seconds and it shares a lot of technology from the Motor Sport Elise car with several cooling intakes added including one on the roof. A lightweight glass fibre reinforced composite body is used featuring a deeper front splitter and a high level rear wing, giving improved downforce characteristics whilst minimising drag. The polycarbonate tailgate allows you to see the engine. It also features a higher geared steering rack (2.3 turns lock to lock) than the standard Elise. As of October 2000, air-conditioning was made a standard fitment on the Exige. More info here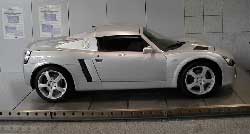 Nicknamed the Skipton in Hethel during development, Lotus has worked in co-operation with designers and engineers from the Opel/Vauxhall International Technical Development Centre in Ruesselsheim, Germany, to build the VX200 (named the Speedster for the European market). Lotus built the original concept show car - one of the stars of the March 1999 Geneva Motorshow. Powered by Opel/Vauxhall's all-new, aluminium ECOTEC, 2.2-liter, four-cylinder gasoline engine.
Official site: http://www.speedster.opel.com/ More info here too
The VX220 Turbo was launched in 2003. The car used the 1.8-litre turbocharged engine from the Zafira GSi and Astra SRi but with power increased from 189bhp to 200bhp and torque climbing to over 190lb ft - expect a 0-60 time of well under five seconds and a top speed limited to 150mph.
Project Tornado (as the car is codenamed within Lotus and Vauxhall) had difficulties with engine cooling during development.
Lotus ceased production for General Motors subsidiaries Opel and Vauxhall in 2005.
Elise S2, Nov 2000
Type 117
(identified as 111 for type approval)
VIN character 10 = 1; VIN character 13 = 7; Serial number from 0018
Co-incident with 2002 model year changepoint. VIN character 10 = 2; Serial number from 1936.
VIN character 12: C = RHD heater, D = LHD heater, N = RHD a.c., P = LHD a.c.
VIN character 10 = 3; Serial number from 4397.
VIN character 10 = 7; Serial number restarts at 0001, common to all variants. VIN character 4 identifies engine type. Elise S = Y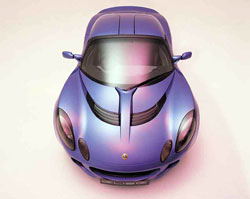 Gull wing hard top shown in early publicity was never produced by Lotus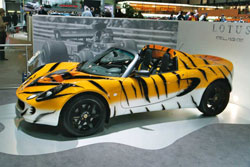 My personal favourite S2
(This car was sponsored by Lotus Cars Swiss Dealer network for the Elise Swiss Trophy 2002)
Nicknamed the Monza in Hethel during development.
The first S2 built on the production line was chassis no. 012, 001-011 being the five development cars and the first six press cars. The first customer car built was chassis 122, all the cars built before those were dealer demo cars.
The smooth contours have faded in favour of a more aggressive angular image. Available with two options - the Sports Tourer or the Race Tech. The Sports Tourer option pack adds 14kg and the Race Tech option pack 12kg.
The Sports Tourer features leather seats, dashboard and door panels, fitted carpets and polished aluminium controls, a four speaker audio system, adjustable passenger footrest and additional cabin storage.
The Elise Race Tech cockpit offers a race inspired modern interior. Seats are trimmed with carbon, leather and alcantara. Cross-drilled discs and auxiliary lamps focus the driving experience on performance. Aluminium driver controls and two-speaker audio system complete the driver's environment.
The rear diffuser is a finned and the optional one is a composite material. The fuel filler cap is a new motorbike style cap, the high level brake light moved to the roll bar cover and the boot now has separate lock mounted on it. The redesigned suspension features revised geometry, stiffer springs and Lotus tuned Bilstein dampers. It has new six-spoke wheels and tyres jointly developed with Bridgestone (Potenza RE040 tyres, 175/55R16 front, 225/45R17 rear).
The standard 1.8 K-series engine remains but Lotus and added their own Lotus K4 ECU and on-board diagnostics system to ensure EU compliance until at least 2004. With 120bhp and a close ratio gearbox as standard, it reaches 0-60 in approximately 5.6 seconds and 125mph top speed; 0-100mph time of approximately 17.5 secs.
Air Conditioning Option: February 2002. Cars with heater only continue unchanged, but a.c. cars use new heating, ventilation and air conditioning (HVAC) system, incorporating face level vents, dual intake blower fan, air blender flap without water valve, electrical rotary controls with stepper motor operated flaps. Larger engine cooling radiator with twin fans. Coolant re-circulation pump. Cobra 8185/8186 security system.
Cobra 8185/8186 Vehicle Security System: February 2002 Fitted on all cars with a.c. (see above) and then as running change to heater cars during March. Cobra 8185 immobiliser becomes standard specification. 8186 optional upgrade to meet U.K. Thatcham 1 requirements, including self powered siren, selectable intrusion sensor, illuminated entry. In March 2002 a new Hard Top Roof and 'Short' Soft Top was introduced
2007 model Elise S uses 1ZZ-FE engine producing 100 kW, with variable inlet timing but fixed valve lift, plastic inlet manifold, revised intake snorkel, revised exhaust manifold and downpipe, smaller tailpipes within standard trims. Elise S also uses new C56 5-speed transmission and 6-spoke roadwheels sharing styling of standard '01 model wheels.
Click here to see the S2 Brochure, or here for more press release info. Some pre-production model pictures here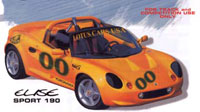 S1 Sport 190, January 2001
190hp Elise Sport for track use - it will not pass UK emission legislation. The Elise Sport has a power to weight ratio of 283.6 bhp per tonne. 0-62mph (0-100km/h) takes 4.4 seconds and 0-100mph (0-160km/h) takes 10.9 seconds. More info here and here
Elise S2 111, 2002
VIN character 4 = J;
Serial number from 2677
'04 M.Y. VIN from serial number 0004 & VIN character 10 = 4; Serial number sequence re-started at 0001 = Track biased option for Australia, Hong Kong, Japan, Singapore. Based on Elise 111
Launched in June 2002. The 111 uses the VVC K-series as used in the MGFT but uses a Lotus K4 ECU to provide 156bhp @ 7000rpm and 129lb-ft at 4650rpm. 0-60 time of 5.1 seconds. Features 8-spoke wheels with a lower unsprung mass than the standard S2 wheels. These are 5.5 x 16in fronts and 7.5 x 17in rears with Bridgestone Potenza RE 040 175/55 VR16 front tyres and 225/45 VR17 rears.
Elise S2 111S, 2002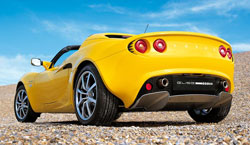 This car is identical to the 111 but features leather seats and trim, an upgraded stereo and carpets.
The 111 S2 was not sold with the longtail roof. Some sellers advertise their cars as a 111S (because the Elise model designation at Lotus is 111) they're really completely standard 120bhp cars. Usually the wheels and/or roof are a giveaway - six spokes or long roof = standard car; 8-spoke wheels and short roof=111. Although all S2s after the 1st June 2002 carried the short roof.
Lotus Sport 111, May 2003
'04 M.Y. VIN from serial number 0004.
Track biased option for Australia, Hong Kong, Japan, Singapore. Based on Elise 111 with following changes: Sports suspension with stiffer springs and dampers, adjustable spring pans, 5-hole anti-roll bar, re-positioned steering rack. O.Z. 16-spoke roadwheels in black or silver with 6.5J front rims. Yokohama A048 tyres. Body colour Silver Mica, Blue Mica, Starlight Black, Ardent Red. Body colour grilles. 'Lotus Sport 111' decals and interior embroidery. Black Alcantara trim features. High grade roof hoop with optional forward brace for MSA approval. Plaque on passenger sill.
Elise S2 Sport 135, 2002
VIN character 4 = M; Serial number from 4612
The Sport 135 upgrade to the standard Elise S2 was announced in January 2002 & available only in the UK. Initially only available on a limited number of new cars as a non-homologated upgrade. It features a ported cylinder head, the cast aluminium inlet system, introduced a stainless steel sports silencer and reprogrammed ECM to increase the power. A low restriction airbox has also been added to ensure that maximum revs can be achieved in each gear. The 135 upgrade kit gives the Elise 135hp at 6200 rpm and 175Nm of torque at 4850 rpm, 0-62 mph in 5.4 secs, 0-100 mph in 14.9 secs and a maximum speed of 129 mph.
For a limited period only, Lotus offered this kit to new buyers to increase sales over the winter months. The Sport 135 upgrade was made available to all S2 owners of S2 Elises in mid March 2002. It includes a new replacement head which has been ported and gas flowed, complete with valves, tappets, a new aluminium inlet manifold and plenum. The earlier proposed new air filter housing has been dropped in favour of a revision to the existing housing. The replacement K4 ECU has been reprogrammed to meet emissions tests. Cosmetic changes include a new bulkhead panel (required to clear the inlet manifold), a revised boot latch (for the same reason) and some 'Sport 135' decals. The kit does not include a sports exhaust which is required to unleash the full potential (2-3bhp lost with standard exhaust). The larger inlet manifold requires a new boot wall, slightly reducing boot space.
More details here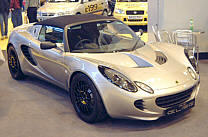 S2 Sport 190, 2002
The Sport 190 was first announced in January 2002 and further information appear at the Geneva Motorshow in March 2002.

Each S2 Sport 190 car is tailor made by Lotus Motorsport and although not strictly road legal, by deleting certain standard items the car can be made road legal.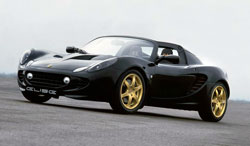 The Elise Type 72 shares a lot in common with the Elise S1 Type 79 or Heritage model. Mechanically it is the same as the standard S2 but can be bought with a factory fitted Sport 135 upgrade.
See http://www.type72.com/ for more info.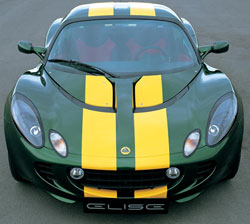 Elise S2 Type 25, 2002
Built to commemorate the revolutionary race car driven by Jim Clark in F1, painted in Lotus Racing Green with twin metallic yellow stripes running front to back. Unique black Lotus styled six spoke wheels. The interior includes perforated Ruby red leather seats, door panels and steering wheel centre (echoing the original), and red laurels embroidered onto the headrest of each seat. A Heritage Type 25 ID plate confirms it's limited edition status as only 50 of these cars were produced for the UK market. The car is also supplied with hard top maintaining the twin stripes.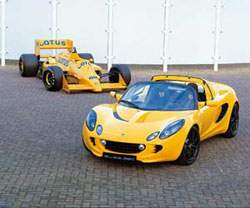 Type 99T is a celebration of one of the most distinctive Lotus Formula One cars. Unveiled in London on 3rd February 1987 the Lotus 99T holds the honour of being the last ever Lotus Formula One car to win a Grand Prix.Painted in unique 'Saffron Yellow' with subtle blue detailing to mirror that of the original race car, the Elise Type 99T commemorates one of the most recognisable cars in the history of Formula One.
Unique black Lotus styled eight spoke wheels complete the racing look from the exterior. The interior is furnished in perforated black leather sports seats and door panels, complemented by a black alcantara dash panel. Cross-drilled brakes, CD player, black soft-top and black carpets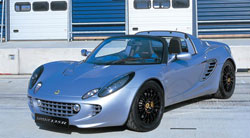 Developed by Lotus Sport and Performance in conjunction with the Lotus Ride and Handling team to develop a sports suspension set-up giving its user total control over ride height settings to maximise the cars performance in any environment. Following on from this, Lotus Sport and Performance has redesigned the flow characteristics of the cylinder head specifically for the 135R to offer greater flexibility throughout the rev range.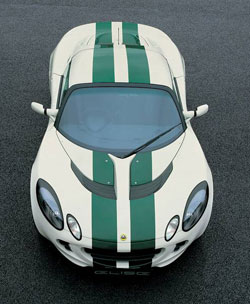 In addition to the engine modifications, the 3-piece F1 style diffuser and exhaust system has been utilised to further enhance the performance and character of the car.
The Lotus Sport Elise 135R will be built as a 'special edition' (denoted by the Lotus Sport chassis plate fixed into the passenger footwell) and as such will only be available in limited numbers.
New green/white paint scheme as a limited edition run. June 2003.
Elise S2 2004 USA variant, 2003
VIN character 10 = 5; Character 12 = L; Serial number from 0001 (shared with other '05 M.Y. Elises).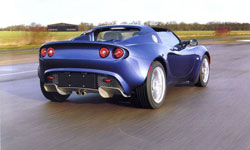 In January 2003 the first official announcement about a US bound Elise was made, to be based on the European Elise S3 but with additional safety equipment to satisfy US legalities. At the same time as this announcement, it was also declared that the Lotus Esprit would reach the end of its long and illustrious life in early 2004 in the USA and mid 2003 in Europe - with an all new replacement to be announced at a future date.
In September 2003 Lotus announced that the Toyota 2ZZ-GE 1.8 litre 4 cylinder 16-valve engine with Variable Valve Timing and Lift-Intelligent (VVTL->i) system had been chosen, to be mated to a six-speed gearbox and tuned by Lotus specifically for the U.S. and to produce around 190hp.
The Federalised Elise was officially launched at the 2004 Los Angeles Auto Show. The main changes over the existing Elise S2 are the Toyota engine and 6-speed gearbox. The weight has been confirmed at 891kg. 0-60mph is claimed at 4.8 seconds and top speed at 150mph. The additional weight is down to twin airbags, brake servo and TRW anti-lock brakes, climate control, air-conditioning and carpets and additional sound proofing. It also has a larger fuel tank and a starter button.
To get some in-life experience of this engine and to reduce potential launch issues and associated legal problems in the US, Lotus Cars are going to offer the same engine in the Exige S2, due to be launched at the Geneva motorshow in 2004. The Toyota Elise was later made available in the UK under the name 111R in January 2004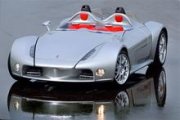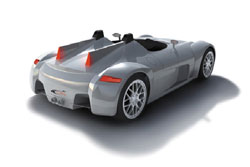 Pinifarina Enjoy, September 2003
Lotus announced they would build a limited run of less than a hundred cars, first customer cars were expected in 2005.
Using the K-series from the Elise 135R, the car features a wider track (2½" front and rear) and a wheelbase stretched by 3". To counteract the extra length which is mainly at the front of the car, the car has inboard suspension at the front. Wider 17" and 18" wheels are used helping both the look of the car and the grip.
The construction methods employed mean that the bodywork over the wheels can be removed simply, leaving a 340R-like car for track days.
Elise S2 2004 111R, Jan 2004
VIN character 4 = P; Character 13 = 3; Serial number 0970-2476
VIN character 10 = 5; Serial number from 0597 (sequence shared with USA model).
VIN character 10 = 6; Serial number restarts at 0001, common to all variants.
The UK version of the Toyota engined (US) Elise. For the first time, track tuned, high specification ABS with servo assisted brakes is offered as standard on the Elise 111R. Renamed R in 2007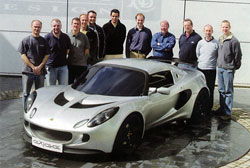 S2 Exige, March 2004
VIN character 4 = P; Character 13 = 8; Serial number from 1092
Differences compared with Elise 111R include: Restyled front and rear clamshells with fixed roof and strut mounted rear aerofoil. Front body splitter panel. Re-styled road wheels, wider on the front, and Yokohama A048 tyres.
Motorsport Exige, January 2005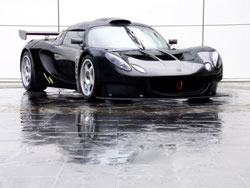 A direct motorsport derivative of the successful Lotus Exige. This Lotus designed and engineered race car was part manufactured by RTN, the team responsible for the Le Mans winning Bentley, using the latest motorsport techniques and procedures to produce a lightweight yet strong carbonfibre bodywork structure around the standard road-going Lotus Exige Aluminium extruded and bonded chassis, but with a V6 engine.
The Lotus Sport designed fully adjustable suspension system with double wishbones all round was fabricated and manufactured by Pilbeam. Power is provided by a 400 hp Swindon Racing Engines tuned GM 3 litre V6 racing engine linked to a Hewland sequential six-speed gearbox, with AP-Racing providing the braking system.
This one-off race car has been built for a South East Asian client and is expected to race in selected sportscar races in Asia. There are no plans as yet to build further examples of the Lotus Sport Exige but the base structure has been carefully designed to comply with key motorsport regulations around the world. Adhering to the key Lotus philosophy of performance through lightweight, the Lotus Sport Exige weighs in at just 850kg. The whole project, conducted in complete secrecy took less than 6 months. Full details here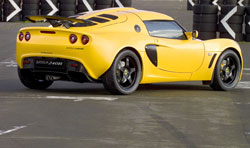 Limited edition of 50 units produced as post registration official factory conversions of '05 Exige by the Lotus Sport workshops at Hethel, for U.K. and certain overseas territories (up to 40 sold in the EU, the remainder mainly in Japan). The car is not identifiable from the VIN coding. They are only available in Sport Yellow or Sport Black, and has a unique interior trim in black with Lotus Sport Yellow highlights in leather.
With a supercharged and intercooled engine producing over 240 hp and over 170 lbft of torque, the Lotus Sport Exige 240R reaches 60 mph in less than 4 seconds and 100 mph (160 km/h) in less than 10 seconds before topping out at 155 mph (249 km/h). At this top speed the advanced aerodynamics produce 113 kg of downforce. The total unladen weight is approximately 930 kg and the power to weight is approximately 261 hp / tonne (195 kW / tonne, 266 PS / tonne).
A unique numbered Lotus Sport build plate is fitted to the aluminium chassis member on the passenger side. The interior also includes sports seats, driver and passenger four-point harnesses which are fitted to a cross bar that is part of the motorsport specification T45 roll bar. New lightweight five spoke forged alloy wheels are of a slightly wider section to the standard Exige wheel to accommodate the optional extra track only specification slick tyres as well as the Yokohama A048 tyres, which come as standard. These wheels are painted in "Satin Black" for the Sport Yellow painted version of the Lotus Sport Exige 240R and "High Power Silver" for the Sport Black painted version. In addition to the powerful four-cylinder engine, the Lotus Sport Exige 240R also includes specially developed Lotus Sport parts including upgraded brakes, stiffer springs and 2-way adjustable Ohlins dampers with ride height adjustment, an adjustable front anti-roll bar, twin oil coolers and an Accusump.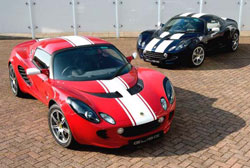 Special paint versions of '06 M.Y. 111R in either Ardent Red with triple Monaco White stripes, or Nightfall Blue with twin Monaco White stripes.
Combined total of 199 units with unique build plate on sill. Forged wheels, sport suspension, twin front oil coolers, traction control. Black leather interior with red or blue stitching, and red or blue 'Elise' embroidered into head restraints. Sports Racer decals.

Exige Cup 190 & 240, January 2006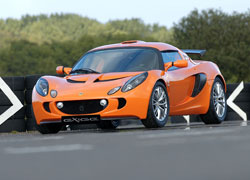 Limited number of competition oriented naturally aspirated (190) or supercharged (240) models produced as post registration official factory conversions of '06 Exige by the Lotus Sport workshops at Hethel for U.K. and certain overseas territories. Not identifiable from VIN coding.
Differences compared to 240R include: Electronic throttle, high flow port injectors (no 5th). Cup 240 fitted with torque sensing LSD with LTC. Cup 190 uses friction plate LSD. Standard Exige wheels in 'Hi-power' silver. Race cars fitted with FIA 6-point roll cage, remote kill switch, extinguisher system. Standard body colours.
Exige S, February 2006
VIN character 4=P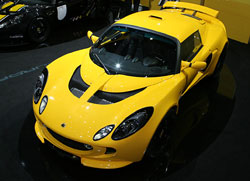 Supercharged Toyota engined, 1.8l 4-cylinder Exige with 218bhp. Unlike the 240R, this car comes off the standard production line. Performance is 0 to 62mph in 4.3 seconds and 148mph top speed.
The 221 PS supercharged engine is similar to 240R but uses electronic throttle, smooth flow inlet adaptor, standard injectors without 5th injector, modified downpipe, revised muffler with single oval tailpipe. Enlarged roof duct inlet for the chargecooler.
More details here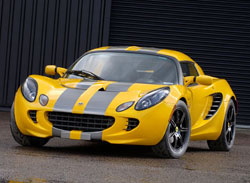 US Sport Elise & Exige, March 2006
Limited edition of 50. Saffron Yellow with twin Storm Titanium stripes, centre console, and highlighted sports seats, with 'carbon' door trim inserts. Harness bar, T45 seat belt mounting frame. Motorsport mats, stalks, winders and parking brake sleeve. Traction control, supersport suspension, black forged wheels, Yokohama A048s, braided brake hoses, silicone fluid, motorsport clutch. Lotus Sport decals and Union flags. Lotus Sport chassis plate.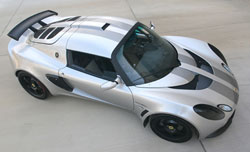 Sport Exige with a supercharged engine putting out 243 horsepower
2007 M.Y. & Elise S Introduction, June 2006
VIN character 10 = 7; Serial number restarts at 0001, common to all variants.
VIN character 4 identifies engine type. Elise S = Y
Differences between '07 Elise/Exige and '06 include: Elise 111R renamed Elise R; New sealed headlamp units; raised LOTUS lettering on rear transom; additional screen pillar seal; Alpine audio; improved HVAC ducting. New model Elise S uses 1ZZ-FE engine producing 100 kW, with variable inlet timing but fixed valve lift, plastic inlet manifold, revised intake snorkel, revised exhaust manifold and downpipe, smaller tailpipes within standard trims. Elise S also uses new C56 5-speed transmission and 6-spoke roadwheels sharing styling of standard '01 model wheels.
Exige 265E – Bio-ethanol concept car, August 2006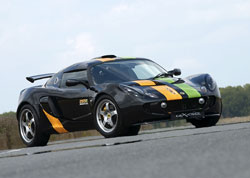 Bio-ethanol-powered Exige 265E weighing in at 930 kg unladen. Named the Lotus Exige 265E indicating the approximate horsepower and E for the environmentally favourable bio-ethanol E85 fuel containing 85 per cent ethanol alcohol and 15 per cent petrol.
The standard Lotus Exige S 2ZZ VVTL-i supercharged and intercooled 4-cylinder engine is slightly modified to give 0-60 mph in 3.88s, 0-100 mph in 9.2s, and a top speed of 158 mph. It produces 264hp at 8,000rpm, and 184lb-ft of torque at 5500 rpm (up by 46 hp (21%) and 25lb-ft (16%) over the standard model). See here for full details
S2 Circuit Car / 2-Eleven, 2005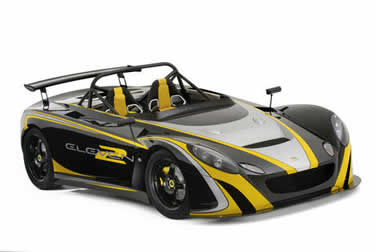 Lotus Circuit Car intended for track day and club racing, later renamed the 2-Eleven. Weighing in at 670 kg (1,477 lbs), with a supercharged and intercooled 1796 cc engine giving a maximum power output of 255 PS (252 bhp / 188 kw) at 8000 rpm and a torque figure of approximately 242 Nm (179 lb/ft) at 7000 rpm.
More info, including full press releases, here. Project put on ice as Lotus focused on the Europa, but re-introduced in 2007.
Sport Exige Cup 255, 2006
Unveiled at the Essen Motorshow, the Exige Cup 255 is powered by a 1796 cc supercharged engine developing 252 bhp (255 PS) driving through a 6-speed close ratio C64 gearbox. Bespoke performance enhancements designed exclusively by Lotus Sport raise power and torque levels substantially to offer a car with levels of handling and acceleration capable of taming Europe's most challenging race circuits. More info here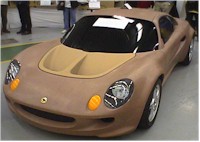 Lotus Coupe, Type 120
The addition of a roof meant that the whole car was stiffer, which meant that lower sills could be used to accommodate larger doors, making entry and exit easier.
More powerful engines were also considered - including the Rover 2.5 KV6 and even (reportedly) the 1.6 V8 twin turbo used in the Suzuki concept car (250bhp). Project suspended in 1998.
This car eventually emerged as the Lotus Europa....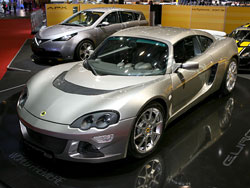 Europa, 2006, Type 121
The coupe eventually emerges as the Europa S, announced in Dec 2005.
The Europa S, Lotus' version of a two-seat grand tourer, went into production in 2006. Lotus plans to make about 500 annually, available to Europe and Asia, but not the US and Canada.
More details here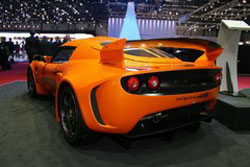 Exige GT3 Concept, March 2007
Lotus Sport, the race car performance arm of Lotus Cars Ltd, unveiled the Lotus Exige GT3 concept road vehicle.

With its debut at the 77th annual Geneva International Motor Show, the Exige GT3 boasts 275 PS (271 bhp / 203 kW). More details here

Elise SC & Exige S 240 updates, 2008
240bhp version of the Exige sold alongside the S (220bhp), the 240 has a larger roof scoop a la Exige Cup 255. More info here
Eco Elise, 2008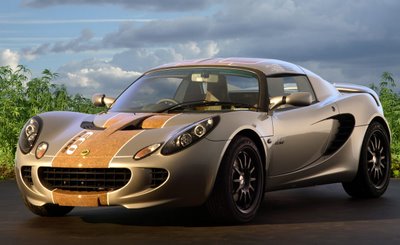 Lotus unveiled an environmentally-friendly Eco Elise at the British Motor Show. The Eco Elise doesn't revolve solely around CO2 emissions, but extends to a holistic approach to ecology by using sustainable materials, cleaner manufacturing processes, renewable energy generation and of course, by reducing the car's weight.
More here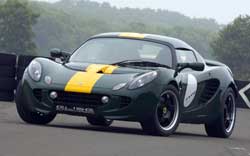 Type 25 Jim Clark Elise SC , 2008
Based on the 200bhp Supercharged Lotus Elise SC; only 25 will be built to commemorate with the 40th anniversary of the passing of Jim Clark. Finished in classic non-metallic Racing Green with Yellow stripe, as per Jim's famous Type 25 Formula One car, the car has a bespoke interior in Red, and some classic touches including wooden gearknob, signature Jim Clark signwriting, and yellow grille surround. Press Release here (pdf). Interior details here (jpg)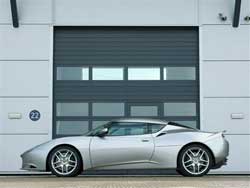 Evora, July 2008 (Type 124)
This is not actually an Elise variant - being based on a new platform, but I've included it here for completeness. See here for details. Also announced at the 2009 Frankfurt Motorshow, was the plan for the Evora Type 124 - to be homologated for either FIA or GT3-spec racing, but until the technical regulations for those series are finalised - and until Lotus knows exactly how quick the Evora Type 124 is - the two factory-supported cars will run broadly to VLN Nurburgring endurance championship regs.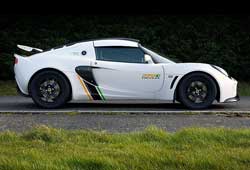 Exige 270E, 2008
The Lotus Exige 270E Tri-fuel is the most powerful road version yet of the Exige (0-60 mph / 96 kph in 3.88 seconds, a top speed of 158 mph (255 km/h), 270 hp (201 kW / 273 PS at 8000 rpm) and it runs on any mixture of gasoline, bioethanol and methanol. It is hoped that emerging technologies will allow alcohol fuels such as methanol, already a proven internal combustion fuel, to be made synthetically from CO2 extracted from the atmosphere. No production plans have been announced. Full press release here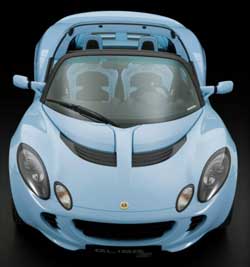 Elise Club Racer, 2009
Lotus unveiled the limited edition Elise Club Racer at the Frankfurt motorshow. The Elise Club Racer is less of a track-focused car and is really more a cosmetic makeover of the 134bhp Elise S, with body colour interior trim panels, lightweight seats with exposed shell elements and a choice of four retro colours. Designed to be a throwback to the classic Lotus models of the 1960s, the Elise Club Racer is available in Elite Yellow, Carbon Grey, Sky Blue and Old English White. The Club Racer runs from 0-100 km/h in 6.1 seconds (0-60 mph in 5.7 seconds) while consuming just 7.6l/100km (37.2 mpg) in the combined cycle. More details here (pdf).

The car was announced for sale in 2011 - details here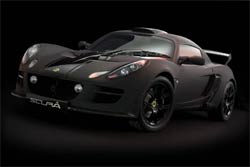 Lotus Exige Scura, 2009
Lotus special edition Exige Scura, only 35 to be built. It will have a matt black finish with glossy black stripes down the side, and enhanced by components made of dark carbon fibre. Powered by a 260bhp engine capable of 0 to 62mph in 4.1 seconds. To be displayed at the 2009 Tokyo Motor Show. Full details here (PDF)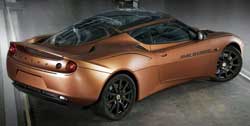 Evora 414E Hybrid, 2009
The Evora 414E Hybrid concept boasts a 1.2 liter, three-cylinder engine, independent electric motors for the rear wheels, with a range of about 300 miles. The Evora 414E would also make 'vroom vroom' noisesusing an audio system. The engine can operate on alcohol-based fuels or regular old gasoline, and the battery-only range is in the neighborhood of 35 miles. The Lotus Evora 414E hybrid was unveiled at the Geneva Motor Show. Full details here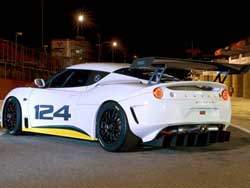 124 Endurance Racecar, 2009
The Lotus Evora Type 124 Endurance Racecar has been built to FIA regulations and safety standards. The car will make its 24 hour racing debut at the ADAC Nürburgring 24 Hours which provides a great test for the Evora's performance, efficiency and durability under tough and demanding endurance race conditions. See here for full details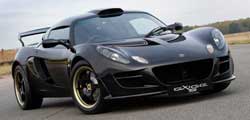 Exige S Type 72, 2009
The Lotus Exige S Type 72 celebrates the most successful F1 car of all time. The Sport Pack comes as standard and includes black micro-fibre ProBax sports seats with gold stitching. Each car comes with a special build plate commemorating one of the F1 car's 20 Grand Prix victories. The exterior features unique black and gold lightweight wheels and is finished with hand painted gold Type 72 and Exige S logos, (the Sport Pack also includes a T45 steel main roll hoop, Lotus Traction Control, twin oil coolers and an adjustable front anti-roll bar). Full details here, some details in the Proactive newsletter here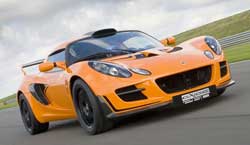 Lotus Exige Cup 260, 2010
The track focussed homologated-for-the-road 2010 Model Year Lotus Exige Cup 260 takes design clues and technical innovations from the Lotus Exige GT3 racecar and combines with class leading emissions of just 199 g/km CO2 and exhilarating performance of 0-100 km/h in just 4.1 seconds. More details here (pdf)
• Extensive use of carbon fibre
• Motorsport lightweight wheels
• Ohlins 2-way adjustable dampers
• Rear chassis stiffness increased by 30%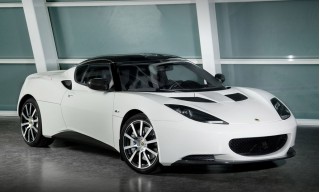 Evora Carbon Concept, 2010
The Evora Carbon Concept car emphasises Lotus' motorsport pedigree, utilising beautiful high quality materials with exposed carbon fibre and plush alcantara. The striking white concept car is finished in an advanced water based pearlescent paint that contrasts with the exquisitely finished weave on the carbon fibre panels. Press release here
S3 Elise, 2011
The new Elise body has a new front end, including a new bumper, front clam and access panel that combine to give the Elise a wider, more planted stance on the road. At the rear of the car the mid-engine compartment has been encased by a new, distinctive "twin-spine" engine cover while lower down on the back of the Elise a more aggressive diffuser is tightly wrapped by an elegant new bumper design that now includes the rear license plate. The theme of purity is carried through to the cooling apertures that are efficiently finished with a new lightweight aluminium mesh that gives the car a classically sporting character. Press release here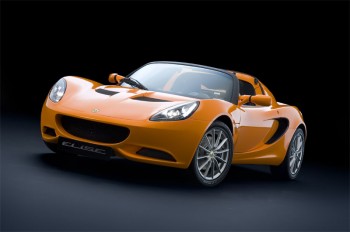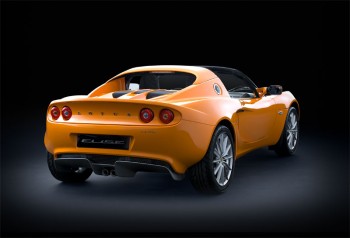 DAWN OF A NEW ERA PARIS 2010
A new fleet of cars announced at the Paris Mororshow, Sept 2010 - see here for more details. The models include a replacement for the Elise, an all-new Esprit, the Elite and a larger Eterne saloon based on it, a new Elan and a new city car co-developed with parent firm Proton.