Sport Exige Cup 255, 2006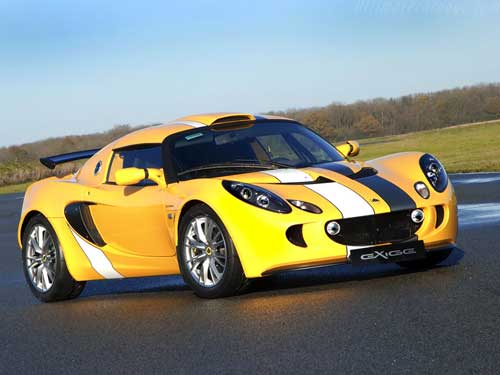 Lotus Sport, the motor sport division of Lotus Cars Ltd, has unveiled the MY2007 Lotus Sport Exige Cup 255. Unveiled at the Essen Motorshow, the Exige Cup 255 is powered by a 1796 cc supercharged engine developing 252 bhp (255 PS) driving through a 6-speed close ratio C64 gearbox. Bespoke performance enhancements designed exclusively by Lotus Sport raise power and torque levels substantially to offer a car with levels of handling and acceleration capable of taming Europe's most challenging race circuits.
Building upon the success enjoyed by the Exige Cup 240 during the 2006 season, the Exige Cup 255 presents Lotus' most radical 'road to track' offering yet with a visually striking new roof design which gives it true standout appeal. In traditional Lotus style, weight saving is paramount. Weighing in at sub 950 kg, the already significant power to weight ratio has been further enhanced by increasing the power output from 243 bhp to 252 bhp. Such a fantastic power to weight ratio alone of course does not a superlative track car make, so the Exige Cup 255 has a list of standard equipment that includes LTS branded Yokohama A048R tyres, new for 2007 uprated 4-piston front brakes, adjustable dampers and anti-roll bar, the latest FIA 6-point roll cage and sports driver and passenger seats. The options are even more race-focused with slick tyres, an FIA approved Recaro/Lotus Sport driver's seat, an FIA approved 70 litre fuel cell, 'Level Two' stainless steel sports exhaust with de-cat pipe, dog gearbox and a plate type Lotus Sport limited slip differential (*track use only and special conditions apply).
The Lotus Sport Exige Cup 255 is one of the quickest cars around a circuit. Key to this incredible performance is the aerodynamic package, which produces over 40 kg at 160 kph increasing grip and ultimately safety at higher speeds. With a top speed of close to 260 kph and a zero to 160 kph slingshot in just less than 9.8 seconds (the 100 kph sprint takes just under 3.9 seconds), the MY2007 Exige Cup is the perfect partner for the serious racer. At a MRSP of 56,034.48 (exclusive of local taxes and on the road charges), customers will have to queue on a first ordered, first delivered basis.
The supercharged and intercooled engine in the Exige Cup 255 has a maximum power output of 252 bhp at 8000 rpm and a torque figure of approximately 179 lb-ft at 7000 rpm. This significant amount of extra power and torque now available together with the VVTL-i variable cam system ensures that there is a smooth and linear surge of power from low engine speeds all the way to the maximum 8000 rpm. The Roots-type Eaton M62 Supercharger (with a sealed-for-life internal mechanism meaning that it does not require the use of the engine's oil) is run from the crankshaft and has an integral bypass valve for part load operation. Charge air (air under pressure from the Supercharger) is cooled through an air-to-air intercooler (the air enters via the enhanced roof scoop) before being fed into the engine itself. All charge air ducting has been kept as short as possible with large diameter pipes to ensure that the bends in these ducts are not too tight, to the benefit of throttle response and efficiency. Four high capacity injectors and an uprated fuel pump add additional fuel under hard acceleration or high speed driving.
A sports-type clutch plate and heavy duty clutch cover transfer the engine power and torque to the lightweight C64 six-speed gearbox (with an aluminium casing) - with the same perfectly spaced ratios as the Exige S. A plate type limited slip differential is fitted as an option. The Lotus switchable traction control system (LTCS) is standard and works through the engine, reducing power to maintain traction; it is active above 8 kph and reacts much more quickly than many brake-based systems. An Accusump (engine oil accumulator unit) is included in the whole package as an oil reservoir back-up for extreme track use ensuring that, under those conditions, the engine oil pressure remains constant.
This panel has been designed to provide an increased intake flow area. An increase of over 50% has been achieved over the standard Exige S roof, feeding a new enlarged 2-row 50mm intercooler which, in turn, provides additional power. This new roof scoop improves the intake ambient air flow rate, so allowing the Exige Cup 255 to gain a higher charge density in the cylinders.
16-spoke cast wheels are shod with LTS branded Yokohama A048R tyres to maximise grip and achieve the ride and handling targets set by Lotus. The brake system includes large diameter 308 mm 2-piece aluminium belled cross-drilled and ventilated front discs and 282 mm cross-drilled and ventilated discs at the rear, upgraded Pagid RS14 sports brake pads set into the brake calipers (AP Racing two piece radially mounted, 4 piston at the front and Brembo sliding at the rear), high grade silicone brake fluid and stainless steel braided brake hoses - all linked to the proven Lotus track tuned servoassisted four-channel ABS system that enhances braking performance and minimizes stopping distance without taking over from the skill of the driver.
Suspension is provided by öhlins springs and two-way adjustable dampers (which boast 22 bump and 60 rebound settings) and an adjustable front anti-roll bar (five settings). Full instructions and recommended settings are provided to allow customers to tailor the handling characteristics of the car to their own requirements. As the Lotus Sport Exige Cup 255 cars are modified for track use, a double shear track control arm brace is provided to cope with the expected kerb abuse during racing or hard track day driving.
Lotus Sport Exige Cup 255 cars have the safety equipment expected of a race car, with sports seats and 4-point driver and passenger seat belt harnesses. The 6-point roll cage is FIA approved and completing the additional safety equipment is a mechanical ignition kill switch with cockpit and external activation and a plumbed electrical fire extinguisher system, again with cockpit and external activation.
A 'Level One' stainless steel sports exhaust is fitted with the bifurcated exhaust pipes exiting from the centre of the anodized-finished 3-piece rear diffuser. A 'Level Two' stainless steel exhaust with de-cat pipe is available as an option.
Company press release, last updated on December 11, 2006