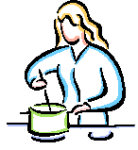 Blondies Pear Dessert
For two:
Two ripe pears
5 ounces double cream
6 ounces dry white wine
2 ounces lemon juice
4 ounces water
4 ounces brown sugar
Put everything except the pears and the cream into a saucepan, and start heating. Meanwhile, peel, core and halve the pears. Put into the wine mixture and simmer for about 15 minutes. Take out the pears and set aside.Boil the wine mixture to reduce to about 4 ounces. Allow to cool somewhat. Whip the cream until fairly stiff. Mix in the reduced wine mixture. Heat the grill. Put the pears into a heat-proof dish, pour over the wine/cream mixture, and place under a hot grill for a couple of minutes, until it starts to go brown on top. Serve.
Confit of Duck
4 duck legs (preferably gressingham)
8 cloves of garlic
8 sprigs fresh thyme, or freeze dried equivalent
2 bayleaves
8 ounces rock salt
10 fluid ounces (500 ml) dry white wine
Preparation (can be done up to 3 days in advance and refrigerated)
Spread half the rock salt in the bottom of a dish large enough to hold duck legs in a single layer.

Place the duck legs on the salt, and tuck the garlic and herbs around them.

Sprinkle the rest of the salt on top. Cover an refrigerate overnight.

In the morning, turn the legs over, rearrange herbs, and return to the refrigerator for another 4 to 6 hours.

Remove duck legs, garlic and herbs from the salt, rinse and drain. Discard salt.
Cooking
When ready to cook, preheat oven to 140 C (275 F) (i.e. not very hot!)

Put the legs with the garlic and herbs into a heavy casserole dish. Pour over the wine.
Cook on the middle shelf for 3 to 3 1/2 hours, until the meat comes away easily from the bone. Do not allow to brown. Add a little water if necessary to keep legs covered. Take the legs out of the fat and cooking juices. Place them into a clean roasting dish. Heat oven to 240 C (475 F). Place legs in the very hot oven for about 10 minutes, until the skin is crisp.
To make a sauce for the duck, allow the cooking juice to separate from the duck fat, which will float to the surface in a few minutes. Using a separator or baster, extract the cooking juices and place in a small saucepan.
Reduce over high heat , adding additional flavouring if desired. Can be thickened slightly with cornstarch if necessary.