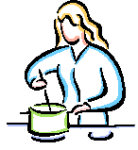 Sea Bass with corn salsa
From James Hesser

1 cup fresh or frozen corn kernels
6 tomatillos -- diced
1 cup toasted pumpkin seeds (fresh ones!toast them yourself you lazy bastids)
1 poblano chile, roasted, peeled, -- seeded and chopped
juice of 1 lime
1/2 teaspoon cumin
salt and pepper -- to taste
6 Chilean sea bass fillets (6-8 ozs. each)
1 red bell pepper, roasted, peeled, seeded -- and cut in strips
For the salsa, combine the corn, tomatillos, pumpkin seeds, and poblano chile (this sucker is hot so don't rub your eyes while you cut it). Season with the lime juice, cumin, salt, and pepper. Set aside in the refrigerator for 2 hours, if time permits.
Season the fish lightly with salt and pepper and grill until done to your taste. (We sear it then go about 7 minutes total time, but we serve a thicker piece.)
Serve with the salsa and garnish with roasted pepper strips.
Notes: This salsa is best if it is done about 2 hours ahead. This sauce will work with grilled, broiled, or baked fish; use whichever technique is most convenient for you. My gauge for doneness is 8 minutes per inch of thickness. This is slightly underdone, but not rare. Use you own judgment if you prefer your fish more cooked.
Grilled Fish in Banana Leaf
Serves 4 as part of an Asian multicourse menu.
3 Garlic cloves
1 ts Black peppercorns
2 tb Chopped fresh coriander root
1 sl Fresh ginger, quarter-sized - crushed -
1 1/2 tb Soy sauce
2 lb Whole Snapper -=OR=- Striped Bass -=OR=- 4 Whole Trout
1 lg Banana leaf -(or more if needed)
Vegetable oil -(for oiling leaf)
CHILE LIME SAUCE
3 sm Green serrano chiles - seeded and finely chopped
3 Garlic cloves
2 tb Fresh coriander leaves
1 ts Sugar
1/4 ts Salt
1/2 c Fresh lime juice
1/3 c Chicken stock
This recipe illustrates the popular use of banana leaves as a food wrapper in Asia. Aluminum foil works well as a substitute.
IN A MINI-FOOD PROCESSOR, add the garlic, peppercorns, coriander root and ginger; process into a fine mince. Transfer into a mortar and pound into a smooth paste; add soy sauce and blend thoroughly.
Clean fish and pat dry with paper towel. Rub garlic mixture over entire fish; set aside for 30 minutes.
Choose a banana leaf about 6 inches longer and 3 times wider than the fish. Rinse leaf with cold water to clean. Plunge leaf into a pot of boiling water for a few seconds to soften. Wipe dry. Using a knife or scissors, remove the thick spine in the leaf.
Place the leaf with its glossy side down on a work surface. (Use more leaves if needed.) Brush oil on the leaf where the fish will lie.
Set the fish with the marinade on the oiled surface. Fold over the wide sides overlapping at the top and secure with toothpicks.
Turn over package, fold over ends to enclose sides, and secure ends with toothpicks to make a neat parcel. Set packet about 3 inches above medium-high heat coals and grill each side for 8 to 10 minutes.
NOTE: If using trout, marinate the 4 fish together. Wrap each 1 individually and reduce the grilling time to about 3 minutes on each side.

Transfer to a serving plate. Open leaf and serve with accompanying sauce.
CHILE LIME SAUCE: In a mortar or a mini-food processor, add the chiles, garlic, coriander leaves, sugar and salt; pound (or chop) into a smooth paste. Put chile mixture into a saucepan with lime juice and stock; bring to a boil.