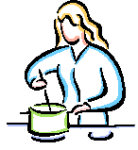 Courgette Fritters
From Hairy Bikers Mums Know Best - Heather

3 Courgettes (Grated)
1 Onion (Grated)
1 Clove of Garlic (Crushed)
2 Eggs (Beaten)
4oz (100g) Gram Flour (absorbs less oil)
6oz (150g) Strong crumbly cheese such as Feta or Lancashire
1 Small Red or Green Chilli finely chopped
1 teaspoon Garam Masala
Small handful of chopped Parsley or fresh Coriander
Small handful of chopped Mint
Salt and freshly ground Black Pepper to taste

1. Place the grated courgettes and onion in a colander and leave for 10 to 15 minutes to drain
squeezing out any excess water. Fry courgette, onion and crushed garlic until cooked and just starting
to brown. Remove from heat and allow to cool slightly.

2. Make a smooth batter with the flour, garam masala and eggs (a little milk can be added if the
batter is too thick)

3. Add the crumbled cheese, chilli, mint, parsley, salt and pepper and finally add the cooked
courgette mix. Bring together until thoroughly mixed.

4. Heat a little oil in a frying pan and drop tablespoon sized dollops of the mixture into the hot
pan, fry a few at a time and flip over to cook the other side.

5. When cooked through and a little brown and crispy on the outside remove from the pan and
drain on kitchen paper.

6. (These fritters freeze well and can be re heated in a hot oven from frozen as long as you ensure
they are piping hot all the way through.