New Europa and APX
Europa SE, 2008
The Europa was unveiled at the Geneva International Motor Show on March 5th, 2008. The Europa SE is an upgraded model with more comfort in mind, intended to bring in more customers, equipped with new 17-inch front, and 18-inch rear wheels, interior swathed in leather. The car's 2.0L turbo four remains basically the same, but here it's tuned to 225 hp and 221 lb.-ft. of torque. Expect a 0-60 mph in 5.5 seconds and a top end of 143.
Autocar July 2008 Europa review (pdf)
Geneva, Feb 2006
The Europa (codename Sepang) is unveiled (together with the Lotus APX) at Geneva: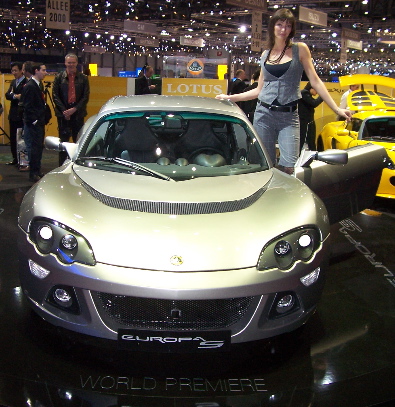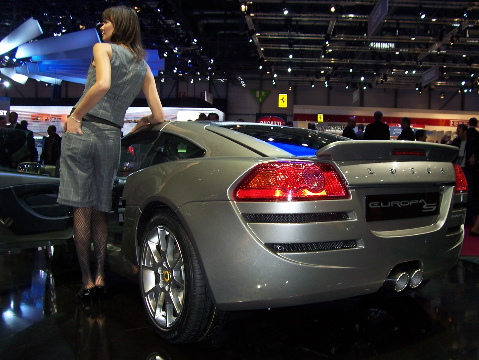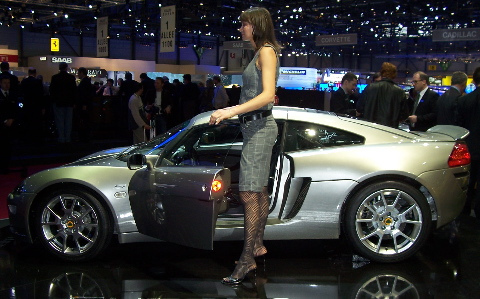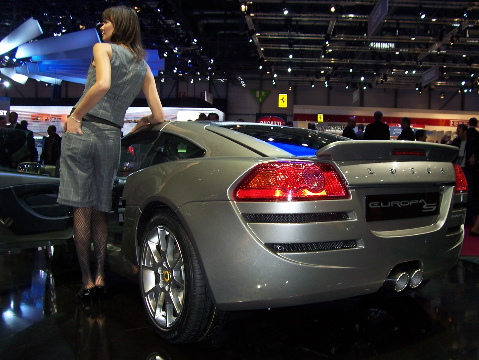 APX, VVA technology
Also displayed at Geneva,the Aluminum Performance Crossover (APX) concept - a showcase of Lotus Engineering's aluminum Versatile Vehicle Architecture (VVA). The four-wheel-drive APX seats 5 + 2 and is powered by a 300-hp, supercharged V6 gas engine - though it weighs in at only 3,461 lbs.
The design concept is expected to be used for the new Esprit replacement, but Lotus was also hoping to sell the concept to third parties.
Simon Wood, director of Lotus Engineering, said: "We wanted to demonstrate the true versatility of the VVA technology, and what better way than to build a type of car that no one would expect from Lotus."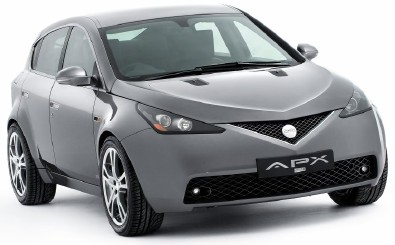 APX concept renderings: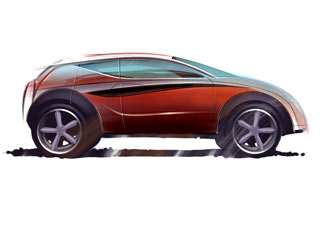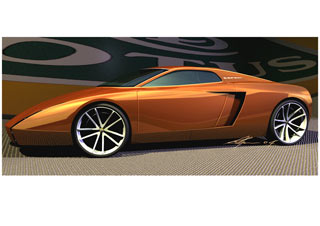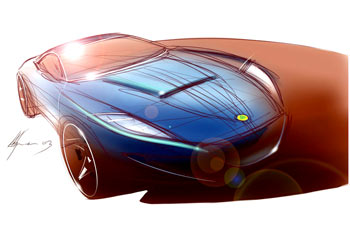 Europa, Feb 2006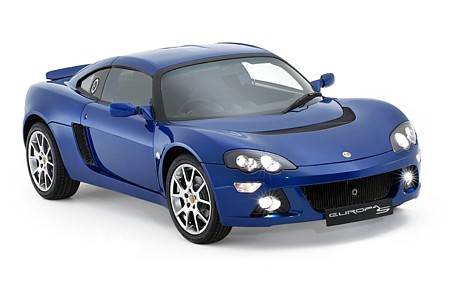 Lotus Cars has released more information about its new Europa S - a "more refined daily driver to complement its minimalist Elise and Exige models. Lotus will debut the new model at the Geneva Motor Show next week.
While still following the Lotus philosophy of achieving performance through "adding lightness" (the car only weights 2,189 lb), the Europa is much more liveable than the Exige and Elise, with more luggage space and easier access to the interior, courtesy of a higher roofline and lower chassis side rails. Inside, a full leather interior, built-in navigation/audio system, electric windows and door locks, and air conditioning add an unusual (for Lotus) level of touring-class luxury to the Europa.
The 2-liter Ecotec turbo puts out a modest 200 hp, but a broad torque band (90 percent of maximum at only 2,000 rpm) with a peak of 194 lb-ft at 4200 rpm helps hustle the lightweight car from 0-60 mph in a respectable 5.5 seconds.
Lotus forecasts production of only 500 per year, with no exports to North America planned at present. The Europa will be available in the U.K. later this year, for about $57,500."
It seems likely that the performance of this car is understated, maybe to protect sales of the new Exiges, and that the whole car is a political move rather than the full new car that many at Hethel would like to see...
More photos can be seen by clicking the following links
Europa announcement, Dec 2005
The coupe eventually emerges as the Europa S and was announced in Dec 2005.
The Europa S, Lotus' version of a two-seat grand tourer, went into production in 2006. Lotus plans to make about 500 annually, available to Europe and Asia, but not the US and Canada.
Luxury Touring Pack Option for Lotus Europa S. Geneva, March 2006
The Pack Option dresses the interior in saddle tan leather, chocolate coloured leather and brown carpets. The steering column shroud, dash top, instrument and ventilation binnacles, sill covers, etc., are covered with four hides of soft high-grade saddle tan coloured and chocolate coloured leather. Supportive sports seats are fitted and are also clad in saddle tan and chocolate coloured leather in a stripe pattern. Safety critical composite components such as the passenger airbag door are coated in a high-tech soft-to-the-touch material. An engine start button and a solid Walnut and Tulip wood gearknob finish off the interior package. Brown carpet covers the whole of the boot area including the battery cover, a saddle tan coloured leather trimmed tailgate inner, luggage straps to prevent luggage from moving in the boot, and a saddle tan coloured leather oddment bag which is fixed to the boot compartment.
Exterior additions to the Luxury Touring Pack Option include tinted rear and rear three-quarter glass, body coloured front driving lamp surrounds, side air-intake surrounds and roof air-outlet grill. All other exterior grilles such as the front radiator grilles and the rear light grille surrounds are coloured silver.
Full press relese of the Luxury pack here (pdf)
Press announcement of the Europa here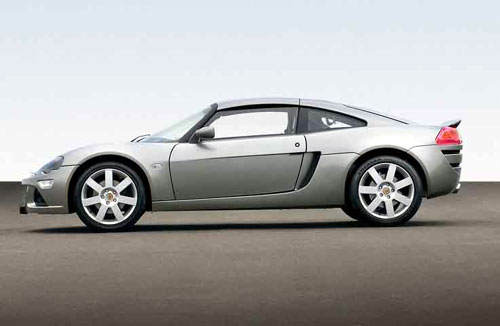 The New Lotus Europa S - 'Business Class by Lotus'

The new Lotus Europa S, a Grand Tourer (GT) inspired two-seater will provide Lotus customers with a spectacular sportscar with significantly enhanced levels of touring and cruising capability. It will provide drivers with higher levels of practicality and refinement to complement the simplicity of the Lotus Elise and Exige models.
The Lotus Europa S follows the core Lotus philosophy of performance through light weight enabling this refined and very high performing GT car to weigh just 995 kg. This low weight has been obtained through the clever use of advanced and high tech materials including an extruded and bonded aluminium chassis, composite body panels and a very advanced composite energy absorbing front crash structure.
When compared to the award winning Lotus Elise, the Europa S has a larger boot / luggage compartment and easier cabin access, resulting from lower chassis sides and a higher roof line. Coupled with luxuries such as full leather interior, driver and passenger airbags and carpets all as standard, Lotus has created a "Business Class" driving experience.
However, the Europa S is not a derivative of the Elise or the Exige and has been allocated a separate Lotus type number of Type 121 - the Elise and Exige are both Type 111.
Tony Shute, Head of Product for Lotus Cars explains the concept behind the new product: "The Lotus Europa S has allowed Lotus to exploit its extensive capabilities in developing a sophisticated GT car which successfully complements the range of existing cars. The 'Grand Tourer' concept underpinning the Europa S provides the driver with a refined environment, incorporating innovative styling features which do not compromise the superior performance and handling that is synonymous with the Lotus marque."
From Auto Express, July 2005:
"Lotus GT's Light Fantastic
Exclusive images in this week's magazine reveal Lotus's new coupé undergoing testing.
Beneath its composite bodywork, the £40,000 coupé - which is expected to debut at next March's Geneva Motor Show - uses an all-alloy chassis dubbed Versatile Vehicle Architecture.
The model slots between the Exige and upcoming Esprit, and looks set to revive either the Elite or Excel names. Both wider and longer than the Elise, the 1,100kg newcomer will offer 2+2 seating and a generous luggage area behind the mid-mounted motor.
There's no official word yet on the coupé's engine, but sources claim that Lotus will continue its relationship with Toyota. This means the new car could use either the 3.0-litre V6 from the Lexus RX300 or the new 3.5-litre V6 from the IS350. Either way, the powerplant will be heavily tweaked by Lotus engineers to produce at least 300bhp. Handling is sure to be excellent, but the double wishbone suspension will be tuned for comfort, in keeping with the car's grand touring aspirations.
The cabin is likely to feature luxuries such as climate control, leather trim, a top-quality stereo system and figure-hugging seats as standard. Production will take place at Lotus' headquarters in Hethel, Norfolk, and insiders predict that 5,000 models will head to the US alone.
This will push the plant to full capacity, and means the new Esprit - due for launch in 2007 - will be assembled in Malaysia, home of Lotus' owner Proton.
Ben Whitworth"
Spyshots and Development

Pix uncredited, but thanks to Mega!
More info at http://paultan.org/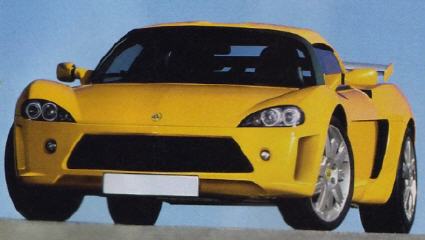 Old image - Nov 2004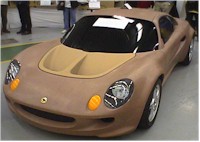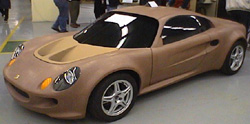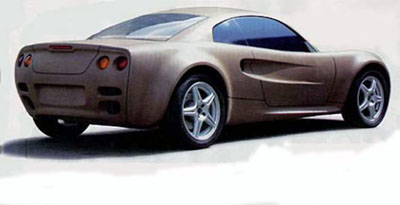 Original Coupe - Project M120 suspended in 1998

The addition of a roof meant that the whole car was stiffer, which meant that lower sills could be used to accommodate larger doors - making entry and exit easier.