Evora (2008)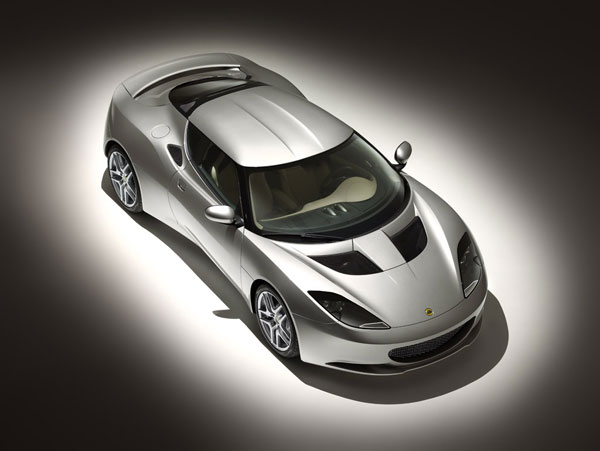 One of the stars of the London Motorshow was the launch of the Lotus Evora. This is the long awaited 'Project Eagle' 2+2 sports car. Later, in Geneva Switzerland, Lotus officially confirmed Evora (named after a town in Portugal) production specifications ahead of the May 2009 launch in Europe. On sale as a 2010 model, the Evora is priced starting at £47,500 in the UK and €50.412 in the rest of Europe. Evora 2 + 2 models start at £49,875 and €53.361 respectively.
Powered by a 276 hp 3.5 litre V6, with a 0-60 mph in just over 5 seconds.
The first 450 cars will be built as a special "Evora Launch Edition". The Launch Edition models will be built to a higher specification including the 2+2 seating configuration, Tech Pack, Premium Pack, Sport Pack, "Evora Launch Edition" interior plaque, silver cast alloy wheels, bi-xenon headlamps, Alpine Imprint premium sound, reversing camera, and electric folding mirrors. Ardent Red and British Racing Green are standard exterior colors on the Launch Edition, with all other paint colors available as a cost option.
The Tech Pack includes the Alpine Mobile Media Station (with DVD±R/±RW/MP3/AAC/WMA/DivX Playback) with upgraded stereo system, Alpine BlackBird portable satellite navigation, Bluetooth mobile phone connection, USB connection for MP3 players, full speed AUX input, cruise control with steering wheel mounted controls, rear parking sensors, and a tire pressure monitoring system.
Included in the Premium Pack is additional leather trimming covering the interior door panels, armrest, footwell side panels, centre console, and interior tailgate insert panel. Also included in the Premium Pack are premium floor mats, additional interior accent lighting, and dashboard Evora logo. The standard black adjustable Recaro sport seats may now also be specified in a different color including Oyster, Chestnut, Charcoal, or Paprika.
For those looking for more performance, the Sport Pack offers a sports diffuser, titanium exhaust, cross-drilled brake discs, black-painted brake calipers, and an engine oil cooler. Included as well is a switchable sport mode featuring increased yaw and slip traction control thresholds, enhanced throttle response, and a higher RPM limit.
Stand-alone options will include a sports-ratio 6-speed manual transmission.
Project Eagle details here, 2008 press release here, Evora brochure here, Evora spec & pricing here, Evora options here (all PDF files). CAD schematic here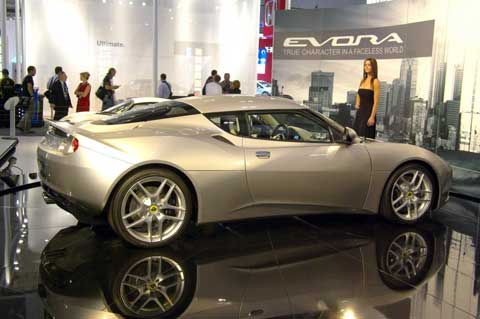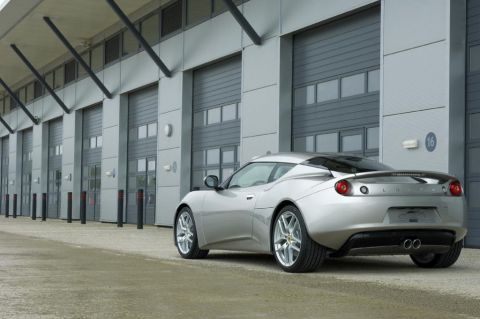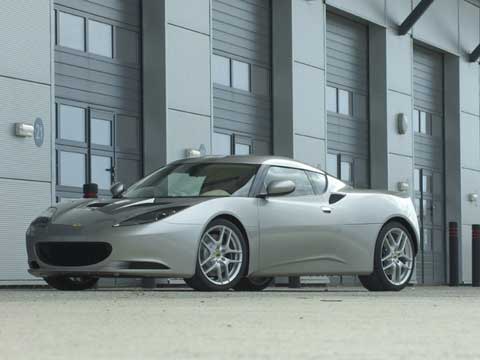 The Lotus Evora site can be found here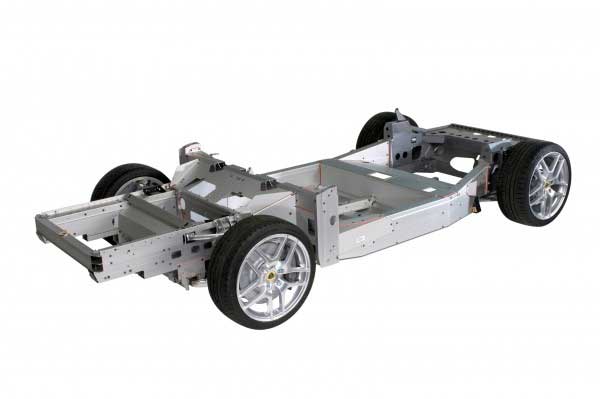 The Lotus Evora Type 124 Endurance Racecar (2009)
The Lotus Evora Type 124 Endurance Racecar has been developed from the award-winning Evora road car and is built to FIA regulations and safety standards.
The Type 124 (pronounced One Twenty Four) Endurance Racecar is the next step in the evolution of the Evora. The car will make its 24 hour racing debut at the ADAC Nürburgring 24 Hours which provides a great test for the Evora's performance, efficiency and durability under tough and demanding endurance race conditions.
See here for press release.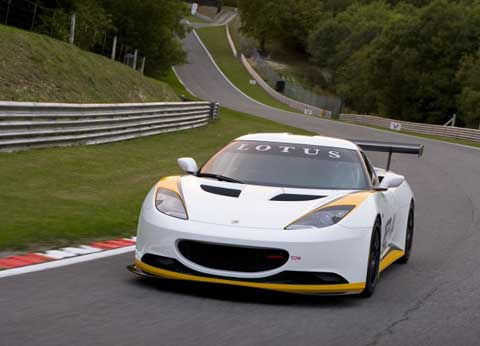 Evora 414E Hybrid (2010)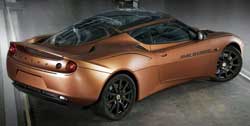 The Lotus Evora 414E Hybrid, so-named because this latest environmentally focused technology demonstrator produces 414 PS (306 kW) of power, promises breathtaking performance from a highly efficient propulsion system.
The concept showcases new developments in plug-in, range-extended electric propulsion, new electronic technologies to enhance driver involvement, the adaptability of the Lotus Versatile Vehicle Architecture (VVA) that underpins the Evora 414E Hybrid and a dramatic new roof system and interior concept from Lotus Design.
Click here for the press release.
Evora Carbon Concept (2010)
The Evora Carbon Concept car emphasises Lotus' motorsport pedigree, utilising beautiful high quality materials with exposed carbon fibre and plush alcantara. The striking white concept car is finished in an advanced water based pearlescent paint that contrasts with the exquisitely finished weave on the carbon fibre panels.
Press release here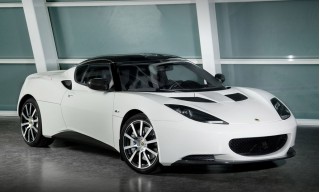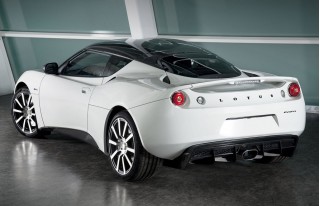 Evora S (2010)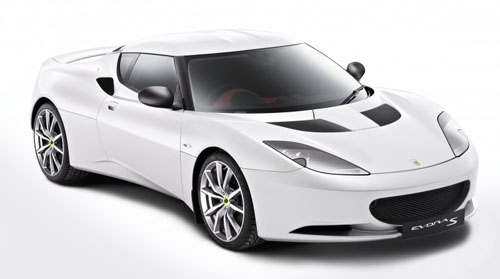 Lotus Chief Commercial Officer Andreas Prillmann said: "The Evora S is a natural progression for us but more than that, it's a taste of what people can come to expect from the next generation of Lotus cars. It retains core Lotus values such as performance through lightweight but it also gives more than that. It's the perfect combination of top performance, style and comfort. Form doesn't sacrifice function in the case of the Evora S."
See here for the full press release.
Evora Cup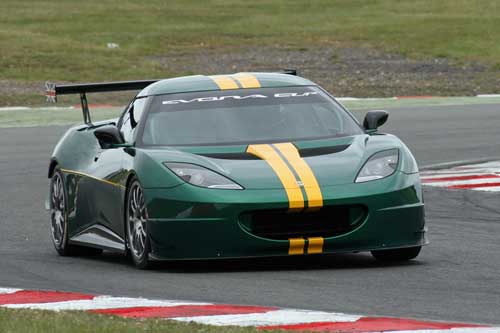 Jan 2010 - Lotus Motorsport announced the Evora Cup race car together with an innovative European points based race series for 2010. The race car made its first public appearance at the Autosport International racing car show in Birmingham, UK in January 2010. The Lotus Evora road car incorporates many race car elements to give it incredible handling and performance. The Evora has a mid-engine layout, high-tech, super-stiff extruded and bonded aluminium chassis and double wishbone suspension all round. These elements mean that it is a relatively easy progression from the production car to a competitive race car.
Some details from the Proactive newsletter here, car brochure here
Details of the series here
GT4
Debuting in an unfinished forum at the Geneva Auto Show earlier this year, Lotus officially unveiled the Evora Cup GT4 race car at at the Pebble Beach Concours d'Elegance in Monterey, CA.
Built to compete in the FIA GT4 series in Europe, Lotus U.S.A. head Arnie Johnson confirmed that the car can be delivered in anywhere from GT4 to GT2 trim. The GT4 car on display uses a 360-hp 4.0-liter V6, but Cosworth can increase that number as high as 470-hp.
Built to run in its own Lotus Evora Cup series, it can also compete in any GT4 racing series and according to Johnson the company had already sold six of the $160,000 race cars that week.

With FIA approved design and safety features, the Lotus Evora GT4 is widely accepted around the world in the leading GT racing series and can also be easily modified to meet the demands of longer endurance races.

MAX POWER - 350 PS @ 6500rpm
MAX TORQUE - 445 Nm @5500rpm
MAX ENGINE REVS - 7000 rpm
FUEL RATING - 98 RON
ENGINE POSITION - Transverse mid-mounted
UNLADEN VECHILE MASS - 1190kg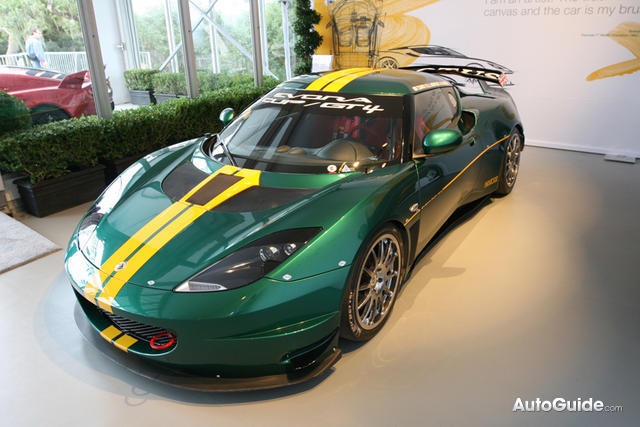 GTS
Powered by a V6, 360bhp engine, this coveted track demon is the perfect circuit partner for teams competing for GT recognition
The Lotus Evora GTS the race-going sibling of the Evora road car enjoyed its debut competition culminating in a class win at Monza, for Lotus Sport Italy. Further competitions are yet to be confirmed for the new motorsport race car.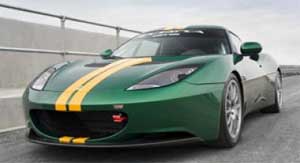 GTS SPECIFICATION

0-60 mph 4.6 seconds
0-100 km /h 4.8 seconds
MAX SPEED 172mph (277 km/h)
MAx power 345 hp at 7000 rpm (257.5 kW) (350PS)
max torque 295 lbft at 4500 rpm (400Nm)

Unladen vehicle mass 1290kg

Engine position mid mounted
fuel rating 98 RON

Geneva 2011
The Evora now available in two versions - the Evora and the Evora S: more power and an IPS option.
Details here
Evora Enduro GT
The Evora Enduro GT concept car is an evolved version of the podium placing Evora GT4 Endurance. The Enduro has been developed by Lotus Motorsport under the expert eye of Lead Designer Nicola Scimeca
The Enduro will be the base point from which the GT2/GTE homologated cars for FIA (Federation Internationale de l'Automobile) and ACO (l'Automobile Club de l'Ouest) endurance racing will be built.
Lotus Motorsport intend to contend the following endurance events this year:
23 – 26 June 2011 Nürburgring ADAC 24 Hour Race (GER)
28 – 31 July 2011 Spa 24 Hour Race (BEL)
8 & 9 October 2011 Silverstone 24 Hour Race (GB)
The 24 hour races in Dubai and Daytona are on the list for 2012.

EVORA GT ENDURO
The Evora Enduro can be bought by private individuals and adapted for racing.

PERFORMANCE

Max Power 440 bhp @ 7000 rpm*
Max Torque 460 Nm @ 5500 rpm*
Max Engine Revs 7200 rpm*
Fuel Rating 98 RON
Engine Position Transverse mid-mounted
Unladen Vehicle Mass 1160 kg*

* Subject to development testing.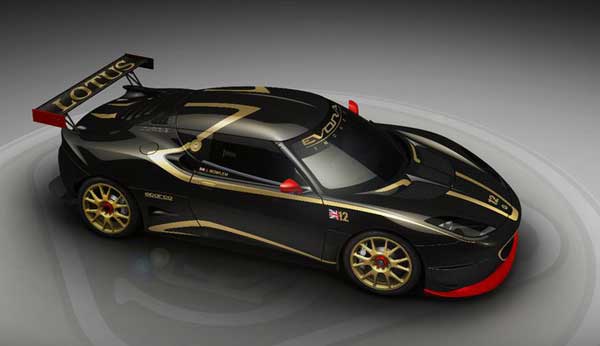 Lotus Evora GTE
April 2011: SPY SHOTS OF LE MANS CONTENDER: New Lotus Evora GTE in action at Snetterton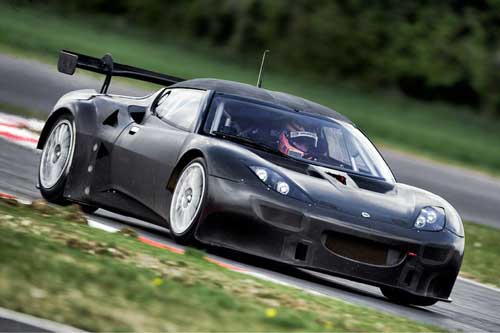 Complete with a V6 Toyota Cosworth engine and weighing just 1245kg, the Evora GTE has been designed for GT2 and international endurance series around the globe.

EVORA GTE

ENGINE - V6 Toyota Cosworth
DISPLACEMENT - 3999 ccm
POWER - 470 Hp
GEARBOX - 6 Speed seq. Xtrac

WEIGHT - 1245kg
Top Gear review from Sept 2008 here