Lotus Sport Exige GT3
Dec 2005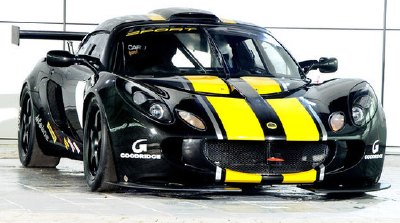 A prototype of the Lotus Sport Exige race car was unveiled at the annual FIA GT Championship presentation ceremony outside the world famous Casino in Monte Carlo, Monaco on 02 December, 2005.
The following day, the first test for the car took place at the high speed Paul Ricard High Tech Test Track in Southern France under FIA supervision, the first stage in the Lotus Sport Exige GT3 becoming eligible for FIA GT3 competition.
This latest FIA series, which will start in 2006, is for race cars that have an equal power to weight, and that have a direct lineage to their road going versions.
Full Press Release here
In Feb 2006, Lotus Sport (the performance division of Lotus Cars) and Cadena announced the signing of a two-year agreement for the supply of a minimum of 2 Lotus Sport Exige GT3 race cars to be campaigned initially in the British GT Championship in 2006 with an expectation of also entering FIA European GT3 Championship in 2007. The team will be branded Lotus Sport Cadena.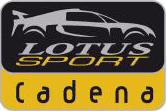 Cadena was created specifically for the 2005 British GT Series although it did enter certain FIA GT and Spanish GT rounds with mixed results using the Mosler GT2 chassis. The origins of the team stem from a ten year interest in motorsport by team principal Paul Whight who has raced historic Aston Martins, CanAm cars and then the last Group C Aston Martin chassis – AMR-1 – which ran at Le Mans in 1989 at the hands of David Leslie. Previously, Paul Whight was involved in the successful campaign of a Lotus Sport Elise in the Cup Class of the 2004 British GT Series.
Lotus Sport Cadena will field four drivers to contest the 2006 British GT series, all having raced previously in Lotus racing cars. Cadena Lotus Sport Elise British GT driver Barrie Whight will once again be partnered by Gavan Kershaw, Principal Vehicle Dynamics Engineer for Lotus Engineering and driver of the Lotus Sport Elise in 2004 and the Mosler MT900R for the Cadena GTC team during the 2005 season. George Mackintosh, who claimed last year's Yokohama Mid-Engined Sportscar championship in a Lotus Elise, and Sam Blogg who took second place in the series also competing in a Lotus Elise, complete the team's second pairing.
The opening round of the 2006 Avon Tyres British GT season takes place at Oulton Park on the 16th and 17th of April, with subsequent visits to high profile national circuits, Mondello Park in Ireland and Pau in France.
Exige GT3 Concept, March 2007
Lotus Sport, the race car performance arm of Lotus Cars Ltd, unveiled the Lotus Exige GT3 concept road vehicle. With its debut at the 77th annual Geneva International Motor Show, the 275 PS (271 bhp / 203 kW) Exige GT3 builds on the Lotus racing pedigree
Said Mike Kimberley, Chief Executive Officer for Group Lotus plc: "The Exige GT3 concept road car is a fantastic showcase product from our race car performance division, Lotus Sport. The car's racing background becomes immediately obvious from its aggressive stance, extreme width of rear track and innovative three dimensional rear wing.
The foundation of all Lotus products is phenomenal handling and ride characteristics, but the Exige GT3 takes these into another dimension altogether where supreme road holding and outrageous acceleration come evenly matched with sensational stopping ability."
The Exige GT3's pure bred racing brother will be again competing in the GT race arena in 2007, taking over the mantle from the hugely successful 2006 British GT3 Championship winning car. On road or track the Lotus Exige GT3 winning pedigree will continue in time honoured Lotus racing tradition.
A new one-piece front clam-shell with fully masked front wheels and wheel arch venting leads the aerodynamically cleaned silhouette of this car. A menacing stance is enhanced by the aggressively flared rear wheel arches and aero-efficient three-dimensional rear wing and blended end-plates. The visual message is clear; this vehicle means business and the squat wide hindquarters symbolise the latent power harnessed within.
That power is provided by the same charge-cooled supercharged engine that the GT3 race car employs, producing 275PS (271bhp / 203kw) driven through ten inch rear wheels with 255 width tyres making the final connection to the road. Max speed (257kph / 160mph) and peak torque have been electronically limited but acceleration is left untouched and unimpaired. The front brakes and brake pads have been up-rated all round.
The end-plate mounted three-dimensional rear wing complements the widened and flattened rear deck shape in reducing the overall drag as well as maintaining front to rear downforce balance. Fitted with 2-way Ohlins adjustable dampers together with Lotus Sport adjustable front stabiliser bar and rear suspension double-shear track control arms).
It is intended that the Lotus Exige GT3 concept road vehicle will be further developed into a full production car for limited markets, to go on sale in late 2007.
Full press release here (pdf). Full Technical Specification here (pdf)