Lotus ECO2S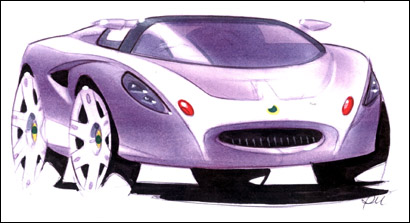 The 2002 Geneva motor saw the launch of Lotus Engineering's project: 'ECO2s' (pronounced ECOS). The project uses a number of new techniques to reduce emissions and body weight with the ultimate goal of an environmentally friendly sports car.
Lotus Engineering are aiming to demonstrate that an ultra-low CO2 level of 75g/km can be achieved without sacrificing performance. Projections show that 'ECO2S' may even exceed today's Elise in terms of vehicle performance, whilst delivering superior economy and reduced emissions (all with a diesel engine).
To achieve its goal, Lotus will be utilising the following technologies:
Light weight bonded and riveted aluminium vehicle structure
First stage composite energy absorbing crush cells
Recyclability promoted by using CF/TP Matrix
Second stage metallic crush cell, giving linear energy absorption characteristics with low mass
Dual Injection Thermoplastic Composite body panels with in mould colouring
Chassis of lightweight construction, consisting of a mixture of forging and
dual-plate steel components. Double wishbone front, multilink rear.
Metal Matrix Composite brake discs (first seen on the Elise in 1996)
42 volt electrical system
1.2l turbo DI diesel engine!
close-coupled acoustic shields
4-valve per cylinder camless valve operation
multishot, very high pressure common rail fuel injection
Active DeNOx technology with particulate trap
Low level series hybrid drive giving automatic stop/start and transient torque boost
Two mode Continuously Variable Transmission
Active Noise Control - to retain that 'Sports Car Noise'
Performance targets are 0-62mph in 6.2 seconds and a top speed of 200km/h (124mph).