Rumour Mill - Elise S3 and new Esprit?
NB. Most of the cars speculated in this page were finally announced at the 2010 Paris motorshow - click here


With the temporary waiver for the Elise in the US due to expire in 2006, announcements regarding the Elise S3 and new Esprit were expected. The MSC (Mid-engined Supercar) was (allegedly) undergoing crash testing (March 2006) and was due to be launched late 2007 / early 2008.

The picture shows what Autosport reported as the expected car.

Opposite is an official Lotus drawing of the new Esprit, from which Autocar worked. This image was released back in 2004.
Engineering of the next Esprit is 'racing forward at speed' according to Lotus. Russell Carr, chief designer at Lotus, believes that the Esprit's footprint will be 'much more compact than that of the Lambo [the Gallardo] or the Ferrari [F430]'. He lists the key Esprit styling components as: the save-the-wedge shape, the flat or near-flat windscreen, the unique side-window shapes, the clean almost geometrical body sides (contrast them with the Elise's scoops and scallops), the flip-up quad headlights and the flat rear screen.
Power was expected to come from a V8, perhaps sourced from BMW and equipped with twin turbos. This will probably be linked to a six-speed sequential transmission. It was expected that the new Esprit would not use a direct derivation of the Elise chassis frame, but the VVA shown at Geneva in the shape of the APX. In showing VVA to potential clients, Lotus Engineering has released renderings of possible supercar chassis and a complete car, badged Esprit, "close to the real 2008 model".
Other sketches: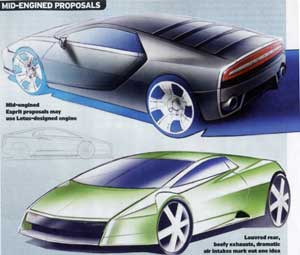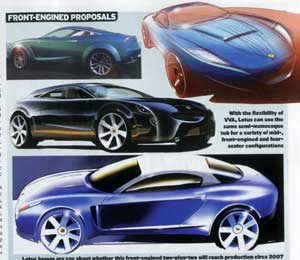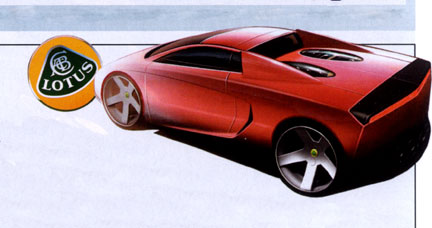 Auto Express published the following pictures (March 15th), but these have generally been dismissed as not being the new Esprit, and more likely to be the new Elise (if anything!):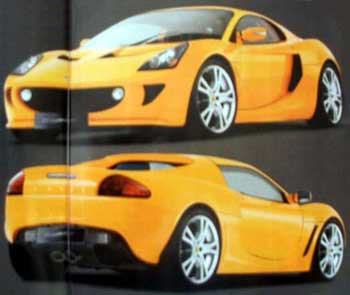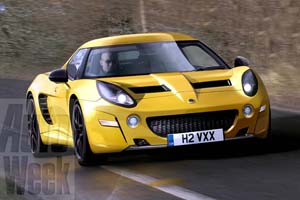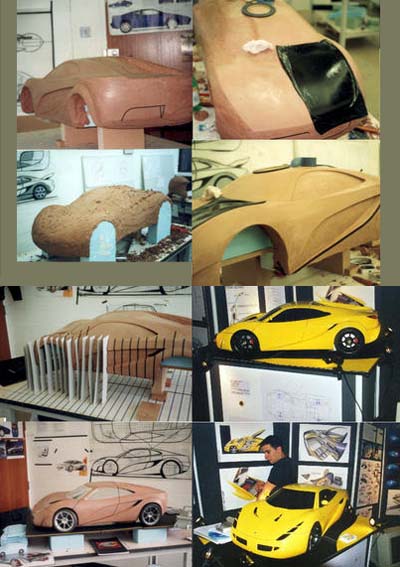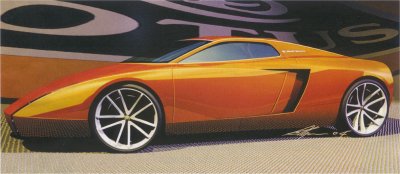 This is a drawing from Lotus emerged in 2005 along with rumours that the car would have a Mercedes V8 engine with compressor, as used in the Mercedes SLR McLaren. With 1300 kg weight and an engine from AMG with 626 hp this would become one of the fastest supercars, and was allegedly been seen testing alongside the SLR at Hethel. It was speculated that the car would also have a launch control system.
More "artistic" impressions: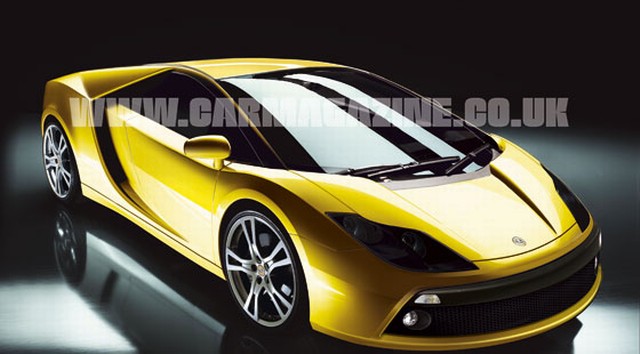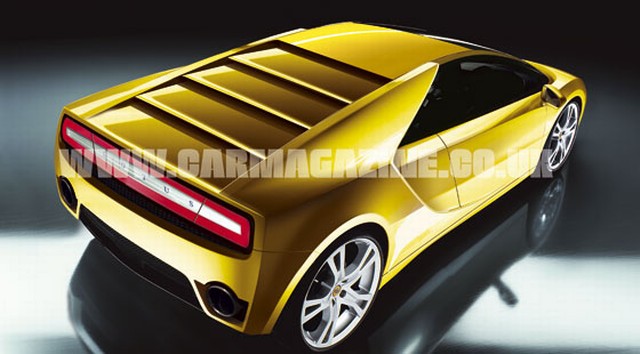 A test mule spotted at the Nurburgring - this car is allegedly being used as a drivetrain testbed - note the elongated wheelbase.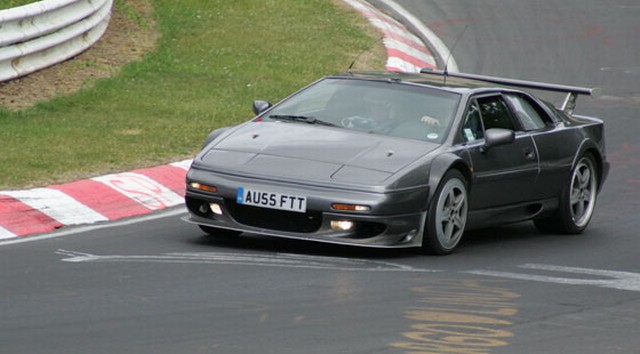 And the latest alleged "spyshot" (Sept 06, Autocar & Auto Express):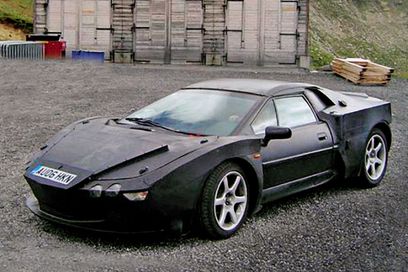 Rumous said that the new Esprit will use BMW's 4.4-litre V8, which can also be found in the X5, but massaged to produce more than 400bhp. It was speculated to likely be aimed at such supercars as Audi's upcoming R8. Although other rumours discounted the use of the BMW engine and blame the lack of an engine for a delay for the cars launch (then cited as 2009). Officially the delay is to "incorporate more Lotus DNA and other enhancements to meet the changing needs of the global marketplace," according to a company statement.
Meanwhile, two new models were expected to debut before the Esprit replacement: a Proton Satria-based hot hatch developed with the aid of Lotus' handling experts; and a much revised version with a huge performance hike. Both were speculated to likely to wear Lotus Satria badging and were promising to be even faster than Proton's own Satria GTi. Also rumoured was a mid-range Lotus, possibly a 2+2.
Group Lotus CEO Mike Kimberley said the new five-year strategic plan envisions growth in the company's engineering business as it expands into new markets and pursues joint ventures and strategic alliances with other auto firms.
Source unknown: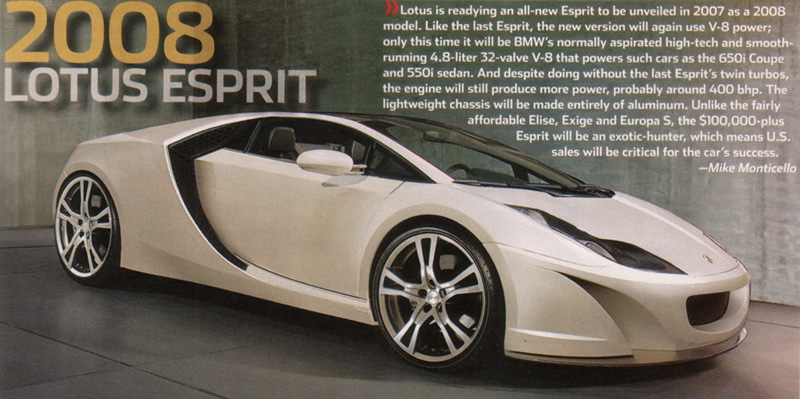 Other News
Hethel made about 4,500 cars in 2005, but it stopped making the Speedster two-seat roadster for General Motors subsidiaries Opel and Vauxhall last summer. CEO Kim Ogaard-Nielsen said they are looking to expand the engineering business which now accounts for about a quarter of revenues, but Ogaard-Nielsen plans to grow that to about a third by 2010. "We have a couple of opportunities where we are going to manufacture for another company," he said. "We could go up to 8,000 cars a year." Partners are being sought to develop vehicles based on the VVA architecture.
The Europa S, Lotus' version of a two-seat grand tourer, goes into production in July. Lotus plans to make about 500 annually. They will go to Europe and Asia, but not the US and Canada.
Statistics sourced from the CSM database 3rd quarter 09
CSMAuto is a well-known source of information within the industry and their estimations have proven very accurate in the past....(courtesy of Stefan ;) )
Production Forecasts
| | Engine | 2Q10 | 3Q10 | 4Q10 | 1Q11 | 2Q11 | 3Q11 | 4Q11 | 1Q12 |
| --- | --- | --- | --- | --- | --- | --- | --- | --- | --- |
| Elise (Monza) | 1.8L 16v dohc L4 1.8 MFI 189 | 284 | 264 | 0 | 0 | 0 | 0 | 0 | 0 |
| Elise (Monza2) | 1.8L 16v dohc L4 1.8 MFI 189 | 0 | 0 | 304 | 379 | 379 | 349 | 374 | 434 |
| Europa (Sepang) | 2.0L 16v dohc L4 2.0 MFI 200 | 6 | 6 | 7 | 9 | 9 | 8 | 8 | 0 |
| Evora (Eagle) | 3.5L 24v dohc V6 3.5 MFI 276 | 172 | 160 | 184 | 230 | 230 | 212 | 227 | 184 |
| Esprit (Silverstone) | 5.4L 24v sohc V8 5.4 MFI 493 | 0 | 0 | 0 | 0 | 0 | 0 | 93 | 297 |
| Product (Codename) | Platform | Codename | Segment | Start of Life | End of Life |
| --- | --- | --- | --- | --- | --- |
| Lotus Esprit(ESPRIT) | ESPRIT | ESPRIT | B-Segment | Jan-97 | Feb-04 |
| Elise(Monza) | ELISE | Monza | A-Segment | Sep-00 | Sep-10 |
| Lotus Europa(Sepang) | ELISE | Sepang | B-Segment | Jun-06 | Dec-11 |
| Lotus Evora(Eagle) | VVA | Eagle | B-Segment | Jun-09 | Nov-16 |
| | | Monza(2) | A-Segment | Oct-10 | Dec-15 |
| Lotus Esprit(Silverstone) | VVA | Silverstone | B-Segment | Oct-11 | Sep-21 |

Engine Details
Elise (Monza): 1.8L 16v dohc L4 1.8 MFI 189
Elise (Monza2): 1.8L 16v dohc L4 1.8 MFI 189
Europa (Sepang): 2.0L 16v dohc L4 2.0 MFI 200
Evora (Eagle): 3.5L 24v dohc V6 3.5 MFI 276
Esprit (Silverstone): 5.4L 24v sohc V8 5.4 MFI 493
The codename for the S3 Elise, uncovered at the Geneva motorshow 2010, was "Anglesey". It was anticipated that as all the available 2ZZ's were to be used for Exiges / Club Racer Elises, the "back to the roots" S3 would feature a 1.6 I4 with about 130 bhp; and a later "S" upgrade with about 150-160 bhp. The VVA was expected to be the basis for the chassis.


Elise S3
Just prior to the 2010 Paris motorshow (when much speculated about models were announced), Auto Express published the following artisic images: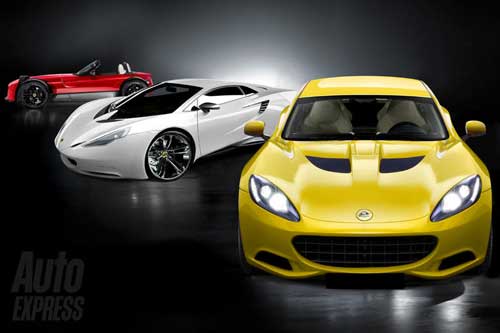 New Elise, Esprit and a "Seven"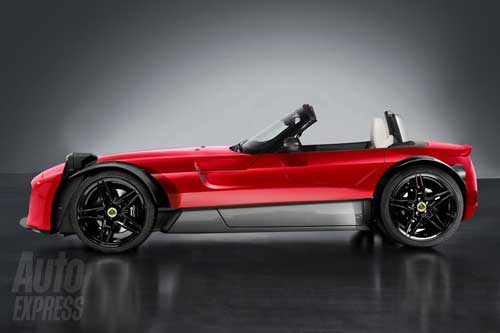 "Seven"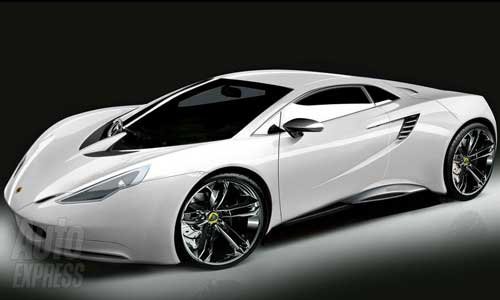 Esprit