Type 119, Lotus soapbox (July 2002)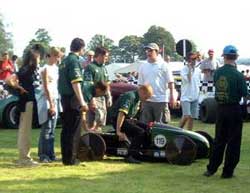 The world's fastest go-kart, capable of reaching 60mph in 4.3 seconds, and has a top speed of 207mph. The Lotus Type 119 weighs just 77lb, has a carbon fibre monocoque and utilises bonded aluminium in its construction. The engineless kart is designed to race on downhill courses where gravity will power it.
It competed for the first time at The Goodwood Festival Of Speed in the '2002 Goodwood Gravity Racing Soapbox Challenge' - where it was expected to reach a speed of around 60mph. (Picture © MarkS)
Nine trainee engineers spent ten months building the Type 119. Project leader David Stacey: "We are honoured to have been given this fantastic opportunity to represent Lotus Engineering in this very famous and exciting event. The Type 119 will exhibit many of Lotus' key strengths, such as the use of state-of-the-art material technologies, bonded aluminium structures and design innovation."
The final standings were:
1st BMW (Rolls-Royce) Total time : 136.4

2nd McLaren Total time : 137.2 (penalised 5 for not being ready for the first test day)

3rd Lotus Total time : 139.9
More info on the type 119 can be found here

Lotus Type 119 (2002)


Finished 2nd in Class, 3rd overall


Lotus Type 119b (2003)


Finished 1st in Class, 3rd overall


Lotus Type 119c (2004)


Overall victory