Grand Tour des Moules, Sept 2001

My first large Elise run, with about 40 cars from Holland, Germany, Luxembourg, Belgium and even 14 UK cars. The Routemap can be found here
The meeting point was at the Metropolis Cinema, Antwerp. From there we drove to Hulst in Zeeuws Vlaanderen, via Antwerp Harbour area and the Verdronken Land van Saefthinge.
We had an excellent lunch (moules of course!) in the medieval city of Hulst at Brasserie Hogerop (situated on top of the old town wall, and a moments walk from our parking place on the Grote Markt).

After lunch we continued our trip via Terneuzen to Cadzand -Bad, our final destination and the chance for a chat and a drink with a great view on the
North Sea in Hotel Restaurant De Wielingen.
Total distance slightly over 160km or 100 miles.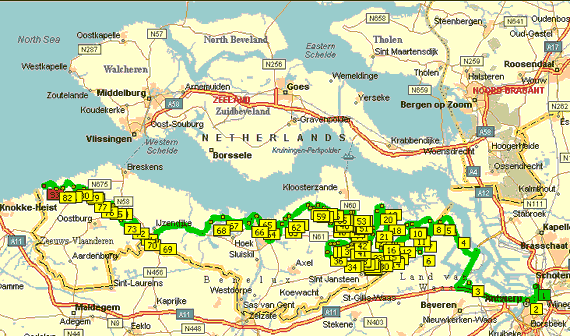 The Google Map is split into Part 1, Part 2, Part 3, and Part 4
The ITN file can be downloaded from here (rename minus the txt extension)
For more info and pictures, see:
Koen Verhagens site: http://www.xs4all.nl/~neox/tdm.html
Erik van Oosterhouts site: http://www.lotus-elise.myweb.nl/main.htm
Yvo Tuks site http://www.lotus-elise.nl/My_Car/parking.jpg
SimonTs site: http://briefcase.yahoo.com/surfsofa
PaulGs site: http://www.elise160.net/Moules.htm
alains site: http://www.se7enly.be/meetings/tourdesmoules2001.htm