The Nürburgring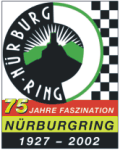 See http://www.nurburgring.org.uk/ for all you could ever want to know, but also http://www.heiser.net/documents/nurburgring/ for a little bit more.

A corner by corner guide to the Ring can be found here & an Autocar guide here
"Greatest & most challenging race circuit in the world" said Jackie Stewart - but he also nicknamed it "The Green Hell".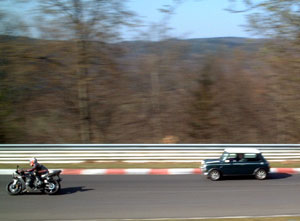 Trusty Rusty hunting down a biker
Originally built as a dual-purpose racetrack and manufacturers test-track, the Nürburgring used to be the
German Grand Prix circuit until Niki Lauda's horrific accident there in 1976. Formula One was demanding increased safety features like extended run-off, gravel traps and tyre-walls; the Nürburgring offers only 13 miles of armco and trees.
Now officially classed as a one way public "toll" road, the Ring combines some stunning scenery, a terrific atmosphere and some tricky driving. Anyone can enter, the Ring taxi is the fastest thing there - tourist buses are the slowest!
I've lost track of the times I have been to the Ring now, but every time I return it still feels like the first time. Just to prove that you don't need an expensive sportscar to enjoy yourself, here's my trusty rusty Mini chasing a motorbike :o)
The first time I went, I had arranged to meet up with a group from The Scottish Elises. I got to Adenau and booked into the hotel and then set off to find the Ring. I found a ticket office, purchased a ticket & had a look around - but not an Elise to be seen in sight :o(
Oh well then - there was nothing for it - I had to get out there onto the Ring! With some trepidation I exited the pit area to be greeted to the sight of a rather long straight section of the Ring behind me and a steep hill in front of me. I had managed to find the halfway starting point!
This made for an instant adrenaline rush - I had to get straight out onto the Ring and accelerate hard up the hill to avoid the bikers doing horrendous speeds down the straight. It was all a piece of cake after that! (well not really :o)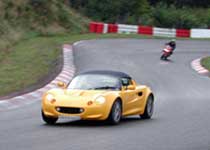 I found the "proper" starting pace and pulled off to find all the Scottish Elise guys hanging about there. Gareth (an MGF driver) then also phoned to say he was nearby - and sure enough he turned up a few minutes later too.
Then I discovered that I could use my ticket to do a full lap :o)
I've returned several times since then. On one of my trips (Sept 2001), the weather had been fine for many weeks, and had just rained the previous day - the result was that the surface was amazingly slippery!
I managed one rather slidey lap in the Elise which nevertheless persuaded Paul to take his M3 out for the first time (this was his first time at the Ring too). The difference was astounding - and all the safety features were fully tested on that lap!
Rather than persuade me to buy a BMW, it persuaded me to get some proper driver training though!
Mark Anderson was at the Ring that weekend too. Mark knows the Ring backwards, and I had a rather enjoyable passenger lap with him: http://www.elise-s160.co.uk/ringtrip1.htm (scared? me? by him? LOL! - He was the perfect escort ;) )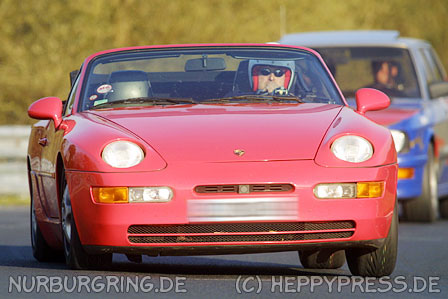 Ben Lovejoys 968 - I was lucky enough to passenger with him a few times
Hotels: http://www.slidersguesthouse.com/ and http://www.hotel-finkenberg.de/ are favourites (a little away from the Ring in/near Blankenheim- but not too far, and a nice drive)
Or http://www.nuerburgring-hotel.de/ which is very near
Further suggestions on Bens site