Kenya - Tsavo East NP and Taita Hills sanctuary Safari
Day 1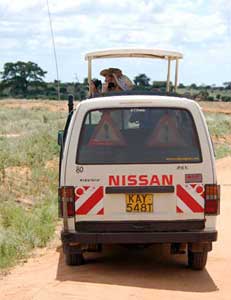 The first surprise was that the traditional jeep type transport was not necessary. We departed Kilifi for the Tsavo East National Park in a minibus that had an extending roof for game spotting. I believe that 6 people are normal in one of these buses, we had a party of 4 - I think 6 might have been a bit cozy when standing and watching the animals.
On the journey there we passed through Mombasa.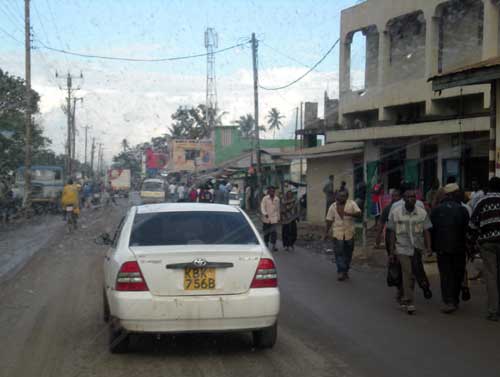 The shops that lined the streets were interesting - there were a surprising number of sofa sellers - the upholsterers located next to the framemakers in an almost production line efficiency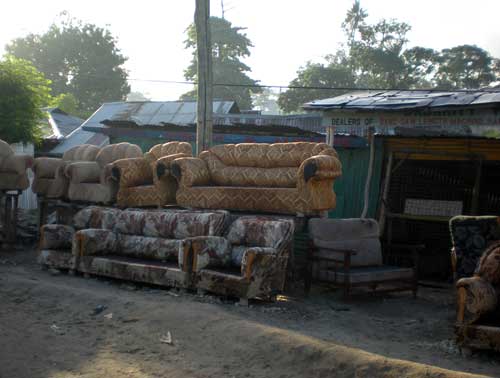 We were met at the Bachuma entrance to Tsavo East National Park by a man selling "essential safari hats with brim all the way around & ties to prevent it being blown away". He was doing quite a roaring trade, fortunately we had our own (Ozzie!) hats ;o)
For the trip, we hired a telephoto lense from http://www.lensesforhire.co.uk/. The animals were so close we hardly needed it, but we did get some lovely pictures.
The earth here is a distinctive red colour, due to the iron rich soil that dusts everything (especially the animals). Immediately on entering the park we came across a small herd of Impala.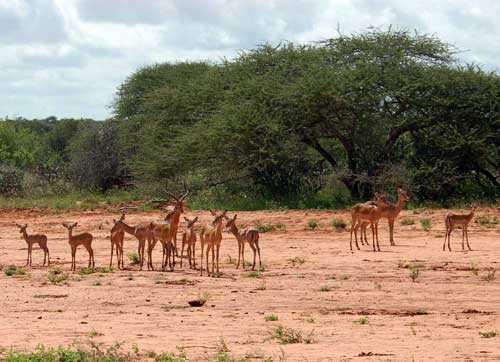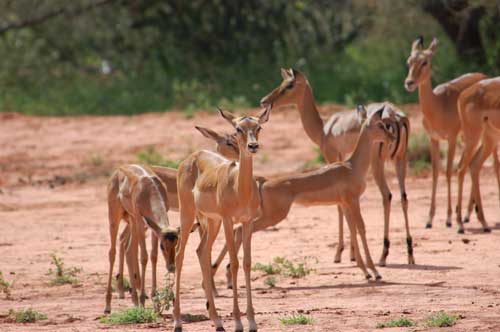 We were excited by this first discovery, but it really didn't prepare us for the large numbers of animals we'd be seeing at much closer range.
After a few spotting's of giraffe and elephants (some better photos later), we came up close with a prehistoric looking monitor lizard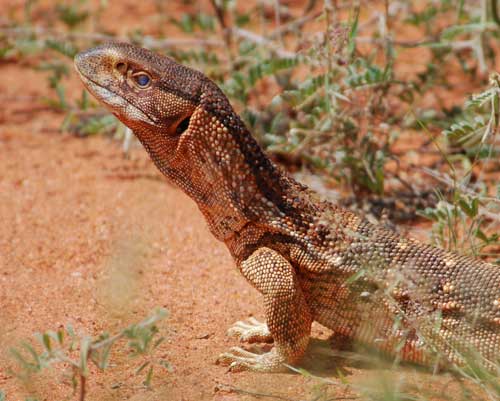 A little distance away, we spotted this little thing (as yet unidentified).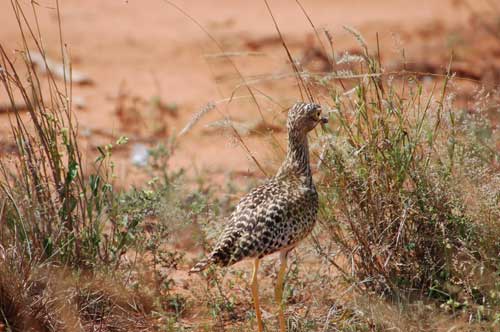 and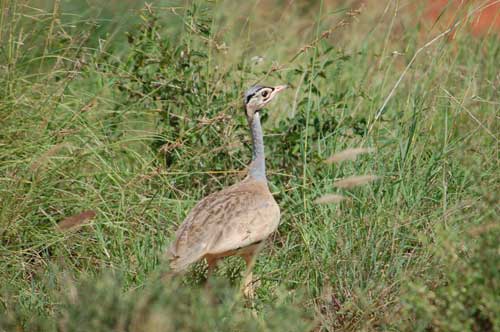 After watching the pink elephants (yes really, its the dust) grazing the bush land, two males started a standoff behind us, using the road as a line that neither was too willing to cross - despite a lot of kicking dust, stomping and trumpeting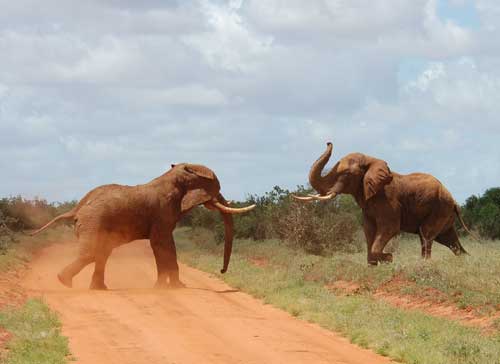 Meanwhile the rest of the herd grazed nearby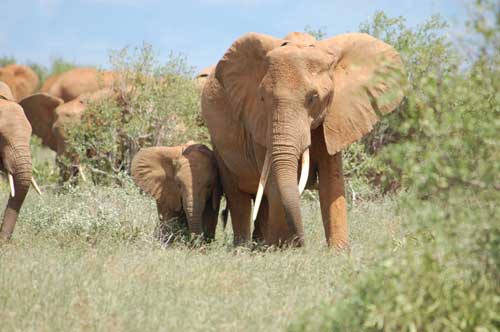 Although some were still crossing the road to catch up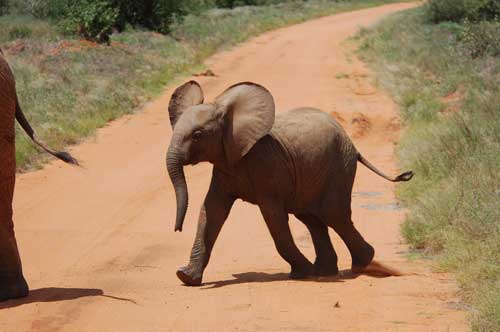 One of the heaviest flying birds there are is the Kori Bustard
The ostrich really looks like it should have someone like Rod Hull running alongside...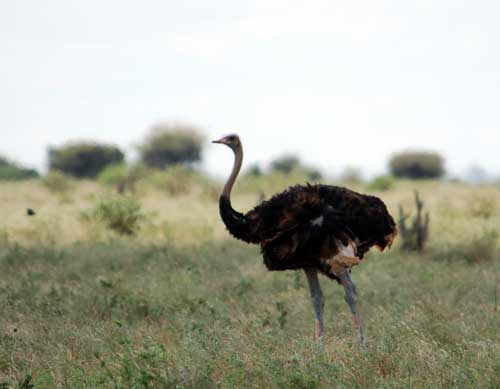 The impala, zebra, giraffes then came thick and fast, until we reached the Aruba Dam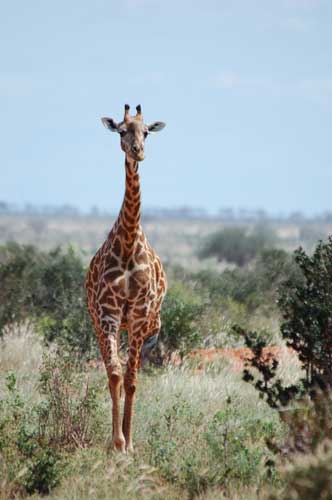 Aruba Dam was built in 1952 across the Voi river. The reservoir created by the dam attracts many animals and water birds, including some resident (camera shy) hippo.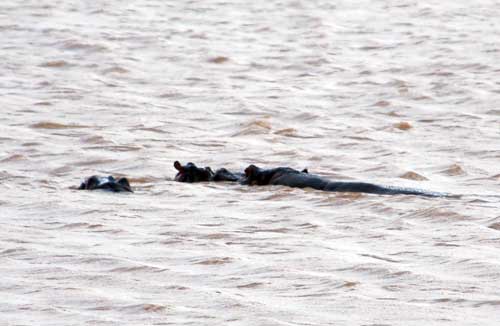 More impala and gazelle were then spotted, including these Kudu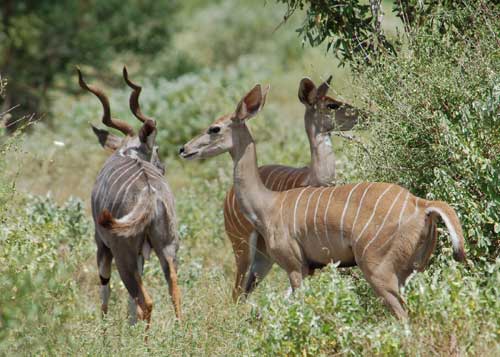 Birds of prey hovered above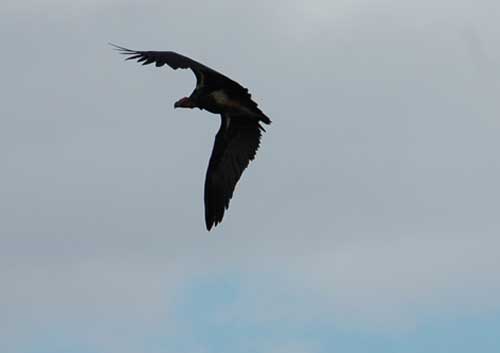 Baboons feasted in the trees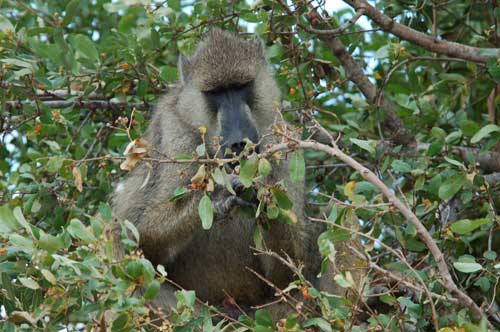 More vultures lurked (possibly near a kill we couldn't see from the road)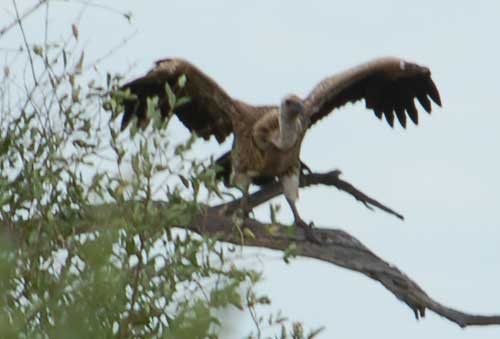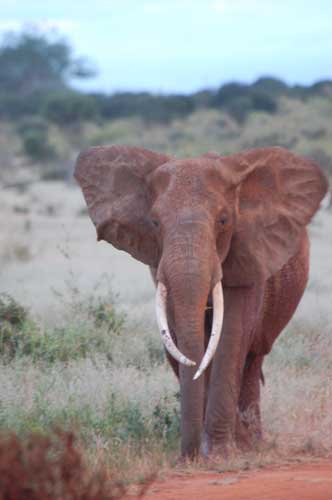 A warthog watching the tourists, whilst impala graze the bushes.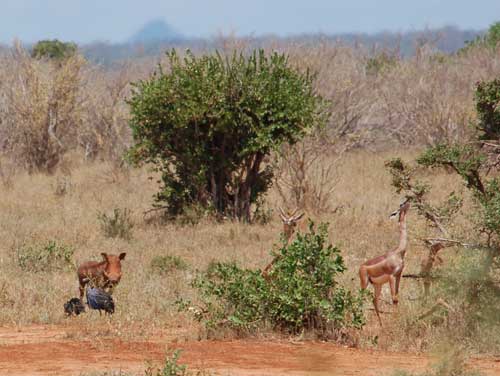 Waterbuck watching us watching them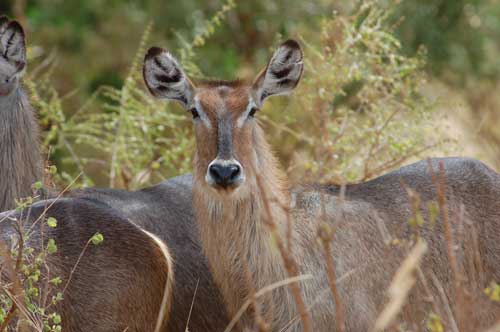 Cape buffalo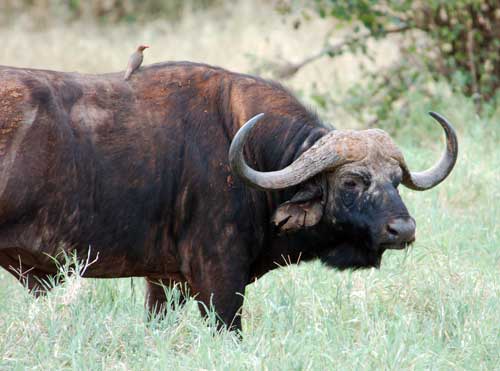 A few passengers (aptly named red-billed Oxpeckers) ensured ticks and other insects didn't bother the buffalo too much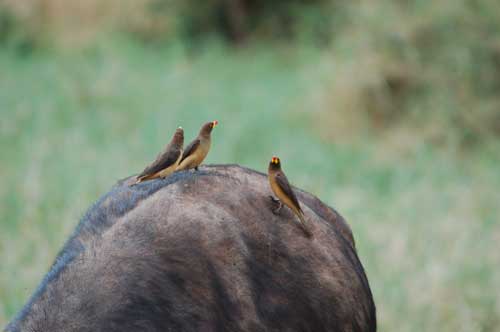 Cheeky little Vervet monkeys soon became a familiar sight - fearless, cheeky, intelligent ..... and considered a pest by many.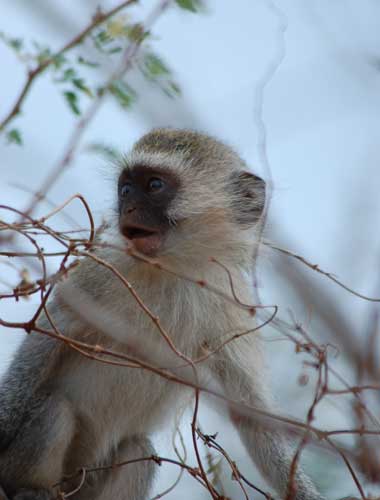 Lunch was at the fabulous Manyatta Camp, an exclusive lodge nestled on the edge of the park & comprising of 24 en-suite luxury tents (nestling under a thatched roof) each with its own private swimming pool and great views of the park and river.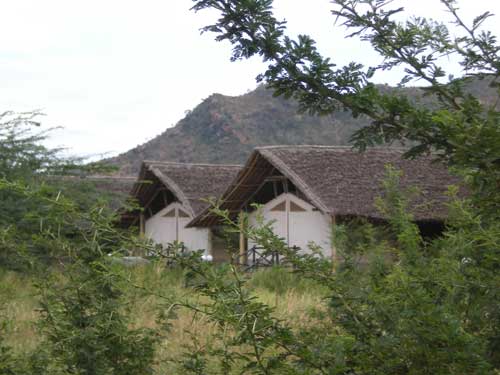 The Restaurant was over looking Voi River and we could view the animals at the water whist we enjoyed our meals. Adjacent sister camp to the Voi Wildlife Lodge. The swimming pool per tent seems rather excessive, and especially given the recent drought problems.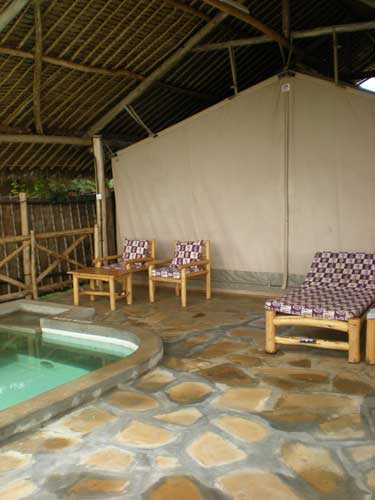 In the afternoon, we took another game drive to the northeastern side of the park, which is the traditional home to the cape buffalo, rhino and giraffe, before returning to camp in the late evening.
To round the day off, we finally spotted a small pride of lions feasting on an antelope in some bushes near the road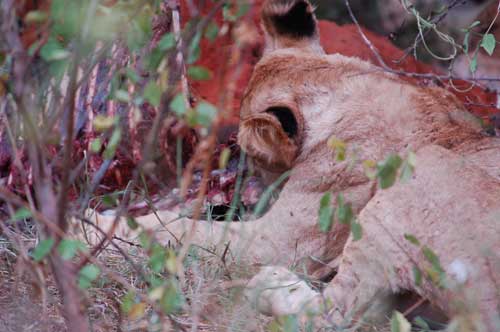 Red-billed Hornbill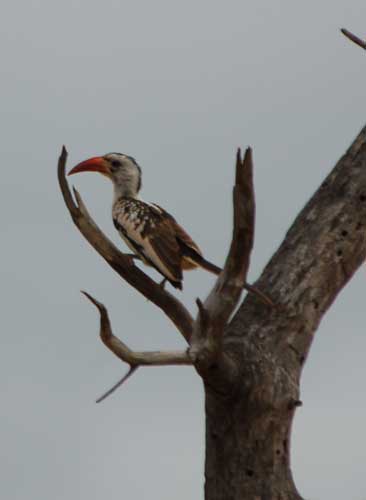 Lilac-breasted Roller?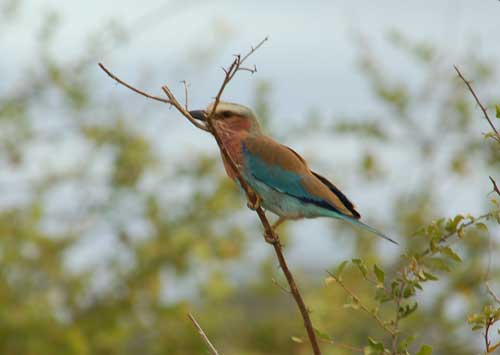 zebra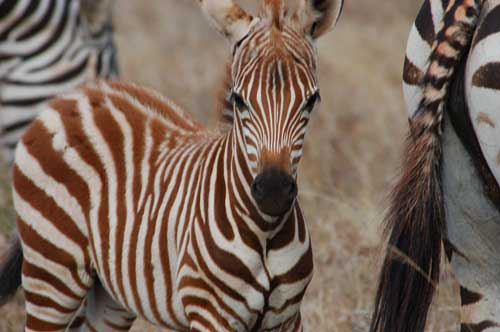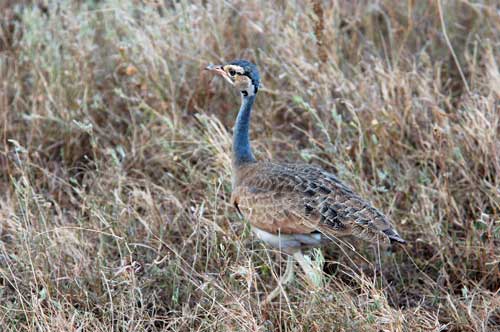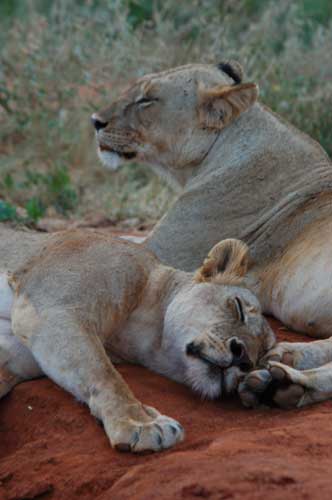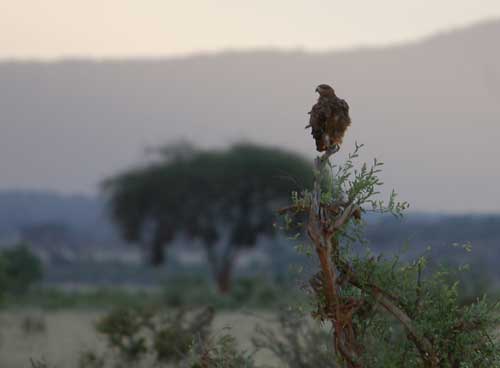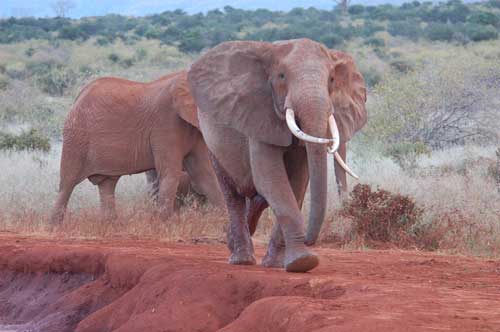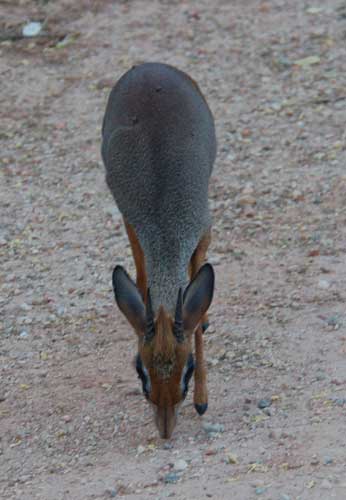 Day 2

Our driver warned us that there was more to see in the Tsavo park than at the sanctuary, so we set off early for a pre-breakfast drive. This was the view from the breakfast room.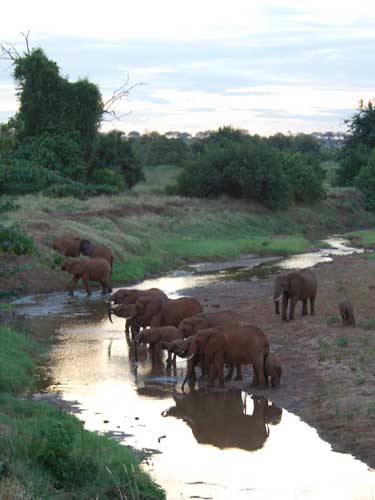 After breakfast, with a herd of elephants also breakfasting not far away from our breakfast table, we proceeded to the Taita Hills for another drive.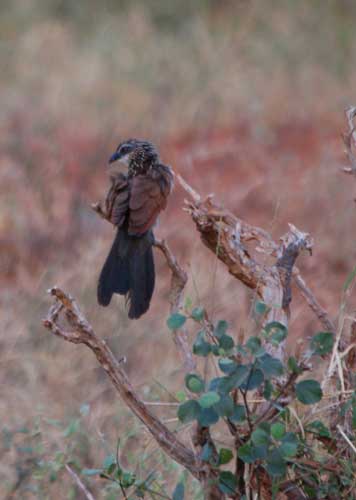 Mongoose invades a termite nest.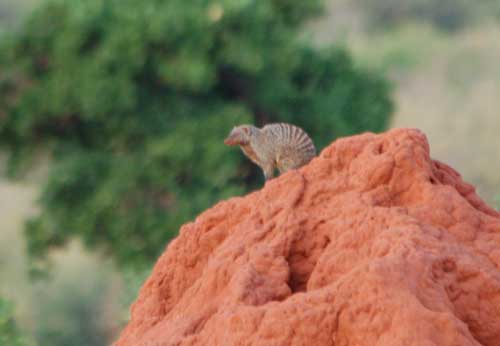 Whilst watching a her of antelope, they suddenly became alarmed about something - and as we watched a pair of lions appeared with 2 cubs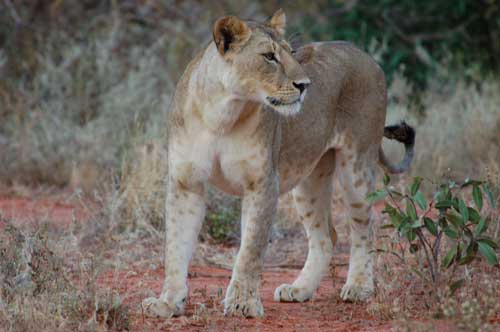 We followed them for a while as they followed, and then crossed the road. One of the cubs found an interesting hole to investigate and was in danger of getting left behind, until his sibling stopped in the middle of the road to call him - then off they trotted together.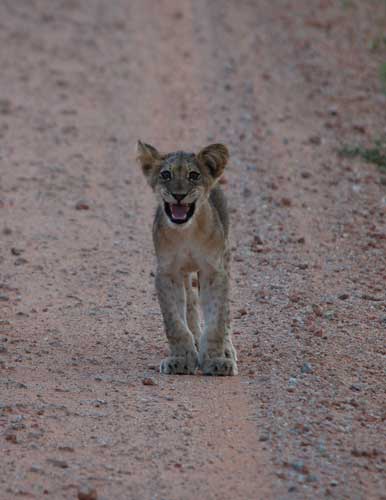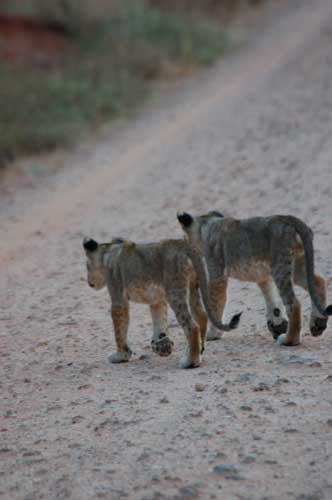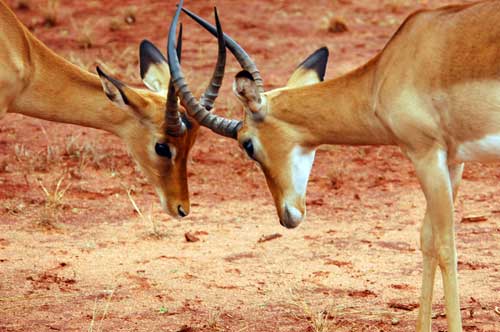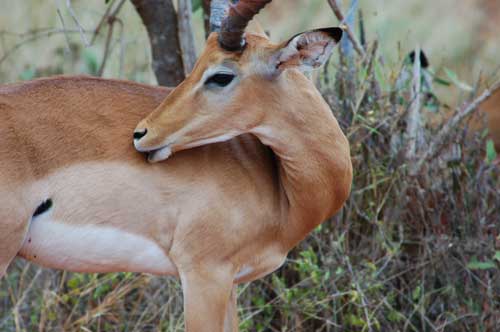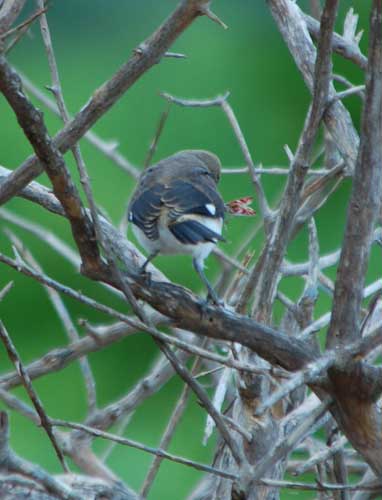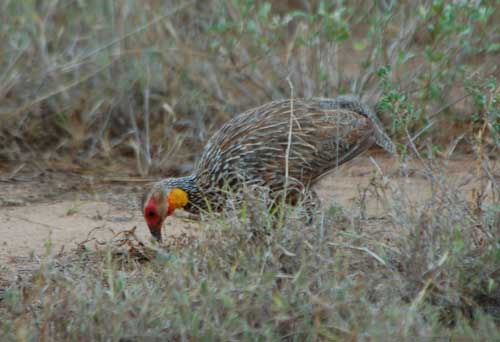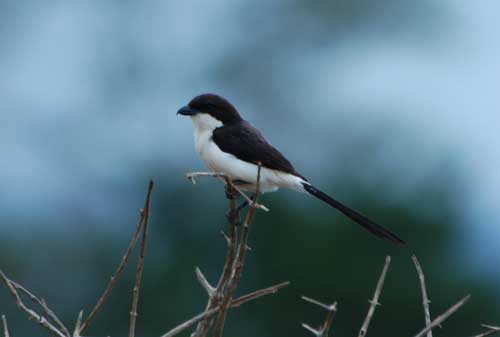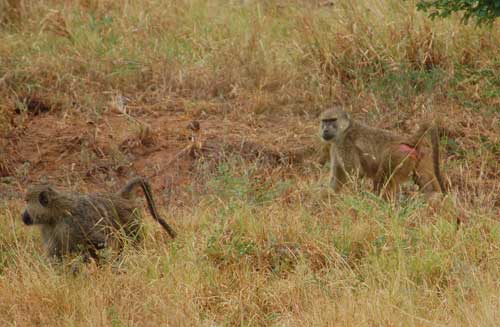 I have to mention the road from Tsavo to the Taita Hills sanctuary (which is also the main road to Tanzania) - as it wasn't so much a road as potholes vaguely connected by patches of tarmac. It was so bad that for long stretches, traffic drove alongside the road on the bare earth as it was a better surface.
Lunch was at the Taita Hills Lodge, and was followed by another game drive until late evening, with a transfer to the Sarova Saltlick Game Lodge for dinner and an evening of game viewing from the lodge itself.
Some interesting lizards in the lodge garden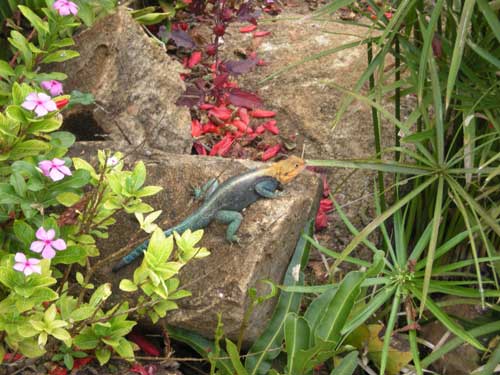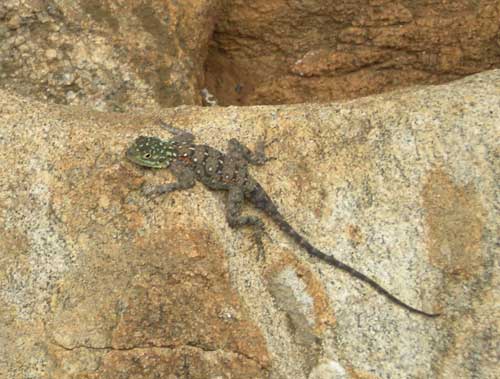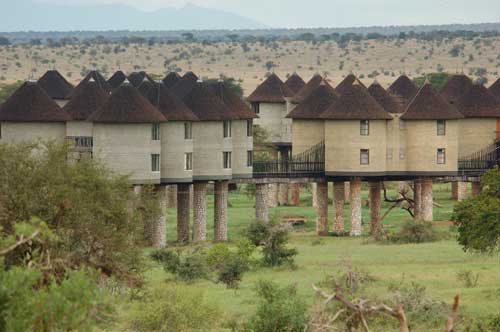 Sarova Saltlick Game Lodge is nestled in the heart of the private sanctuary and consists of 96 rooms elevated on stilts and linked by raised walkways. The restaurant and bar terrace command views of the waterhole and surrounding grasslands, where elephant, buffalo and a variety of plains game can be seen throughout much of the year. The area is illuminated by floodlights to facilitate game viewing at night.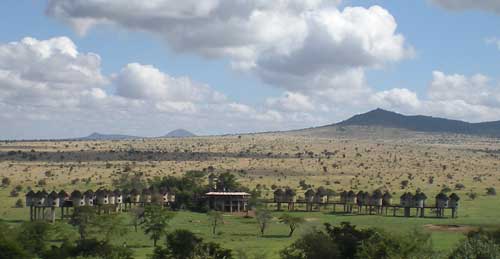 The 110sq. km park consists mainly of plains and woodlands with typical riverbank vegetation along the water course. Flanked by the eye-catching and craggy Taita Hills, it offers a safe haven to a wide variety of animals and birds. More than 50 mammal species are to be found in this small area and almost 300 bird species have been recorded within its boundaries.
To be honest, when we visited, it was a bit of a disappointment. Maybe due to it being the wet season (so wildlife was more dispersed and not drawn to the waterhole), or maybe we'd just seen so much in Tsavo that it'd be difficult to match.
The resort itself was unusual, and was probably very nice when first built, but it was a little tired, which was sad; but again, Manyatta was so fantastic that would be difficult to compete with.
The countryside here was more diverse - with vast savannah stretched between small outcrops, and hills in the background. With clear skies you can even see across to Mount Kilimanjaro (we got up too late and missed it).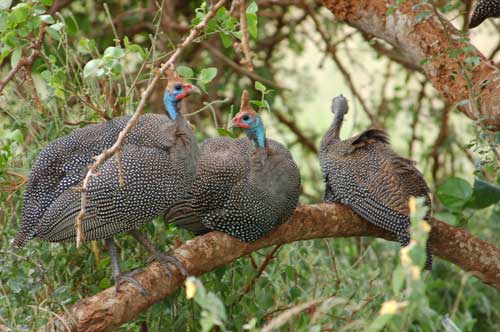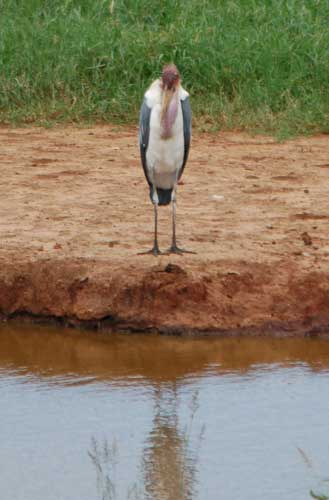 If only the starlings at home were this colourful!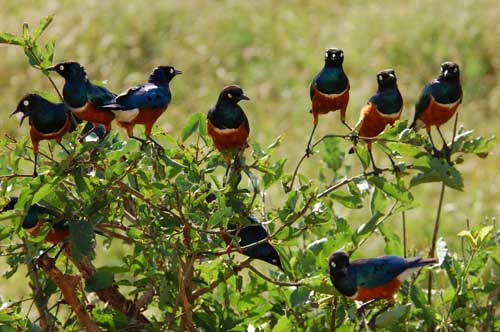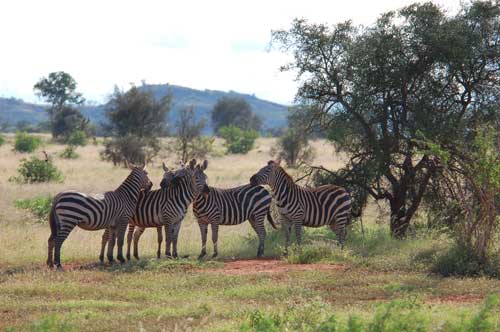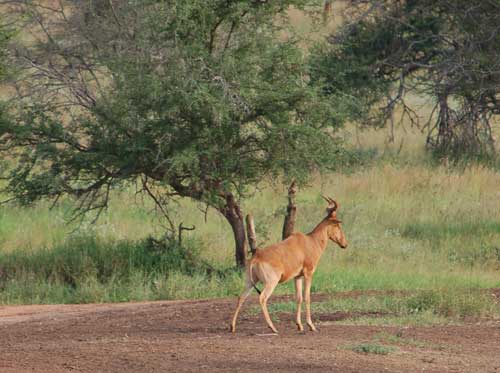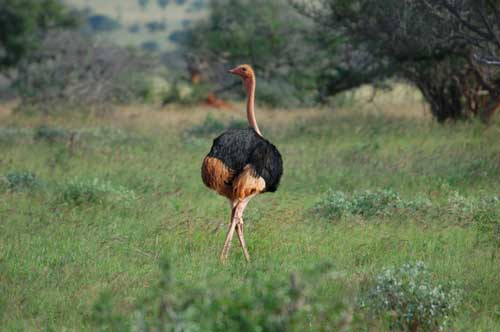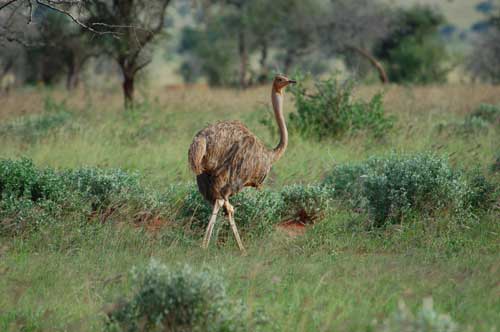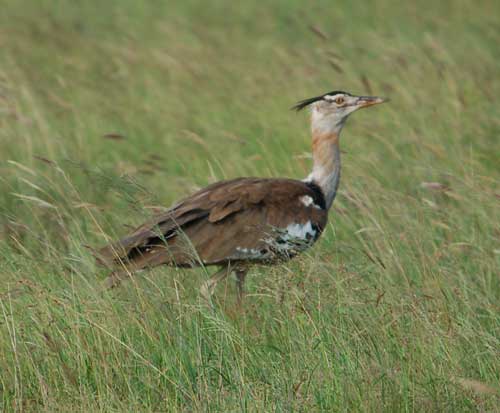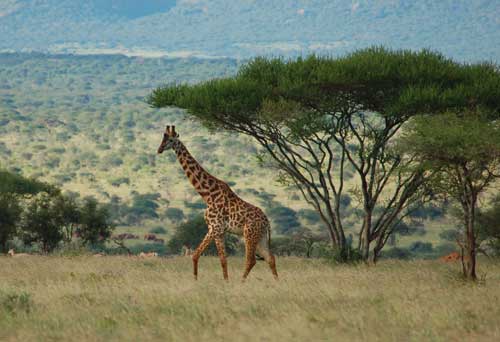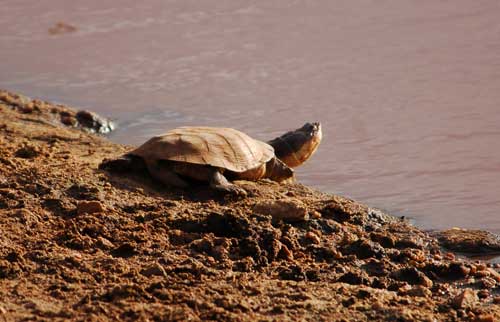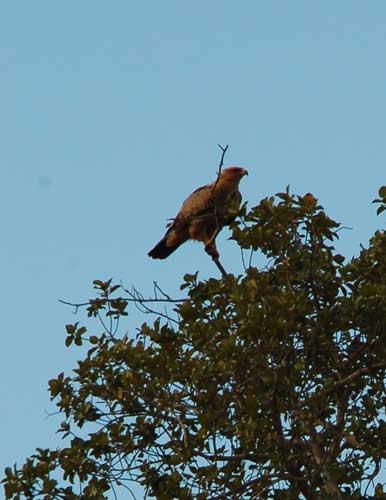 Eagle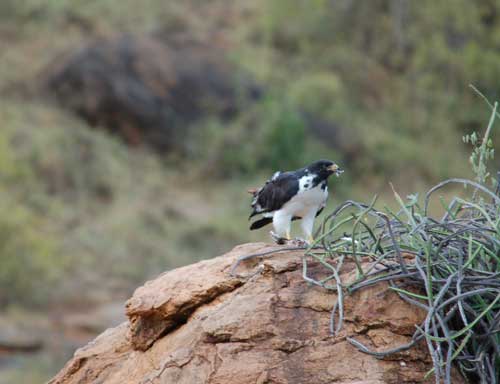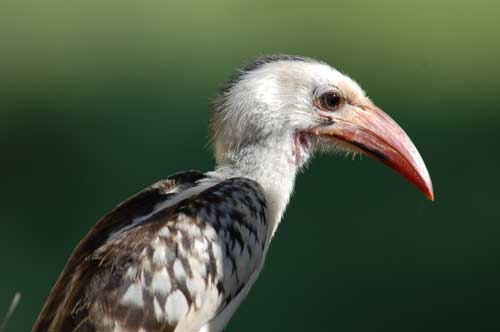 Day 3

After breakfast, we departed for a morning game viewing drive in the sanctuary, followed by lunch back at the Taita Hills Lodge and then the drive back to Kilifi.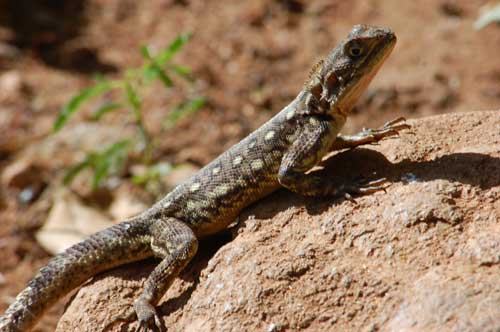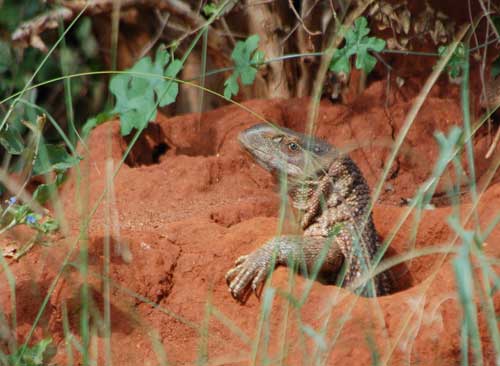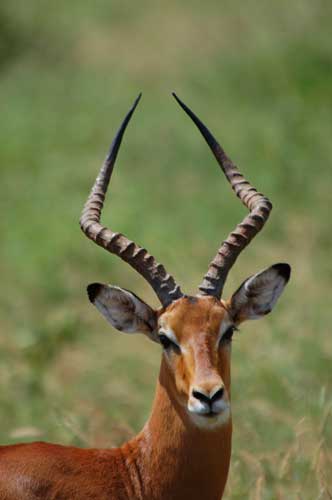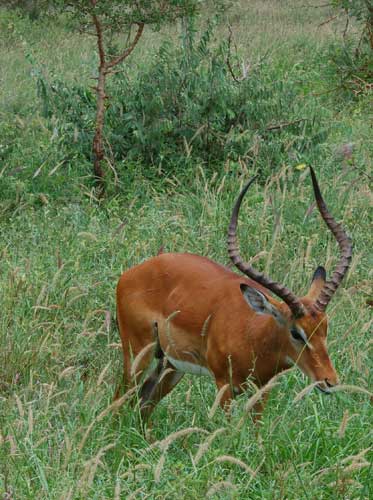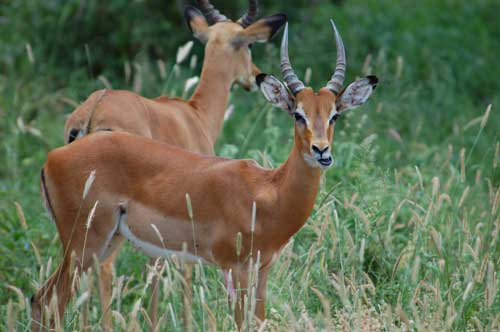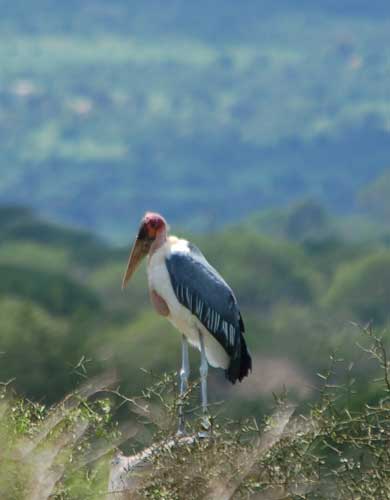 Finally it was time to head back to civilisation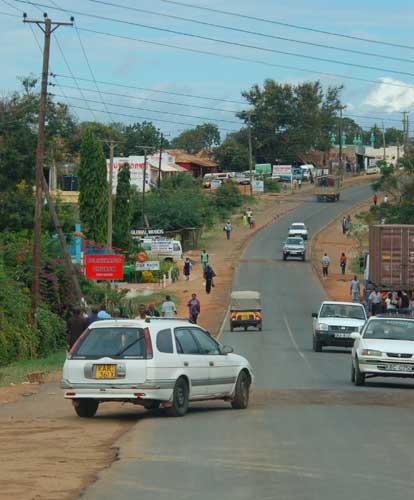 Tuk Tuks were very popular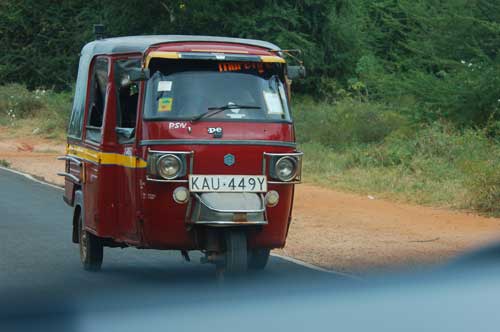 As we approached Mombasa we spotted a rainstorm. Fortunately we missed it, but were caught in the chaotic aftermath. Traffic picked its way around potholes and trucks stuck up to their axels in mud.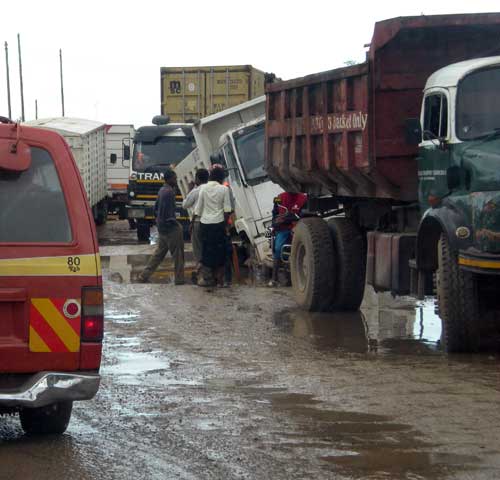 So we of the Big Five - Lion, Elephant, Cape Buffalo, Leopard and Black Rhinoceros - we had seen 3. I guess that just means we'll have to return sometime to spot the elusive Leopard and Rhino.
What to take
• Clothing: should be lightweight, khaki is good as it does show dust etc so well. Long sleeves and trousers are better than shorts and T-shirts for staving off mosquitoes; at higher altitudes warm clothing is vital. Trousers with a zip off section are useful. http://www.thesafaristore.co.uk/ offers some well made and useful items.
• Binoculars: preferably a lightweight, compact, maybe even waterproof pair. Can be hired from the safari shop above.
• Camera: even a modest camera will reward you with great pictures as the sights are so breathtaking. A zoom lense (see below) is useful to capture close ups of the animal and bird life.
• Insect repellent: repellent containing Deet is still recommended. Ong sleeves and trousers are recommended for the evenings to protect from mosquitos. A course of malaria treatment is essential - Malerone is the drug of choice (least side effects, but expensive)
• Yellow fever certificate: Also recommended, provided by a limited number of surgeries per county and to be taken at least 10 days before travel. For other vaccines and travel advice, check http://www.fitfortravel.nhs.uk/home.aspx aand with your GP
• Mosquito net: provided by most lodges, but may be useful if staying in cheaper accommodation.
• Inflatable cushion/small beanbag: Safari roads can be a little bumby - it's worth taking something to cushion the blows and/or as a camera steady when taking pictures
When to go
Peak season is from June to October; December to March is hotter; April and May, the rainy season, is the cheapest but many roads may be inaccessible. You can save by going in late May or early June, when the rains have stopped and the migration is in progress, but low-season prices still apply at many lodges.
Links
http://www.kenyabeasts.org.uk/ - Great for identifying / remembering what we had seen
Webshots Album - My safari photo collection
Facebook Album - Harv's favourite photos
Photos taken using a Nikon D50 and a Nikon AF 80-400mm f/4.5-5.6 D ED VR lense (lense hired from http://www.lensesforhire.co.uk/), and a Nikon Coolpix S210 for a pocket sized snapper