MGF Treffen 2001
Pictures from Erik (Antwerp) here, Stefen Gibney here, and Mark Andersons Ring visit here
Treffen 2001 – Day one – Saturday 8th September
Home to Dover, Dover to Calais, Calais to Charleroi - 278 miles
An early start for me, your humble narrator, living as I do near Stansted Airport. The day started off well, if dull and overcast and my first task was to re-fuel at a local service station, before departing along the A120, onto the A130 to Chelmsford, it was here that I made my first stop, at 7:45am. Why did I stop at Chelmsford? Well, following Rob Bell's experiences on the Nurburgring last year I recently had my rear brake pads changed and although the front ones have a fair amount of life left in them yet, I expect them to be shot by the end of the Treffen. Fortunately, I have a spare set of part worn pads, or I thought I did until I started looking for them this morning! Anyway, I resolved to call in at Eastern Rover and pick up a new set on the way (standard, but beggars can't be choosers!) just in case. 8:00am arrived and the place was still closed, so I left without them (presuming that they must open later on a Saturday than a weekday).
Believing that I was now running late, I decided to drive a little quicker than normal and was making extremely good time when I reached the Dartford flyover, in fact, despite the drizzle, I arrived at Dover at 9:15am – not bad going, even if I do say so myself. En-route I passed 3 Fs, all of them Platinum Silver, the last of which in Dover, turned out to be Dave & Veronica Stonehouse, although when they waved I did not recognise them, therefore we split up as they proceeded to check in whilst I stopped at the Eastern Docks to buy a few last minute items (including the EU power adapter I am currently using to run my laptop). After a minor panic regarding the ferry ticket – there wasn't one in the information pack sent through by Ted, deliberately as it turned out, these days they use electronic tickets and all I needed to show was the receipt, I also checked in, only to find that Ted was also there. Thus it was that both Dave and Ted beat me to the queue for the ferry, despite me being around one and a quarter hours early! As usual Patrick and Ann arrived last (but not least) and the UK "Treffeners" were complete.
UK Treffeners
Andrew "Scarlet Fever" Phillips
Ted "The Green Squirrel" Newman and Graham Neill
Dave and Veronica Stonehouse
Patrick and Ann Beet
The crossing was uneventful, other than us getting separated from Dave and Veronica literally as we drove off the ferry! We waited just past immigration until the ferry was empty, but they were nowhere to be seen. Finally we concluded that they must have gotten off before us and were probably getting some fuel in Calais. As it happens, we were not to see Dave and Veronica again until we reached Charleroi, when they arrived a quarter of an hour after us.
A nice, fast run through France and then up into Belgium, only slighty marred by the drizzle (at one point I even put the hood up!), some "locals" cutting us up and concern for Dave and Veronica saw us arriving at the Ibis hotel in Charleroi at around 5:00pm local time, to find Gareth "Ddraig" Hughes and Sally waiting for us. They had had a reasonable run from Utrecht, but it turns out that they had left half of their clothes behind in their flat! Sally is looking forward to a shopping spree in the next couple of days!!!
One incident of note is that I visited a Bureau de change last week to get some French and Belgian Francs and some Deutsche Marks (£10.00 UKP, £10.00 UKP and £30.00 UKP respectively), and when I topped up with fuel in France (we all topped up together so that our fuel stops would be synchronised), I discovered that I had been given £100.00 UKP worth of French Francs by mistake – Wahoo!! J
As I write this, it is 11:00pm, Stefan Gibney and Jenny arrived at around 7:30pm and we have all just had dinner. The food was reasonable (well most of it anyway!), if a little slow in arriving – just as well the company was so good. A lot of banter and quite a lot of alcohol later and here I am, being sad, typing this up after dismantling the telephone in the hope that I can get online to post this on the BBS tonight!
Additional Treffeners:
Gareth Hughes and Sally
Stefan Gibney and Jenny
Today's choice of music was:
Reasons To Be Cheerful – the best of Ian Dury
Three Pyramids Club – Suggs
Out On The Streets – The Selecter, live
The Rise And Fall – Madness
Treffen 2001 - Day two - Sunday 9th September
Charleroi to Cochem via Bastogne, Echternach & Bernkastel - 224 miles - see route in Google Maps here
Rain. We departed Charleroi at around 9:15am and headed off in the gloom just ahead of the coach load of Spanish Venture Scouts that had been sharing the hotel with us. Our first destination of the day was Bastogne in the Walloon region of Belgium, the site of the infamous "battle of the bulge" in WW2, and now a centre for tourism. We arrived, damp, but without incident and all managed to park together in the town square (opposite an ex American army tank, set on a pedestal as a monument) and then proceeded to wander around taking up the atmosphere of a Belgian town, commercialised to cater for American tourism. As we were strolling around, I heard a familiar bark and looked up to see Dieter and Rosi approaching along the high street, Miltek exhaust growling and popping! He managed to park up along side us and then we met up with the other Treffeners in a nearby café. After a short break for coffee, we set off again on the next leg of the tour. By this time the rain had stopped, and although the sky still looked threatening, I decided to zip out my rear screen, just in case it brightened up enough for me to throw the hood back.
Bastogne to Echternach along some lovely winding roads, through the Luxembourg countryside. Sure enough, the rain (mostly) stayed away and it wasn't long before I was hood down. On last years Treffen I came away with a poor impression of Luxembourg, the route we took today however has changed my mind and although not quite as spectacular as the Black Forrest, some of today's driving was very reminiscent of the Schwartzwald (apologies if this is spelled incorrectly!) We arrived in Echternach at around 12:30pm and stopped for lunch. Echternach is on the Mosel river which doubles as the border between Luxembourg and Germany and is a fairly large town, filled with some beautiful buildings. Dieter had arranged to meet a Dutch gentleman (living in Luxembourg) who turned up in a brand new Solar Red Trophy 160, complete with power hood. This, as it turns out, was the reason for the meeting, as although sourced in his own country, the manual for the power hood was in French - a language the gentleman did not speak. Dieter had managed to source a German language one for him, which was much more to his liking. Personally, I think it was an excuse for Dieter to get some pictures of a Trophy for his web site!!! ;-) Lunch was very nice, in a little restaurant in the town centre with Ted, Dieter and Rosi, Dave and Veronica, Stefan and Jenny. The others had wandered off elsewhere. By now the sun was shining and we all set off "topless" for the third leg of the day's route.
Our next destination was Bernkastel on the Mosel river and this is an area we drove through last year. The Mosel valley is truly spectacular, wide and gently meandering with steep slopes, cultivated with grape vines. The roads are generally very good, wide and sweeping with the lazy river flowing next to you. This stretch of the trip also saw a near miss, which involved yours truly. We were overtaking a slower vehicle and Ted, who had managed to get past, was signalling me that it was clear for me to follow him out by remaining on the other side of the road. Unfortunately, I dithered a little and when I finally decided to go for it, just as I committed myself, Ted pulled back in! So, there I am, going head to head with an oncoming vehicle. OK, thinks I, I'll just drop back behind the other car, except that when I look in the mirror, Dieter is right behind me!!! So now I am left with flooring the car and hoping that there is enough space for not only Scarlet, but also Dieter to make it - fortunately there was (but you knew that already as I am still around to type this up!)
A short stop in Bernkastel saw Stefan, Jenny and myself becoming separated from the rest of the group. We all pulled into a narrow street looking for a parking place, only to find that it was a no-through road and nowhere to park at the end of it. Stefan was, how shall I put it, caught short and left Jenny to park the car whilst he set off on foot to find the nearest lavatory. Whilst he was away, the rest of the group realised that there was nowhere to park and had departed to look for another car park. Jenny had to wait for Stefan and I decided to also hang around so that if the worst come to the worst, at least Stefan and Jenny would have some company. By the time Stefan returned the others were nowhere to be seen. Luckily, just as we had decided where we were on Ted's route, Dieter appeared and guided us to where the others were parked. We spent a nice 30 minutes wandering around Bernkastel and then all gathered by the cars for the final stretch.
"Green Squirrel in German speed trap shocker!"
We had just left Berkastel and were stuck behind a rather annoying slow driver, when he pulled off to the right into a filling station. Ted, relieved to be clear of him accelerated away, straight into a speed trap!! We all pulled off the road some 50 meters away and watched the drama unfold. All except Gareth that is, who has a great picture of Ted being booked which you can guarantee will be appearing on a website near you shortly!!!!! ;-) Seriously though, although we were all pretty amused at the time, Ted was not happy and was given an on-the-spot fine. Incidentally, if you play the "I'm English officer, I don't understand German" card and are prepared to haggle a bit, it is surprising the effect you can have on a speeding fine! The remainder of the trip was further incident free, and was completed at nice, legal speeds!
Cochem is a large riverside town also on the Mosel and the hotel we are staying in for the next three days is really rather excellent and is complete with underground parking. Somehow I have managed to get the most enormous room, which I assume will become the penthouse suite. The entire top floor is not quite finished, there is the odd wire poking out of the walls, but in all other respects is just stunning. I kid you not, I have just paced out my room and it is roughly 10 meters by 5 meters! In fact, if I could get the car up the stairs, I could park it in the room! It has a large, fully equipped en-suite bathroom and a small kitchen area with a coffee machine. I am impressed! When we arrived, Hazel and Paul Barker were here, along with a chap named Mark Anderson who drives a rather nice yellow Elise and, like Hazel, is also an ex-MGF owner. Dinner was nice, if a little normal (a set menu of a vegetable soup starter, followed by sliced pork, boiled potatoes, mixed veg and gravy. This was followed by "Angel Delight" for pudding). I am now sitting in my (massive) room, looking forward to the Nurburgring tomorrow.
Treffeners so far...
Andrew "Scarlet Fever" Phillips
Ted "The Green Squirrel" Newman and Graham Neill
Dave and Veronica Stonehouse
Patrick and Ann Beet
Gareth Hughes and Sally Dell
Stefan Gibney and Jenny
Dieter and Rosi Konnecke
Hazel and Paul Barker
Mark Anderson
Today's choice of music was:
Fields of Gold - The Best of Sting
Graceland - Paul Simon
Magnetism - The Best of Bad Manners
Absolutely - Madness

Treffen 2001 - Day three - Monday 10th September
Cochem to the Nurburgring and back again - 88 miles. Route here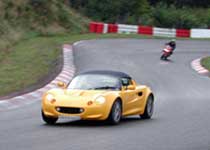 Before I begin, I must apologise for not posting last night. I tried, but the Hotel's telephone system has a fairly long delay between dialling for an outside line and the dialling tone appearing. Both Dieter's and my laptops are timing out before they dial the access number. Resulting in a "Dial tone not present" error message. I am not sure how to overcome this, especially as we are here for three days. Dieter popped out today and has managed to find an Internet café, so I may pop in there tomorrow. Otherwise, I shall post yesterday's, today's and tomorrow's reports from the next hotel in one go, with a bit of luck. Anyway, on with the tale...
Well, despite my only real worry of this years' Treffen actually materialising - the Nurburgring in the rain, we all made it safe and sound and had a blinding time in the process. The drive to the track was quite short and although I started off hood down, it wasn't long before I had to raise it. Dave and Veronica were 2 F's ahead of me and we managed to pull of a perfectly synchronised "mobile hood erection", much to the amusement of Graham who was riding in Mark's Elise behind me.
The skies were grey, and the roads were greasy en-route, but this was nothing in comparison to the conditions on the Nurburgring itself. When we arrived there were half a dozen or so Tickford Ford Capris, 4 of which were the first ones out on the circuit when it was opened. Mark was the first one from our group out on the track, he followed the Capris and we all waited for his return anxiously. Only three of the Capris came back intact! Mark arrived safely and we eagerly listened to his comments on the atrocious conditions. Although at that time it was rain free at the hospitality suite, the Nurburgring, being 22 km long (13.5 miles roughly) is large enough to have it's own weather!!!!! And it was raining on most of the track. Ted was next out, and 5 minutes later I ventured out onto the circuit (hood down of course - rain be damned!)
What can I say, after the first few bends I was thinking that I must be crazy to be on this, of all tracks in these conditions. The tail end was eager to step out and under heavy braking down some of the steeper inclines I was sliding off line causing the odd bought of panicky cadence <sp?> braking (Scarlet is non ABS and non EPAS) and I was only pootling round, trying to get a feel for the conditions, which were treacherous I can tell you! The circuit is the most challenging driving I have ever done anyway, numerous tight hairpins, narrow chicanes, steep crests and drops with blind bends immediately on the other side, a "carousel" of 2 long sweeping bends, banked up with a deep "hole" into which you nose dive and ride the G forces around and out the other side and a 2 km start finish straight - this is without doubt the best track in the world and anything else in comparison is "small beer". On average it claims 6 lives a year and once you're out there it is all you can do to prevent yourself from becoming the seventh!! Now, given the already awesome circuit and an MGF to play with, then factor in intermittent downpours, standing water on the track, a very slippery road surface and a maniac (me!) behind the wheel and you can see the potential for disaster! Fortunately, I was being sensible, and quickly realised that I wasn't going to get any seriously quick laps, so I decided to make the most of it and concentrate on getting the lines right through each bend. In fact, at the first of the banked bends I dropped down into the hole at a measly 20 mph and managed to safely get a superb picture out of the front windscreen of the banking - cool! Despite a few hairy moments I came back safely and decided to wait a while before I did my second circuit, hoping that the rain would pass and the track would dry out a bit.
In the meantime, the others in the party were venturing out on the circuit and were all coming back ecstatic and petrified both at the same time! A short while later Stuart Whiteway and Graniea <sp?> arrived to join the group. Paul Barker had brought his M3 coupe along and ventured on the track as well, his comment of "thank god for DSC" was very apt considering the extra power he had available to him. Then, I spotted Graham in Teds F driving onto the circuit, I quizzed Ted on this and it turns out that Graham, although Ted's co-driver for the tour, had never driven an F before - talk about a trial by fire!!! After a short spell in purgatory, fretting about Graham's safe return he arrived back in one piece, much to every one's relief with most enormous smile on his face! "Fan-f*ckin'-tastic" was the quote of the day, pronounced with a Texas drawl through a permanently fixed grin!!
There was talk of heading off to do the "touristy" bit in the souvenir shop so I decided it was now or never and headed to the car with an off-the-cuff remark, "I'll see you all in 9 minutes!" Hood down once again, I tentatively entered the circuit again. This time I was a bit more like my lunatic self and decided to push it a bit, to see how the car would react at speed in these conditions. I must say that I surprised myself, with the F being remarkably stable and tractable despite me getting a few bends horribly wrong at speed. I was able to correct my line and decelerate in time, and by now the adrenaline was really flowing! I missed out on the banked bends on this lap courtesy of an M3 "Ring taxi" being driven by an expert at horrendous speeds and I managed to upset one of the track attendants by waggling the tail under heavy acceleration as I exited the recovery zone for the previous Capri's unscheduled exit! Maxing it along the start finish straight I had listened to 2 and a half tracks of the current CD so I knew it was fairly quick and was happy with both the car's and my own performance. "14 minutes" was the shout as I drove by the hospitality suite - not bad, in a 1.8 Mpi in ridiculously dangerous conditions.
The shop was pretty cool (I picked up a second Nurburgring sticker for the boot lid and a Nurburgring mouse mat!) In the petrol station afterwards a new Lamborghini Diablo pulled in, covered in "disguise tape", obviously heading onto the track for some pre-launch testing. I have a picture, but there were also a number of other people taking spy shots so I doubt it will be sellable to any car magazines.
Despite getting stuck behind a "local" on the way back we all arrived safely at the hotel and visited the same café as last year for apple cake - yum! :-) Dinner at 8:00pm saw us missing two of our number. Gareth and Sally had apparently gone out to replace their missing clothes and found a little bar for some liquid refreshment prior to the shopping spree. Needless to say that they didn't get any further today and not only missed out on the shopping, but also dinner!!! This is what I really love about the Treffen; a great day's driving, followed by a nice meal with some excellent company - just superb in every way.
It is now 12.31pm on Tuesday as I write this and I am considering missing out on Trier tomorrow in favour of a nice easy day in Cochem and maybe trying to find Dieter's Internet café. I may feel differently in the morning - we shall see.
Treffeners so far...
Andrew "Scarlet Fever" Phillips
Ted "The Green Squirrel" Newman and Graham Neill
Dave and Veronica Stonehouse
Patrick and Ann Beet
Gareth Hughes and Sally Dell
Stefan Gibney and Jenny
Dieter and Rosi Konnecke
Hazel and Paul Barker
Mark Anderson
Stuart Whiteway and Graniea
Today's choice of music was:
Republica - Republica
The Lone Ranger - Suggs
Treffen 2001 - Day four - Tuesday 11th September
Cochem to Trier and back again - 29 miles. For the route in Google Maps, see here
Cochem, Bruttig, Beilstein, Mesenich, Bremm, Kaimt, Graach, Bernkastel-Kues, Niederemmel, near Trittenheim, Pölich, Trier, Porta Nigra and return to Cochem
Well, I didn't go with the others today, instead I decided to have a bit of a lie in and spend a relaxing day in Cochem, I am on holiday after all. But first, I had to wash Scarlet. I have forgotten to mention that the winner of this years' "Dirtiest F Competition" was myself, and by this morning I'd had enough of the filth. Fortunately, today was bright sunshine (wohoo) so I treated the car to a concourse level exterior clean (well maybe not quite as thorough as concourse, but it took nearly 4 hours and involved a host of Autoglym products!) After which I decided to go "cruizin'" along the Mosel valley (hence the 29 miles). So I still haven't found Dieter's Internet café, which means that you won't get to read this lot until we check in at the Restaurant Altes Haus on the Rhine tomorrow. Talk about a mega posting, I will probably split it up though with a posting for each day, to make it easier to digest. This may all be academic however, as I am copying this text to a floppy to be given to Hazel and Paul, who are departing tomorrow, Hazel said that she would post it for me - Scarlet Fever by proxy! Either way, by tomorrow night my reports will be online, ready for you all to read.
Anyway, back to the plot. Mark left us today, as did Stuart and Graniea, although in Stuart and Graniea's case, they will be re-joining the Treffen tomorrow. Graham had to drop out of the day's trip to find a dentist, some root canal work and 190 DM later he was feeling much better and extolling the virtues of German dentistry. I met up with the others at around 5:00pm and we popped into the café from yesterday for some much needed refreshment. Following today's tour, Gareth and Sally headed back to the Nurburgring for an extra lap or two in the dry and when they returned, they, along with Graham headed out to the bar they found last night for the evening. The rest of us enjoyed a good meal and it was here that I found out the day's events.
"Green Squirrel in parking ticket travesty!"
He's doing well this year isn't he? Apparently they all parked in a pay and display car park in Trier and none of the English vehicles bought tickets. The only person to get a parking fine however was Ted and I am now left wondering if he has a sign somewhere on his car in German saying "nick me!" Someone obviously hasn't told him that squirrels hoard nuts, not tickets!!! :-) Everyone else had a great time apparently, including Patrick and Ann who spotted a Smart car keeping up with the group on an Autobahn doing 85 mph!!
Everyone noticed the work I had put in on Scarlet, so I suppose I am also the winner of this years "Cleanest F competition", not bad going, even if I do say so myself. Gareth had also washed his F today, but has neglected his wheels. I couldn't help myself; I just had to write the word "dirty" on his 2 front rims! :-)
There is not much more to tell from today, dinner was the best so far in Cochem and Dieter's "Chicken bones" story has us in hysterics, especially when Stefan made a comment about future archaeology. I leave it to your imaginations to try and work that one out!! The pudding was really nice, just a chocolate mousse, but very enjoyable never the less. I must confess to polishing off 2 of them, Stefan however destroyed 3! Conversation inevitably turned to today's unprecedented events in the US, not sure if it will affect us at all, maybe just a little trouble exchanging currencies, but Graham is quite concerned about all the airports over there being closed as his wife, Stacey, is due to fly over to England, next week IIRC. We shall see.
Today's Treffeners were:
Ted "The Green Squirrel" Newman
Dave and Veronica Stonehouse
Patrick and Ann Beet
Gareth Hughes and Sally Dell
Stefan Gibney and Jenny
Dieter and Rosi Konnecke
Hazel and Paul Barker
and no Scarlet Fever!!
Treffen 2001 - Day five - Wednesday 12th September
Cochem to Assmannshausen am Rhein - 137 miles. See here for details
More rain as we set off from Cochem this morning, consequently, despite my best efforts yesterday, Scarlet is now "less than clean" - Harrummph! I had a minor problem with one of my windscreen wipers right from the word go, I presume that the rubber blade jumped out of it's carrier when I was washing the car yesterday, it wasn't serious though as I was able to slide it back into place at a set of temporary traffic lights. I spotted a rather amusing number plate on the way out of Cochem, German plates have a location prefix at the beginning and the plate I saw read COC UP 2, well, it made me smile anyway… :-) There have been some comments about Gareth's exhaust system among the group. That it is very loud I knew already, but when his F was accused of smelling I just had to investigate further. He has an SP exhaust (hence the noise) and I could distinctly smell un-burned fuel whilst I was following him today, not only shortly after it has been started (when the choke is out), but also during normal driving - especially under heavy acceleration. I suspect the mixture is too rich which would suggest a MEMS problem - probably just a dodgy sensor somewhere, or maybe even the lambda. Having followed some of the Essex Roadsters on trips I am familiar with the sound and volume of the SP, and although not to my taste (I had one and sold it in favour of the MS Daytona system), for sheer volume and head turning ability, it is hard to beat.
The rain spoiled some of the driving today, as there were some quite challenging hairpins and mountain passes. It was too wet however to have some real fun though and the mist at altitude spoiled a lot of the views. Still, it was by no means unpleasant and by lunchtime it was beginning to brighten up a bit. We had a short break for coffee in Nassau, where I visited a cash point to replenish my Deutsche Marks. Rosi had to make a short detour to the local doctors, as she wasn't feeling very well. We set off in the drizzle and headed for our lunch stop - Limburg.
Limburg is a large town that has a very quaint old town in which we found a nice pub. Unfortunately we had gotten separated in the traffic system and Stefan, Jenny and I waited for the others to find us before setting off on foot into the old town. Ted said to be back at the cars for 2:15pm and by 1:30pm we were getting a bit worried. Luckily though Paul's M3, Hazel and Graham in her Elise and Dave and Veronica in their F appeared a short time later but we were still late back to the cars for the final leg of today's trip. Rosi is feeling much better now, or at least she was well enough to biff Dieter over the head for "playing" with his exhaust in the car park!! :-)
We stopped shortly after leaving Limburg for a photo opportunity and the remainder of the journey was dry enough for the hood to be down the whole way. It is now coming up to 6:00pm, we have just checked in to the Hotel Altes-Haus in Assmannshausen am Rhein and I am about to see if I can get on-line to post this lot. We have just said goodbye to Hazel, Paul and Graham as they have left the tour this evening and I am about to go down to the bar for some much needed refreshment.
Today's Treffeners were:
Ted "The Green Squirrel" Newman & Graham Neill
Andrew "Scarlet Fever" Phillips
Dave and Veronica Stonehouse
Patrick and Ann Beet
Gareth Hughes and Sally Dell
Stefan Gibney and Jenny
Dieter and Rosi Konnecke
Hazel and Paul Barker
Today's choice of music was:
Crunch! - The Nutty Boys
The Heavy Heavy Hits - Madness
Message In A Box (Disc 1) - The Police
Postscript:
I am just back from an excellent meal in the hotel restaurant, the best meal of the trip so far (and my pigeon German is improving too!) A first rate evening with good friends, beer, wine & food - superb. :-)
Hotel: Hotel Altes-Haus in Assmannshausen am Rhein

Treffen 2001 - Day six - Thursday 13th September
Assmannshausen am Rhein to Soonwald and back again - 92 miles. Route approximation in Google Maps here
We set out at 9:20am this morning to meet Lutz Ulrich from Stomberg as he was leading the tour today around some of his local roads.
The day was drizzly and I must confess wasn't looking forward to the run today. We were to meet Lutz on the far side of the Rhine at 10:00am and as we queued for the ferry, Stuart and Grainne (spelling now corrected!) appeared behind us. The crossing was nice, but we nearly got separated before we even boarded as I had got out of Scarlet to say hello to Stuart and Grainne only to find that the lights had changed and I was now holding up the entire group! Fortunately, although the lights had changed back to red by the time I had got back to the car, shortly afterward they went back to green and we all boarded for the crossing.
On the other side we waited for Lutz who arrived in an ultra low Amaranth F and took the lead from Ted for the rest of the trip. He had certainly put a lot of effort into the route as it was superb right from the word go. The Soonwald (wald meaning forest, but soon has no direct translation - it means something like cow grazing pasture) is truly spectacular and is reminiscent of the Schwartswald (black forest) but with more frequent views (which were somewhat spoiled by the mist - but still breathtaking). The roads were a mixture of challenging climbs along hairpin bends and long, tree lined straights on which you could really put your foot down - nice! :-)
We stopped for lunch at a place called "Trifthütte" which means roughly meeting house and had a superb menu. Half way through the meal a load of police arrived also to take lunch and we teased Ted by enquiring if they had an APB out on a green squirrel! Lutz spoke excellent English and really fitted in well with the group. Grainne arranged for me to by a Coca Cola glass (I am a bit of a Coca Cola addict!) and we visited the adjoining gift shop to do the tourist bit. The next leg was even more spectacular and we were certainly turning heads as we passed through some of the towns en-route. We stopped after a short while in a wonderful old town named Bacharach (not after Burt!) and during the drive through the sun came out raising a cheer from some of the on-lookers as we all lowered the hoods whilst moving!
All too soon we mounted up again, this time to St.Goar, for the return ferry trip and, if you have read my report from Treffen 1999, to reacquaint ourselves with this nice riverside town. On the other side we stopped by the Loreley, a place where a mythical mermaid was supposed to sit on a high rocky outcrop and lure passing boats to their doom. Speaking of doom - Steffen and Jenny were approached by an old lady brandishing some pamphlets, it turns out that she was a Jehovas witness and the pamphlets were copies of the watchtower in German. Stefan protesting that we were all English and that he did not speak German was funny enough, but when Dieter started singing "God Save The Queen", I was in stitches!!! :-)
The trip ended back at Assmannhausen am Rhein where we all stopped for refreshment and to thank Lutz for an excellent tour. Shortly afterward I was to have a "Patrick and Ann moment!" Stuart wanted to try out my MS Slick Shift and so we went for a short drive into Bingen and back. Suitably impressed, he offered me a drive in his left hand drive F, and, not being used to the wheel on the other side, i clipped a curb scuffing both of the alloys (sorry mate). Stuart thinks he can get them reconditioned at the dealership where he works (he is a BMW salesman), but I have offered to pay for any repairs. We returned to Assmannshausen for dinner and to say goodbye to Lutz. Dinner was again first class and Stuart and Grainne stopped and ate with us before departing back home.
It is 11:30pm as I type this and must apologise for any spelling errors as i am using Dieter´s laptop with a German keyboard layout he has been able to get an internet connection and will be posting this for me shortly - (thanx Deiter).
Today´s Treffeners were:
Lutz Ulrich
Ted "The Green Squirrel" Newman
Andrew "Scarlet Fever" Phillips
Dieter and Rosi Konnecke
Dave and Veronica Stonehouse
Patrick and Ann Beet
Gareth Hughes and Sally Dell
Stefan Gibney and Jenny
Stuart Whiteway and Grainne
Today´s choice of music was:
The Boney M mix - A tape I put together myself
Fantastic 80´s, volume one
Fields of Gold, the best of Sting (Again!)
Treffen 2001 - Day seven - Friday 14th September
Assmannshausen am Rhein to Quartier Latin Hotel, Marche-en-Famenne - 198 miles
Route approximation in Google Maps here (Assmannshausen, Koblenz, Andernach, Wassenach, Adenau, Vellerhof, Hallschlag, Holzheim, Amblève, Marche en Famenne)
We left Germany today and headed into Belgium along some fantastic roads through the Soonwald and Rhieneland Pfalz, over the top of Luxembourg and into Belgium. The weather was dry (mostly) and the majority of the tour was completed topless. ;-)
Our first stop of the day was a place called Maria Laach (Maria Lake), which is an extinct volcano, now partially filled with water. We crested a rise and were confronted with a wide flat bowl, with a lake in the middle, the road runs between the rim of the crater and the water's edge and the surrounding marginal land is a mix of forest and cultivated pastures - quite spectacular. We stopped for coffee (and some scrummy chocolate croixants <sp?>) and then departed shortly afterward on the next leg of the days' journey.
Some excellent driving on this stretch, lots of fast, mountain passes and steep hairpins as we crossed the Rheinland Pfalz to our lunch stop in a town called Prüm. We found a nice restaurant, which turned out to be a biker's meeting place, with memorabilia on the walls including an advert for an early Triumph, Ted had had apparently owned one of these from new! This town also has it's own website, if any of you are interested in seeing where we've been: http://www.pruem.de
We mounted up for the next section and headed off towards the Belgium border and into Wallonia. It is difficult to put my finger on the reason, but we knew that we had left Germany the minute we crossed the border. This region of Belgium is hilly, rising in the south to the Ardennes and is very beautiful. I spotted an eagle flying across the road right in front of me to the trees on the other side, but the biggest example of wildlife was the VW Beetle, painted to resemble a real beetle and complete with metal antennae and legs in the middle of a roundabout!! :-)
We managed to get a few waves from Belgian pedestrians en-route and a very positive reaction to the cars from a coach load of youngsters at our last coffee stop before we entered Marche-en-Famenne. The room in the hotel is very nice, but the phone is hard wired to the wall so it is now looking like I won't be able to post this lot until I get home on Sunday, oh well, so much for the "live" update. :-(
Dinner was lovely, although Gareth and Sally disappeared yet again to find a pub. They seem to have separated themselves from the group, only joining us for the driving and not the social aspects. Oh well, it's their holiday I suppose, but I can't help feeling that they have missed out a bit. I come on the Treffen each year as much for the social side as the driving, Nurburgring excepted of course! ;-)
It is just gone midnight here as I write this and tomorrow promises to be a good day as Fabrice and up to 8 Belgian F's are due to join us for a run through the Ardennes - if it is anything like last year it should be really good. :-)
Today´s Treffeners were:
Ted "The Green Squirrel" Newman
Andrew "Scarlet Fever" Phillips
Dieter and Rosi Konnecke
Dave and Veronica Stonehouse
Patrick and Ann Beet
Gareth Hughes and Sally Dell
Stefan Gibney and Jenny
Today´s choice of music was:
Fantastic 80´s, volume two
Fantastic 80's, volume three
Treffen 2001 - Day eight - Saturday 16th September
Luc and Fabrice's Ardennes tour - 104.8 kilometers! Route not logged, but it's in this area (Google Map link)
Another rainy day dawned, but despite the weather we were all looking forward to today's motoring. Luc Devisch and Fabrice Bihay, along with five other 'effers had devised a challenging tour, in the form of a tulip rally through the beautiful Ardennes region of Belgium, but we are getting ahead of ourselves here. Ann was a little unwell this morning (Treffen-tummy!), so our group of "regulars was one F light when we set off today. I am typing this part of the report at 6:45pm and have yet to see them so I do not know what they got up to today, we should meet up again over dinner so I shall get the inside scoop then, OK, that dealt with, on with the day's events…
"14 F's go mad in Belgium!"
The Belgian contingent met us at the hotel this morning, there were some familiar faces including Fabrice Bihay, Erik Baekelant and Fran Boeykens, as well as some new 'effers. Fabrice handed out a route pack to everyone and when I looked at it, it was in the style of a tulip rally. For those who do not know, a tulip rally has a stage mileage, a cumulative mileage, some instructions and a sketch of the junction with an arrow showing which road to take. In times gone by, these sketches were on sticks in the roadside at the junction - loosely resembling a tulip, hence the name. The instructions being in French I can live with, gauche and droite are easy enough to understand, the trip distances being in kilometres presented a little problem however. Dave and I did some calculations and we managed to produce a mileage equivalent, but in the end, it was more a case of follow the leader (which works just as well!!)
We set off under rainy skies, to the extent that although I started off hood down, it was back up again before we had even left Marche-en-Famenne! It was just as well too as the first part of the tour was drenched in sudden downpours. Still, the roads were very challenging and the conditions just added to the concentration needed and thus the satisfaction gained. The Ardennes region is stunningly beautiful and the roads, although a bit bumpy, are a lot of fun to drive, very sharp hairpins, steep rises and plateaus with incredible views, reminiscent of the Soonwald in places, but with narrower roads. Belgium is a great place for an F rally for other reasons as well, in almost every town we passed through, the locals stopped what they were doing, stared and waved as we went past - this does wonders for your ego I can tell you!! A truly superb route - well done Fabrice and Luc. :-)
We stopped briefly at the Chateau de Modave, which is a spectacular building and we all have some great photos of the line up of 13 F's outside it. The rain had dried up a bit and most of us by now were roofless for the next leg of the rally. Amongst the Belgian F's was a Volcano one which was spending a lot of time weaving in and out of the convoy - it turns out that Bruno Verberk and his passenger, Wouter De Laet were shooting some dynamic video of the group en-route, this is one film I just gotta see! All too soon we arrived at our lunch stop in an Italian restaurant. It has occurred to me that our group comprised a Welshman living in Holland, an Englishman living in Switzerland, some Germans, some Belgians and some English and we had driven from England, through France, Belgium, Luxembourg, Germany and back into Belgium all to eat in an Italian restaurant!!!! How about that for European Union! :-) The meal was lovely, and it was then that I realised that I only had 200 Belgian Francs to my name - sounds like a lot of money? Believe me it isn't! There are roughly 60 Belgian Francs to the pound, which meant that I only had about £3.30! Thanx Stefan for the loan. :-) Whilst we were there another F joined us - Stephen Hargreaves, who lives in Belgium. And so, finally our convoy was complete - 14 MGF's for the remainder of the rally.
We set off once again, fed and watered for the final section of the tour, not only was it (mostly) dry for this leg, but at one point we even had a blue sky - wohoo!! (only briefly though). It was enough however for us to take in some incredible views and make the most of the excellent driving. We ended up at the same restaurant as last year (the one with the wasps - none this year though, and where Andy B had his experience with Steak Americain!) Dieter , being the resourceful chap that he his, produced a short length of wire and proceeded to wire up my cigarette lighter, I am now fully illuminated! As they say in Essex, what a diamond geezer! :-)
After all too short a time, we said our goodbyes and set off back to Marche-en-Famenne, but not before I gave my official X-Power baseball cap to Luc for doing such a good job (I will be wearing my BBS one home).
A truly superb day - well done guys, thank you. :-)
Today´s Treffeners were:
Ted "The Green Squirrel" Newman
Andrew "Scarlet Fever" Phillips
Dieter and Rosi Konnecke
Dave and Veronica Stonehouse
Gareth Hughes and Sally Dell
Stefan Gibney and Jenny
Fabrice and Eugène Bihay
Luc Devisch and Bart Heremans
Erik Baekelant and Fran Boeykens
Ben Heack and Jeanne Van Ginderen
Pascal Frederix
Bruno Verberk and Wouter De Laet
Stephen Hargreaves
Hmmm, I am missing someone, there were definitely 14 F's today - looks like someone didn't fill in their name at lunch when I asked - oh well…
Today´s choice of music was:
Wonderful - Madness
Message in a box - The Police
There is likely to be a P.S. later as i am about to go down to the retaurant for dinner, this may have to wait until i get home however as to get online tonight i have had to get access to the hotel's conference suite!!
OK, last day tomorrow, Here to Calais, then to home. Seems like only yesterday i set off for Dover...
SF - Marche-en-Famenne, Belgium
Treffen 2001 – Day nine – Sunday 16th September
Marche-en-Famenne to Chimay, Chimay to Calais, Calais to Dover, Dover to home - 328 miles
Route in Google Maps here (Marche en Famenne, near Dinant, Givet, Chimay Track, Cambrai, Calais Harbour)
But first, as promised, the P.S. from last night...
Treffen day eight, Postscript...
We met for dinner after i had held everyone up for a while, surfing the net from the hotel's conference suite. As the night before, the food was excellent (except Rosi's, but we shall come to that later), particularly the profiteroles - yum! :-) However, the service was diabolical. Give them thier dues, the restaraunt was very busy, but even so, the errors and the surly attitude from the waiters was uncalled for. An example of which was they brought Rosi's main course out with the starter and when they realised thier mistake, rather than correcting it, they proceeded to have a heated discussion amongst themselves as to who's fault it was! Furthermore, when the main courses came out, Rosi's meal reappeared, somewhat reduced, after obviously being kept warm in the oven. Very poor indeed. This was a real shame as in the hotel itself was very nice - just run by incompetants!
OK, on with the events of today...
Treffen day nine:
Up reasonably early this morning ready for a 9:00am departure - the first event of the day however occurred at around 8:15am...
I was packed and ready to pay when i entered the reception, only to find Ted having difficulty with the bill. Despite faxing them several times in advance, they had decided to put everyone's rooms together in an invoice to KRT. After much discussion, they re-calculated the bills and we were able to settle up, but not before checking it thoroughly! Breakfast was a little subdued as the splitting up of our group was imminent. From the hotel, Gareth and Sally were heading back to Utrecht, Dieter and Rosi were off home in Germany and Stefan and Jenny were heading back to Zurich. So, of the 7 remaining Treffeners, only 4 remained in convoy for the run through Belgium and France to Calais. :-( If your reading this guys, the drive back wasn't the same without you. We said our goodbyes and departed Marche-en-Fammene straight into, what would turn out to be the first of several heavy cloudbursts all the way to Calais. Hoods up, the four remaining "Island monkeys" (apparently to the Germans us Brits are affectionately known as Insul Afen (appologies for the highly likely miss-spelling Dieter!) I suppose i should be insulted, but actually i think it's quite amusing :-), headed into the Belgian countryside.
Despite the intermittant downpours and the unscheduled detour due to some roads being closed for a bike race, the journey was pretty much without incedent. We stopped briefly by the river Meuse <sp?> and then again at the old Chimay circuit (we had coffee in the same market square as the classic car show last year, for those who were with us then). Also, en-route today, we came across what can only be described as a Belgian Max Power exhibition in a town square (Patrick and Ann were gesturing to me to go and join them, but the car was filthy after the Ardennes run yesterday so i declined. ;-)
We stopped in Cambrai for a brief lunch (a ham Baguette) where we saw a French F crusing around with the top down. And then mounted up for the final push to Calais. A high speed, hood down run along the motorway saw us making good time and i was massaging my ego by waving to all the UK coaches, trying (and more often than not, succeeding) to get a wave or a flash of the lights back. What can i say, i'm a hopeless case!!! :-)
We arrived in Calais and took advantage of the cheaper petrol before boarding the ferry for the return crossing. Knowing that we were all heading to different destinations in England, we said our goodbyes on the ferry and as suspected, our group was split up shortly after we arrived, leaving only Dave and Veronica, and myself as the last remnants of the Treffen this year. One thing to note was the lurid yellow TVR Tuscan that caught us on the M20, with the number plate T19 STY (the 19 was squashed together to read TASTY). At the Dartford tunnel we came upon a Nightfire F and i had loads of fun in the tunnel in a 3 F convoy, playing with my MS Daytona exhaust - <V.B.G.> :-)))))
Shortly after the tunnel Dave and Veronica departed and i was left, briefly with this Nightfire F, up untll the A12, where i exited bound for Chelmsford and the A130.
And that is pretty much it, i arrived safely a short while ago and haven't read the above comments yet. I hope that my fellow Treffeners enjoy my remarks (i have tried to be kind to them, though i was sorely tempted to have some fun, knowing that they won't get to read what i wrote untill today!)
I would like to say a huge thankyou to Ted for putting together the tour, well done mate, you have excelled yourself yet again.
I would also like to thank Luc and Fabrice for the day in the Ardennes and also Lutz for the superb trip through the Soowald. Cheers guys.
All that remains now is...
Today's Treffeners were:
Ted "The Green Squirrel" Newman
Andrew "Scarlet Fever" Phillips
Patrick and Ann Beet
Dave and Veronica Stonehouse
Todays musical selection was:
Fantastic 80's volume 2 (again)
Message in a box - The Police (all 4 discs)
Here's to next year....
SF Signing off.