Tut Towers, MG Regency Run & Lotus Pilgrimage Trip 2002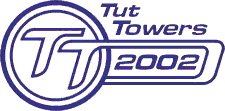 19/06/02
We had a great time, and managed to combine Tut Towers (TT) with the Lotus Pilgrimage, the MG Regency Run and various touring too (we detoured to do the Snake Pass & found the Dukes Pass in Scotland completely by accident :o)
3942 miles in total
Sunday 28th April 2002

I set out from Munich to meet up with Bob in Holland. Bob had agreed to be my co-driver for the trip and had booked his 1950s MG Magnette into the London to Brighton run which was planned for the weekend after TT.

Monday

The journey through Holland to the catamaran did not bode well - the weather was atrocious. This was the first time that I had got to use the Lotus Yoko Advans tyres in bad weather, and even at the slow speeds I was traveling at following Bobs Magnette, they had a great sense of security that I had always lacked when using the original P0s.

Waiting in line at the ferry terminal was rather amusing - unusually people were walking right past my car to get a better look at Bobs car - one guy even took a whole set of photos of it.

We then set sail from The Hook Of Holland in Gale force winds.
Erm, it was a bit bumpy!

After we had docked at Harwich it was straight into a traffic jam to clear customs, and then off onto UK roads. Switching between left and right hand driving always takes a bit of concentration at first! The drive to Suffolk didn't take too long and we arrived at Bobs fathers house (where we were leaving the Magnette for a week) quite quickly. Bobs Magnette bounced over the small single track road that lead to his fathers house, my Elise had to wind its way carefully along avoiding the potholes to prevent the car grounding!

Tuesday

A day of rest & route planning!

Wednesday - The Snake Pass to Manchester

We headed North in the Elise, Bob wanted to meet up with an old friend near Wigan that he hadn't seen for many years. Of course this meant that we had to make a detour to take a look at the infamous Snake Pass :o)

The weather forecast was for it to be clear in the south, showers in the North - typical! Fortunately, this was incorrect, and although the sky looked threatening, it remained dry. The Snake Pass road (A57) incorporated some wonderful scenery, and then a great twisty bit of road that was mostly deserted until we got to the end - wonderful!

This road really does have it all, fast open straights, tight moorland bends, wooded sections and a great view of the Ladybower reservoir (where the famous Dam busting bouncing bomb was tested). We (eventually) met up with Bobs friend at the hotel and proceeded to get very drunk.
Thursday - The Northumberland coast to Berwick

Slightly hung over, we decided to head back across country to the Northumberland coast. We headed for Amble and stopped to get some info from the tourist office. I wanted to find out about the tides so that we could drive across the causeway & visit Holy Island (Lindisfarne). The woman in the office was extremely friendly and helpful, after finding out that we were on the way to a big Lotus event, she pointed us in the direction of the Jim Clark Room in Duns - something that was very much worth a visit. Well done that woman!

We set off up the coast again, taking in Bamburgh castle and out to Lindisfarne (click here). Great scenery and empty roads again. We eventually arrived in Berwick to find the hotel that the nice lady in Amble had booked for us. A wonderful hotel and excellent food & wine (hangover again).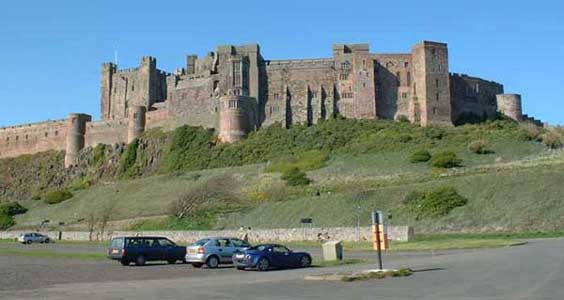 Friday - Knockhill

Not normally a breakfast eater, and despite a hangover, I succumbed to the full breakfast. And boy was this a full breakfast! Sausage, bacon, egg, mushrooms, black pudding & haggis! Yum! Yum!

We detoured to Duns to visit the Jim Clark room, finding some lovely driving roads on the way. Then we headed upto Edingburgh to dump out baggage at the hotel and head on for the track evening at Knockhill. In the car park was an S2 135 Elise, someone that wasn't part of the planned weekend, but was interested to hear that 60 Elises would shortly be arriving!

We hung around for a bit to see if anyone else was gonna show up, but soon got bored & decided to go and find our own way to Knockhill and do some exploring. As soon as we got into the car IainF arrived, so we decided to hang on for a bit longer to see who else turned up. Shortly after Nick Adams and Andy Shepherd arrived - so after they had unloaded their cars we decided to push on for Knockhill. 50 metres around the corner and a whole flock of Elises arrived - the Newcastle contingent, including Kyle (no doubt that they found him sauntering along the Geordie roads somewhere :o)

At Knockhill we waited for Tut to arrive so that we could present him with some Dutch driving shoes. This didn't seem to slow him down any though.

Knockhill was my first track day (I don't think the Nurburgring counts, that's a whole different experience!). I listened to the briefing in a state of apprehension, trying to remember all the rules. I needn't of worried of course, the event was well organised and the track was a pleasure. Bob passengered with me, and then I let him go off on his own. Driving my car on track was exhilarating - someone else driving my car was just too nerve wracking!

I managed to cadge a passenger lap with Robin though - and he showed me how it should be done! Managed to drag Bob away from my car to get a few more laps in after that.

And it was all over far too quickly!

We all headed back to Edingburgh to the hotel for the evening meal. We ended up in the bar until 4am (another hangover - do you see a trend developing?).

Pic from Skyenet

Pic from Skyenet

Saturday - TT Day 1

Major hangover!

We had decided not to get stuck in with the hoi paloi on the long Scottish routes & had arranged to meet up with Robin & Campbell to do the "tourist route". The roads were great, the scenery terrific, and the pace just about right for me in my hungover state. Bob was driving & he was obviously enjoying himself too. We stopped off a little tea room stuck high up on a mountainside somewhere. A lovely place, but the service was s-l-o-w!

When we had eventually been fed & watered, we set off again for the final leg to Tut Towers, where we were the first to arrive - welcomed at the gate by Thor!

Verian (Mrs Tut) was quick to introduce herself & force me to drink sangria (very nice it was too). Shortly afterwards the next group of Elises started to arrive, then more, then more....

Several drinks later, a queue for the spit roast pig formed. It was certainly worth the wait! After stuffing myself on pork and a tonne of salad, I had no room left for the enormous amount of yummy looking cake that arrived later :o(

During the evening we wandered around the various groups. The Scots seemed to have positioned themselves near the food, whilst the Londoners had installed themselves in the conservatory (not to mention the group that spent hours in the jacuzzi - wow they musta been wrinkled!)

I retired about midnight, previous hangovers and all the travelling having finally caught up with me.


Sunday - TT Day 2

Sunday we set off following someone that we assumed knew where they were going. It was soon apparent that they were not using the same directions as us - and rather concerned that they could be heading for John'O'Groats for all we knew, we decided to make up our own route to the lunch stop at Braemar. I have no idea of the route we took - we managed to get stuck in the middle of a cycle race at one point! Eventually we spotted some Elises on the horizon - at what was clearly an accident site :o(

We saw a helicopter arrive and pick up someone - we were rather alarmed that it might be another Elise driver, but when got to the site of the accident, we could see that it was a motorbike accident. This dampened our spirits a little, and we took things a little more carefully from that point.

We arrived in Braemar for the lunch stop & to say goodbye to the people that were heading back south. We teamed up with the other hangers on to follow some more great roads and then loop back up to Tut Towers, where we were staying another night.

Sunday evening was the opportunity for a good chinwag with Tut & Georgie (who also elected to stay another night having had the traunatic experience of seeing a fellow Elise in a head on crash right in front of her the previous day!).

Slightly less alcohol was consumed (I did manage to steal Bobs whisky though :o)

Many thanks to Tut for arranging the whole weekend, and to Mrs Tut for putting up with us all!

Pic from NorfolkMustard


Pic from Liams site


Pic from www.infernoelise.com

Monday - Recovering

Monday we said our farewells to Tut & Mrs Tut, and Thor gave us his usual frantic farewell routine. Georgie, Bob & I sauntered down some dual carriageways, attempting to avoid the speed cameras, on the way to Crail airfield. The road from St Andrews to Crail was the only real highlight of that drive. We arrived just in time to steal some of Willies BBQ :o)

As we had arrived quite late, and we were booked in to do a session with Andrew at Crail on the Wednesday anyway, we decided not to join in the fun and said our goodbyes & headed off to Edingburgh. I had to get my glasses repaired - I had somehow managed to bend them & was running out of disposable contact lenses. Bob kindly offered to do all the driving if I was unable to see - but I thought that was far to generous of him!


Pic from NorfolkMustard

Tuesday - Dukes Pass

We consulted the map & decided that we would visit Loch Lomond. We took a pretty much direct route, which turned out to be fairly boring dual carriageways. At our lunch stop by the lake I decided to take a more scenic route back, consulting the map revealed a rather interesting twisty bit of road which turned out to be the Dukes Pass. This road demands concentration - it is so narrow & twisty & sometimes as you come over a crest you can't even see where the road is going a few metres in front of you! Absolutely wonderful! :o))))

We even came across a bagpiper entertaining two tourists in the middle of nowhere!

After that we headed back towards Crail via Sterling.
Wednesday - Crail Airfield with 1stLotus

Awoke without a hangover!

Sauntered down to breakfast to find Andrew already there. Shortly after ordering our breakfasts Tut arrived - spare place for the day had been too much for him to resist!

We all drove down to the airfield and Andrew soon put us to work on the dieseled up skid pan area. My poor car was soon covered in diesel - but controlling sideways movements in slow motion like that was too much fun to miss out on. A sorta Elise ballet.

After playing about like that for a while Andrew picked on me to move onto the next activity. Basically this involved driving around and around in circles to find the gripping point of the tyres and the optimum steering wheel angle, then using the throttle to steer the car around ever widening arcs. This again was great fun, but was rather spoiled by the amount of gravel on the airfield surface. Being an Elise owner, you soon get used to stone chips, but this was rather daunting!

After mastering the throttle exercise, it was off to do a circuit of a mixture of a long sweeping bend, a hairpin, and a mini chicane - with a few extra corners thrown in for good measure. The combined noise from the engine, the huge amounts of gravel hammering my car to pieces, and Andrew shouting instructions was certainly exhilarating!

With some concern for the worsening state of my car, I only did a few laps. A problem with the suspension was developing too. The suspension had sunk since it had been fitted, although it was still at a reasonable height one of the shocks was obviously defective. On sharp high speed bends, the front wheel arch of the clam was impacting on the tyre :o( I wasn't too keen on ripping my clam apart, I decided to take it easy.

When everyone had finally finished playing around, Bob & I decided to head down the West side of the UK this time, and stop off at the Lake District. We turned off the M6 at Penrith and soon found a very nice Inn in Troutbeck.

Thursday - The Lake District

I've only been to the Lake District a couple of times, but coming into it from the north is definitely the best approach. The hills just seem to open up before you. We had some wonderful views as we headed down to our short break in Ambleside. Then it was off to London to try and get to Lakeside so they could have a look at my suspension. They were as helpful as ever and pumped up the front suspension a little to minimise the danger of any further clam damage.

Had some interesting conversations with Max, Art & Tim. I even managed to acquire a signed copy of Arts new Track Day Drivers Guide :o)

Friday - Emeralds Rolling Road

We called Emeralds to see if there was any chance of them doing a rolling road test on my car (we had rung a few weeks previously to see if there was any possibility & they had said to call when we were in the area). I was interested to see what the power output was following the few minor mods I had made (Moto-Concept stainless steel exhaust, Hurricane air box, and the MG Trophy 160 throttle body). They were rather busy, but said to come along anyway & they would see what they could do. When we arrived Dave Walker was busy testing a Belgium Elise that needed a full re-map. Dave & the Belgium guy kindly agreed to let us have a few minutes on the rolling road just to do a simple test :o)

The results were pleasantly surprising :o)

Max 163 at 6650 rpm, max 135 lbft at 4180 rpm, & the torque curve has a nice flat line from about 4000 rpm (see rolling road results).

Saturday - The Lotus Pilgrimage

It rained - but that didn't dampen our spirits.

On display near the shop were a series of S2s - all the possible colour combinations and a set in unusual paint schemes. The 49 (red & white with a gold stripe) combination did not suit the S2 IMHO, and the Olde English White car didn't do it for me either. The green cars were the best by far, the Type 25 was actually quite nice for an S2 ;o)

We were fortunate to be guided around the factory by Neil Turner. The factory tour would have been interesting enough even without the VVC engined S2s lurking along the production line. Neil would not be drawn into discussion about future models though.

After that I paid my £25 and got a few passenger laps around the Lotus test track (sideways around the steering circle had me laughing out loud :o)

Then it was back to the shop to make the obligatory purchase.

Well done to Mike Knowles for getting the whole idea going, and thanks to all the staff at Lotus that made it a great day. I hope this day will be repeated next year, it must have been profitable - just about everyone seemed to have purchased something from the shop, and Lotus musta received a whole tonne of useful feedback.

Finally it was time to leave this place of worship. So it was back to Suffolk to swap cars ready for the MG Regency run the next day.

Swapping from the Elise to the Magnette was quite a shock, to say the least. Whereas the Elise rattles and thuds over all the bumps, the Magnette sorta bounced - I was soon feeling quite seasick! And where the Elise grips well around the corners, I was frequently concerned that the Magnette was not gonna make it all the way around them! Being in a car without seatbelts was also rather strange - especially when Bob took a sharp corner rather fast & I nearly ended up on his lap - hmmm, was that really an accident!?
Sunday - MG Regency Run, London to Brighton

Our allotted number was pretty low - which meant an early start :o(

We arrived at Brooklands to find a whole range of MGs arriving. The MGFs and Z cars had lunchtime starts, so they were only one or two of them around. It was soon apparent that MGBs were ruling this day though!

We quickly managed to find Gilly & Richard with their beautiful MGA, and then bumped into Dan, Lucy & Nathanial. I'd missed Dans email confirming that he was going, so it was quite a surprise to suddenly see him there, even more of a surprise was that he wasn't there with his MGA, but had a Magnette almost exactly the same as Bobs!

So the three cars managed to stick together in convoy for the whole trip. We only got lost once, and that was on such a lovely little road that it didn't matter - especially as we looped back around to rejoin the official route.

Once in Brighton we surveyed the other cars and set off for some fish & chips on the Prom :o)

After lunch, Gilly & Richard headed off to do some shopping, whilst the rest of us headed back to the MGs to search out more friends and survey the cars that had completed the run - that included a Ferrari (quote "my MG broke down this morning, so I brought my other car") and an MX5 (how the hell did that get an official entry!?).

We bumped into Kelvin Fagin who was wandering about with his ever present camera, and then we found the unmistakable Scarlet Fever. We couldn't find Patrick Beet - apparently he'd stopped off in a pub somewhere (typical!)

After lurking about a bit more (Patrick finally arrived too), we said our farewells and headed back towards London via Ditchling Beacon with Dan & Lucy.

The official routes can be found here

Monday - Shopping :o)

It was now back off back to Suffolk via a spot of retail therapy at the Lakeside Shopping Centre :o)

Tuesday - Sailing Back

Another catamaran crossing in gale force winds.






Wednesday - I polished my car!

Well after the thrashing that my car has had lately, I thought it deserved a bit of a treat. I have to admit that this is the first time my 111S has *ever* been polished - normally its lucky to get a wash and a chamois dry.

After getting covered in diesel at Crail, whilst playing on the skidpan, it got a quick wash with a brush - resulting a load of scratches to the paintwork :o(

So I found myself a Halfords and purchased a job lot of Auto Glym products. I have to admit that I am truly amazed at the results! You now have to wear sunglasses to look at it (especially as Bob polished the petrol cap with chrome cleaner too). All of my prized fly collection and most of the scratches are now gone - and I am confident that the remaining scratches will polish out with a bit more elbow work.

So 100/10 for Auto Glym stuff.

Thursday - Floriade

Visited the Floriade International Flower Festival near Haarlem. ( see their website here).

To get to the top of "The Big Spotters Hill", the organisers have laid on CyberCabs - elecrically powered automated cabs ( see here for details).

The CyberCabs follow a wire which is embedded in the surface of the road. The wire emmits a pulse which is 'followed' by sensors installed on the vehicle. Magnets in the road contain codings for the vehicle to slow down, speed up, stop etc. In this way the vehicles are able to find their way. This technology has been applied in industrial environments for many years. The technology at Floriade is supplied by Yamaha Motor Europe. 2getthere is responsible for the delivery of the system and the operations.

My favourite part of the whole exhibition was a sorta beehive made out of plasic tubing that was (almost) full of water Inside this construction was a meditation room - water in the tubing was pumped around to make a soft swooshing noise. This insulated the inside from the noises going on outside and created an ambience all of its own. Very restful (especially after this frantic trip!). More photos here



Friday - Return to Munich

Roof off, sun all the way = one sunburnt neck!