Elise Sport 160
This was my second Elise, to replace my 111S that was destroyed by a young lad pulling out from a side road without looking & t-boning my car :(
For my 111S page, see here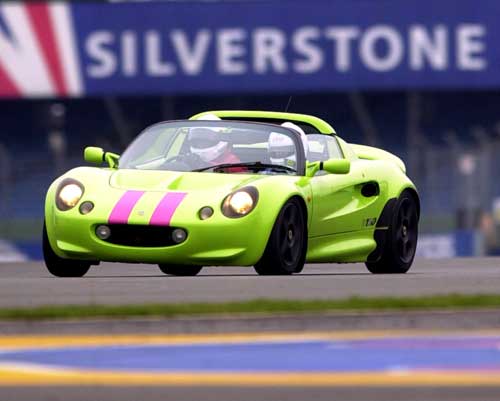 (Pink stripes temporarily added by a "friend" ;)
Model History
The Sport 160 was launched in February 2000. It featured an improved Sport 135 head with new cams and ECU. The first 50 cars had a GEMs ECU, later cars had a EFI Technology ECU. The GEMs unit lives in the engine bay, the EFI lives in the boot.
The first 50 Sport 160 cars underwent Single Vehicle type Approval (SVA) testing (identified by a VIN between 0601 and 0650), and are factory built with catalytic converters and 'Sport' exhaust to produce 160PS @ 7000 rpm and 178Nm torque @ 5000 rpm.
Subsequent cars were Whole Vehicle Type Approved (WVTA) and were factory built with catalytic converters, 111S exhausts and dual intake air cleaner/muffler assemblies to produce approx. 150 PS. These cars were readily converted to 160 PS specification by carrying out an intake airbox modification, and fitting the 'sport' exhaust
In June 2000 Lotus announced two versions of this car, the Sport 160 and Sport 160S, and also deleted the 111S model. The former doesn't have the sports suspension, category 1 alarm or radio fitting kit as standard equipment. After VIN 1645 the sports suspension and seats became optional items.
The wheels are grey 5 spoke 'Race' wheels in 6" + 8" width with PZero tyres. It was originally available only in two new colours, 'scandal green' and 'metallic black', though the full colour range was made available.
The engine idles roughly and has less torque below 2500rpm than the standard car. A 190bhp engine upgrade kit was made available in July 2000.
Drivability Kit
In January 2003 Lotus released an update to the Sport 160 ECU map. The kit included a larger (48 to 52mm) throttle body and revised exhaust cam pulley, plus a re-mapped ECU. It offered improved drivability and better low down torque.
Parts Required (parts may be ordered seperately):
Upgrade Kit, Sport 160 A111E0084S comprising:
Toothed Pulley, exhaust camshaft A111E0082S
Throttle Body, 52mm A117E6090S
ECM, exchange A111E0083S
Lotus PDF with full info here
My Elise - Sport 160, 2000/X
Full Sport 160 spec - 165 bhp (Emerald's Rolling Road)
Oil Cooler
Tecnomagnesio Wheels
Janspeed Sports Exhaust
Raised Rear Spoiler
Driving Lights
Thatcham Cat 1 Alarm/Immobiliser
Alcantara interior trim / Sport 160 seats
Alloy window winders
Armorfend
CD/Radio Player
Body-colour hard top
---
The rolling road output for this car (shown below) can also be compared to the results for my old car here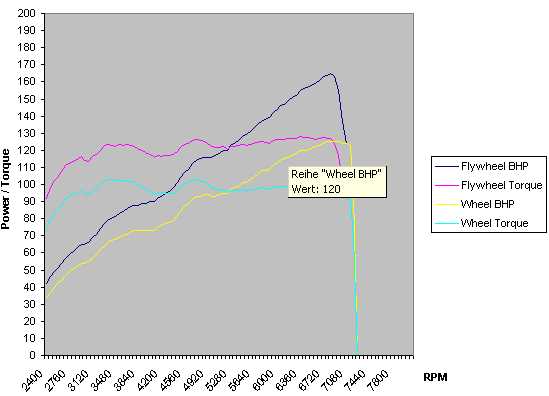 The car was inspected by Lotus for the floor corrosion problem common to all S1s and has been treated accordingly (see here for details).
As the "traditional" 160 rough idle was tedious on the daily drive, I fitted verniers and an Emerald ECU. The kangaroo at low speeds has now gone, and the torque smoothed further without losing the characteristic 160 "grumble". Lotus later brought out the drivability kit (see above) that provided the same "upgrade".
The suspension was knocking badly (another "feature" of S1s), so I fitted Nitrons & there was no noticeable degradation in ride (as reported by some), but gone were the "billiard ball" clonks. The suspension was rebuilt and geo checked by Plans Motorsport. Lotus Advan LTS tyres were the only choice really.