Lotus Elise 111S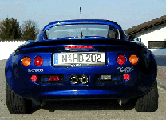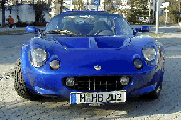 After more than a few problems with the MGF I decided to call it quits and buy a Lotus Elise. Lotus have been referred to as Loads Of Trouble Usually Serious - and I reckoned that I had enough practice of unreliability with the MGF!
Based on the same engine as the MGF VVC (see here for an explanation), but weighing in at only 1698lb (770kg), the Elise S111 boasts a 0-62mph (100km/h) time of 5.4secs (compared to 7 for the MGF).
This car was originally called the Sprint and shown in a windowless format, but later re-named the 111S when it was launched at the Geneva Motorshow in 1999. The main difference on this model is that it has the Rover K-series 1.8 Variable Valve Control (VVC) engine which gives 143bhp giving improved performance figures of 0-60 in 5.38 secs, 0-100 in 14.4 secs, and a maximum speed 133mph.
The VVC progressively changes the cam profile, unlike the Honda VTEC engine which is more of an on/off action. These means that it also comes into effect lower down the rev range, giving a wider and smoother power band.
The 111S also features wider 225 section rear tyres and some cosmetic changes such as new 6-spoke wheels, a spoiler, an egg-crate grille, and a carbon effect dash. It also has aluminium window winders and optional 111S decals.
This car was replaced by a 160bhp version of the standard engine named the Lotus Sport 160 in August 2000.
For my 160 page, see here
For the Tech Specs of the 111S and a comparison to my BMW M3, click here
Brochure details here
I knew that the F was fun to drive, but the Elise is MUCH better - the grin just keeps getting bigger :-)))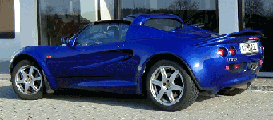 Mods
I just couldn't resist it, and tried a few minor tweeks.
After someone reversed into me in a car park I had to have a few minor repairs done, as part of that process I decided to upgrade the exhaust to a stainless steel version. Unfortunately, in Germany, the choice was limited to one version: the Moto Concept exhaust. To be honest, after the upgrade, I can't say I felt much change performance-wise - but at least it sounded a bit more serious (still not at all loud though).
Shortly after that, I replaced the standard panel filter with a K&N replacement panel filter. The car did seem to perk up a bit after that change, but again the change was not greatly noticeable.
After investigating various after-marker induction systems, I chose the Hurricane system from Yvo. At the same time, I also replaced the standard throttle body (with a plastic butterfly that is prone to sticking once it gets to about 2 years old) with the larger diameter and all ally throttle body for the MGF Trophy 160. This time the change in performance was very noticeable :o)
Throttle response is much quicker, but the engine still runs very smoothly, and is not at all jumpy.
I tried running with a cat replacement pipe too - engine noise picked up and as a result every tunnel became an excuse to blip the accelerator :o)
After these minor mods, I tried a rolling road session at Emeralds and was very pleased with the results (see here).