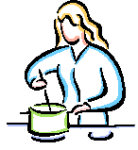 Christmas
Main courses are omitted here as there is so much choice, and cooking depends on weight / condition / preference. Sufficient to say that after trying goose (too fatty), and duck (too small, not so much meat), turkey is my favourite. I've been tempted by a whole salmon, but that doesn't seem quite right for Christmas somehow. As turkey can be a little dry, I recommend a free range bronze feathered bird, cooked upside down on a wire rack, and checked with a thermometer - see here for details.
Starters & Appetisers
Veg & Trimmings
Sweets
Drinks
Boxing Day & leftovers
Can't find the recipe you're after?.... then try this search engine....