Lotus is back in motorsport - with a vengeance!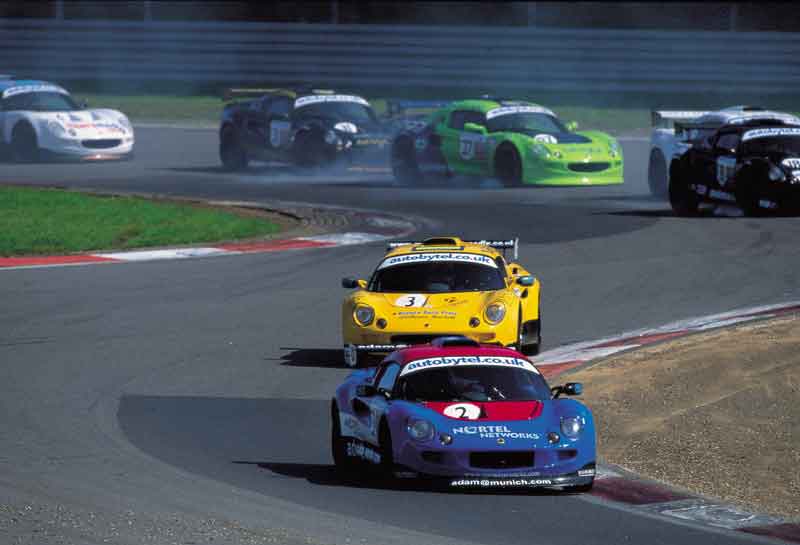 Lotus returned in triumph to the race track this year via the new-for-2000 Autobytel Lotus Championship.
The Autobytel Lotus Championship was conceived by Lotus Motorsport to provide an innovative one-make series that would be truly entertaining for drivers, spectators and sponsors alike.
In traditional Lotus fashion, the championship boasts some unique features. Not only is the series run by the factory, with the team supplying, maintaining, setting-up and transporting the Sport Elise race cars, but Lotus also sources the major sponsors and suppliers for the series. Sponsors compete and earn points in a car sponsors' 'Constructors' Challenge' which runs alongside the main drivers' points table - all part of Lotus' fresh look at injecting some fun into the sport.
Another unique feature is the race distance of 24 minutes plus one lap; this is to place the championship in line with major sportscar series world wide - the ultimate goal of the majority of drivers in the series.
This year such recognised brands as Anadin Ultra, Corus Hotels, Theramed, Nortel Networks and Toshiba have sponsored cars. In addition to having a Sport Elise painted in their own livery, sponsors enjoy corporate hospitality at the dedicated Lotus Motorsport Race Centre at the race meetings and participate in activity days with their race car and driver at Lotus' Hethel base.
The Championship's title sponsor, Autobytel.co.uk, was the first company to create an on-line environment to purchase new and used cars, finance and insurance from the convenience of a PC. Like Lotus, an innovator in its own field, Autobytel's multi-year deal sees all competing race cars adorned with the Autobytel.co.uk web address across their windscreen strips as well as providing Autobytel with its own fully branded Sport Elise.
Arguably no other domestic championship has attracted such well-known corporate sponsors in its first year. Confirmation, if needed, that Lotus is back in motorsport with a vengeance!
The Autobytel Lotus Championship
In excess of twenty Lotus Sport Elise racecars have battled it out all season at major race circuits throughout the UK and at such famous Grand Prix venues as Spa Francorchamps in Belgium and the Nürburgring Circuit in Germany. Not surprisingly, a combination of 'young guns' and experienced racers has produced consistently hard, fast and furious racing! A total of fourteen different drivers have visited the podium during the season, with five different race winners. Former Marcos Mantis Champion, Edward Horner, was a main championship contender from the outset, as were the impressive young guns, Ben Devlin and Spencer Marsh. More experienced racers, Mark Cole and Simon Hill, were soon mixing it with the best of them, as was former Touring Car driver Paula Cook. Celebrity Car drivers Tiff Needell, from BBC2's Top Gear programme, rally driver Gwyndaf Evans, former British Touring Car Champion Will Hoy and Boyzone's Shane Lynch all tried to show the youngsters how to do it - with varying degrees of success!
One driver, however, made every race count; from an unchallenged race win at the first ever Lotus Sport Elise race on the Brands Hatch Grand Prix track back in April, to victories at the awesome Spa Francorchamps circuit and the fabulous Nürburgring Grand Prix track. Another superlative lights-to-flag victory at the penultimate championship round at Silverstone, his seventh win of the year, subsequently confirmed twenty four year old Adam Wilcox from Litchfield in Staffordshire as the inaugural Autobytel Lotus Champion. His sponsor, Nortel Networks, also took overall honours in the hotly contested Constructors' Championship.
The Championship In Detail
The Autobytel Lotus Championship is the lead support race in the TOCA package, which is headlined by the popular British Touring Car Championship. Attracting race day crowds of 20,000 on average, the TOCA package represents UK racing at its very best.
Filling the gap between club racing and international sports car racing, the Autobytel Lotus Championship also appropriately supports several FIA Sportscar Series championship rounds in mainland Europe (this series was formerly known as the Sports Racing World Cup). Whilst dates have yet to be confirmed, return visits to both Spa Francorchamps and the Nürburgring are provisionally scheduled for 2001.
Cracking racing generates extensive multi-media coverage and the Autobytel Lotus Championship has enjoyed significant exposure to date. There have been over 6,200 column centimetres of print media coverage on the championship together with in excess of 50 hours of televisual exposure. Further, the dedicated Lotus Motorsport website, with its championship results service, received in excess of 90,000 hits a month during the season.
Exciting new projects from Lotus as well as bigger and better TOCA promotional budgets for 2001 should see the Autobytel Lotus Championship gain increased exposure Europe-wide.
Provisional 2001 Autobytel Lotus Calendar
Sun / Mon 15 / 16 April Brands Hatch
Sun / Mon 6 / 7 May Thruxton
Sat / Sun 19 / 20 May Oulton Park (Island)
Sat / Sun 2 / 3 June Donington Park (National)
Sat / Sun 16 / 17 June Knockhill
Sat / Sun 30 June / 1 July Silverstone (International)
TBA TBA FIA Sportscar Series Support
Sat / Sun 28 / 29 July Croft
Sat 11 August Snetterton - Night Race
TBA TBA FIA Sportscar Series Support
Sat / Sun 8 / 9 September Silverstone (International)
TBA TBA FIA Sportscar Series Support
Sat / Sun 6 / 7 October Brands Hatch (Indy)