The Lotus Sport Elise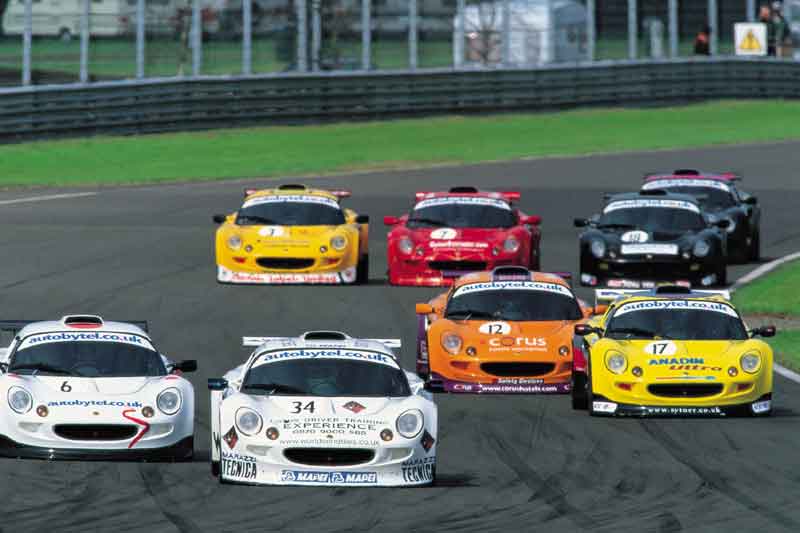 Although based on the remarkable chassis of the road-going Elise, the Sport Elise was designed to be pure racecar, through and through. The unbridled success of the car in competition this year has been such that no dramatic changes are necessary for 2001; it will be a case of evolution rather than revolution. Subtle dynamic changes to the suspension and aerodynamics are being developed, coupled with further work to reduce the weight of the car - one of the traditional Lotus hallmarks. The result will be a refined racecar which oozes enhanced style and performance whilst still reflecting the original genius of Colin Chapman.
The Lotus Sport Elise racecar proves the theory of racing improving the breed because every part can be bolted directly onto the standard Elise. Lotus Sport will ensure that the new racing developments are on sale to anyone wishing to upgrade the performance of their Elise.
Further, Lotus Motorsport provides technical support and race products for privateers competing in national race series around the world as well as offering performance parts to existing Lotus owners competing at club racing level. The Lotus Sport Elise is currently enjoying particular success in the ultra-competitive Grand Touring category in both Australia and Belgium. In total over 30 cars have been sold to teams around the world for events ranging from circuit racing, to endurance racing, to hillclimbs and even tarmac rallying.

Technical Specification
Engine:
Transverse mid mounted 4 cylinder water-cooled
Displacement: 1796cc
Bore: 80mm
Stroke: 89.3mm
Power: 200 bhp
Maximum rpm: 8000
Double overhead camshaft with hydraulic tappets
Electronic multi-point fuel injection
Janspeed performance exhaust
Water cooled with oil cooler
Electronic engine management system
Transmission:
Quaife straight-cut close ratio 5 speed gearbox
Torque biasing differential
Motorsport driveshafts
Body:
Aerodynamic composite bodywork with front splitter and adjustable rear wing. Modified engine cover and air scoop to aid cooling
Chassis:
Lotus-designed structure of epoxy bonded aluminium extrusions Fireproof rear bulkhead
Suspension:
Fully independent front and rear double wishbone suspension
Dynamic Suspensions 2 way adjustable racing dampers
Eibach race springs
Adjustable front anti-roll bar
Steering:
Rack and pinion
Brakes:
Front: 295 mm Rear: 295mm
Cross-drilled ventilated discs
Brake bias adjustment valve
AP Racing 4 piston calipers on front and 2 piston calipers on rear
Mintex 1166 brake pads
Unlaiden Weight:
700kg
Wheels:
Team Dynamics alloy, Front: 7j x 16
Rear: 8.5j x 17
Tyres:
Yokohama radial slick and wet racing tyres
Front: 190/580R16 Rear: 230/625 R17
Motorsport Equipment:
Recaro race seat with 6 point harness
Safety Devices full roll cage
Electronic fire extinguisher system
Ignition cut off switch
Stack motorsport instrumentation with data logger
Revised electrical switch panel
Performance brake lines