Lotus Elise - The Inside Story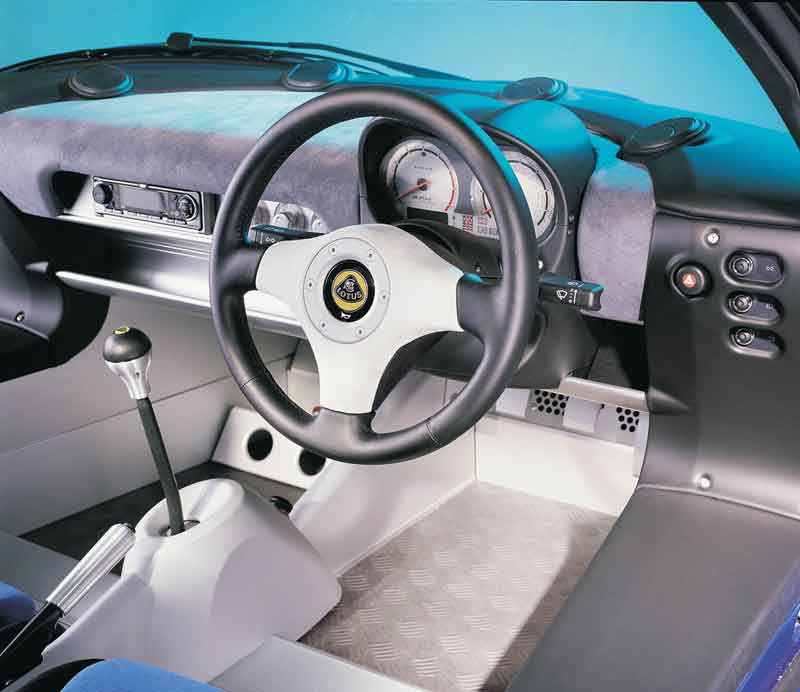 Access to the Elise cockpit has been improved thanks to the re-profiled sill design adding 40mm to the opening of the door aperture and reducing the width of the sill, whilst still retaining its impressive chassis stiffness. And as already outlined, access is even easier with the optional 'Gullwing' hard-top in place.
The exposed aluminium of the Elise's chassis tub is still one of the dominant features of the interior, but there's also a far more integrated and harmonious design sense to all of the other interior components. Overall, the effect remains one of thoughtful minimalism, necessity mixed with style.
All the controls are now of a high quality bespoke design, much of it using aluminium. The quest for enhanced quality even extends to concealed items, such as the window lift mechanism inside the doors.
One of the Elise's most distinctive features, the Stack electronic instrumentation, is now updated with new graphics. The race-style dials are now housed beneath a redesigned binnacle and blue back lighting adds to the jewel like design detail. Links between the Elise and the track have always been strong, and the ambience of the facia and trim with the chassis tub sides provoke a strong sense of being seated in a real sportscar.
Revised seats head up a list of interior refinements and optional equipment that also includes a new rear bulkhead trim incorporating improved noise insulation and twin audio speakers. Additional speakers can be located at the outer edges of the facia, giving, for the first time in the Elise, the option of a four-speaker system. Storage space was one of the concerns of the design team and this has been addressed. An optional full-width curved shelf runs beneath the facia and features ingenious extruded aluminium shelf-dividers which can be moved to firmly store objects such as drinks cans and mobile phones.
In response to the differing needs of the Elise customer base, the interior trim and other features will now be offered in two distinct option packages above the standard car: Sports Touring and Race Tech. Both Sports Touring and Race Tech options are a set price of £3,195 and £2,995 respectively over the standard list price.
Race Tech focuses on functionality and uses racecar materials to create a sporty interior without compromise. Sports Touring employs Nubuck leather for the padded seats, door trims and facia as well as carpets to offer a high level of refinement for long distance journeys.