Lotus Esprit V8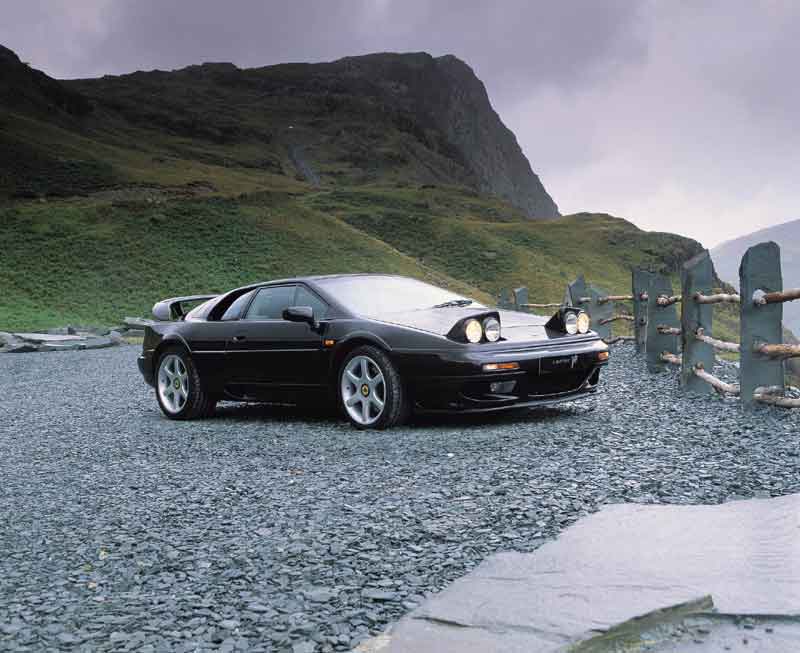 Engineered with a Passion
There is simply no mistaking the stunning, sweeping lines of the Lotus Esprit. A true thoroughbred, its looks are unsurpassed, its pedigree unquestioned, its sheer beauty unequalled.
The Esprit is much more than a mere car. It is the experience of perfect balance meeting exquisite design and engineering, it is phenomenal power, absolute control and devastating performance. The Esprit remains a truly exceptional road-going racecar.
At the heart of the Esprit beats one of the most advanced powerplants in production today. Innovative design has created an efficient, compact and lightweight engine that easily pumps out 100hp per litre in standard road form. Racing versions are currently producing over 550hp with very few changes from the standard road engine.
The Esprit V8 is an extremely refined and responsive supercar, designed to meet all our customers' requirements, offering an exciting blend of power, chassis performance and pure driving satisfaction.
The Esprit V8 is powered by the Lotus designed 3.5 litre twin turbocharged V8 engine. The product of thoughtful design, the engine is efficient, compact and lightweight - weighing less than 220kg complete with all ancillaries.
With up to 350 bhp (260 kW) at 6500 rpm available, the Esprit V8 accelerates from 0-100 km/h (0-62mph) in 4.9 seconds, 0-160km/h in 10.3 seconds (0-100mph in 10.54 seconds) before reaching a certified top speed of 280km/h (175 mph).
A wide torque band with a peak of 400 Nm (295 ft.lb.) at 4250 rpm assures an incredibly smooth power delivery and an effortless but rapid acceleration in all five gears.
For 2000, the Lotus Esprit V8 inherits the brake system from the legendary Lotus Esprit Sport 350. Powerful 4-pot calipers with an advanced Kelsey Hayes ABS system are coupled with new, larger diameter 320mm AP Racing two piece brake discs which are vented and cross-drilled, both front and rear, for maximum cooling and heat dissipation when the car is subjected to sustained heavy braking. These brakes include race specification calipers, pads and discs and elevate the Esprit to even higher levels of performance.

LOTUS ESPRIT V8 SPECIFICATIONS
Engine:
3.5 litre twin-turbo V8
Power:
260 kW @ 6500 rpm
Torque:
400 Nm @ 4250 rpm
Compression Ratio:
8.0:1
Cooling System:
Dual front-mounted oil coolers
Clutch:
215mm dia. pull-actuated AP Racing twin plate, hydraulically operated.
Transmission:
5-speed manual ansaxle from
Renault Moteurs
Ratios: 1st: 3.364
2nd: 2.059
3rd: 1.381
4th: 1.037
5th: 0.756
Rev: 3.546
Final: 3.889
Performance:
175mph (280 km/h)
(certified by RDW)
0-60 mph 4.8s
0-100 km/h 4.9s
0-100 mph 10.54s
0-160 km/h 10.3s
Dimensions:
Length: 4369 mm, height:
1150 mm, width: 1883mm
Unladen weight:
1380 kg (front 590 kg, rear 790 kg, distribution 43:57)
Wheels:
Six-spoke single-piece alloy wheels by OZ with unique Lotus logo.
Brake System:
Competition calipers all round. New Kelsey Hayes "430" three-channel ABS controller with tandem master cylinder and vacuum servo assistance. AP Racing curved-vane ventilated and cross-drilled discs, 320mm diameter two- piece units, front and rear.
Exhaust:
Starter and main 3-way catalysts per bank, feeding into both ends of single transverse-mounted muffler, with one outlet each side.
Fuel Consumption:

| | | |
| --- | --- | --- |
| | mpg | /100 km |
| Urban: | 14.12 | 20.0 |
| Extra-urban: | 30.34 | 9.3 |
| Combined: | 21.24 | 13.3 |