Lotus Exige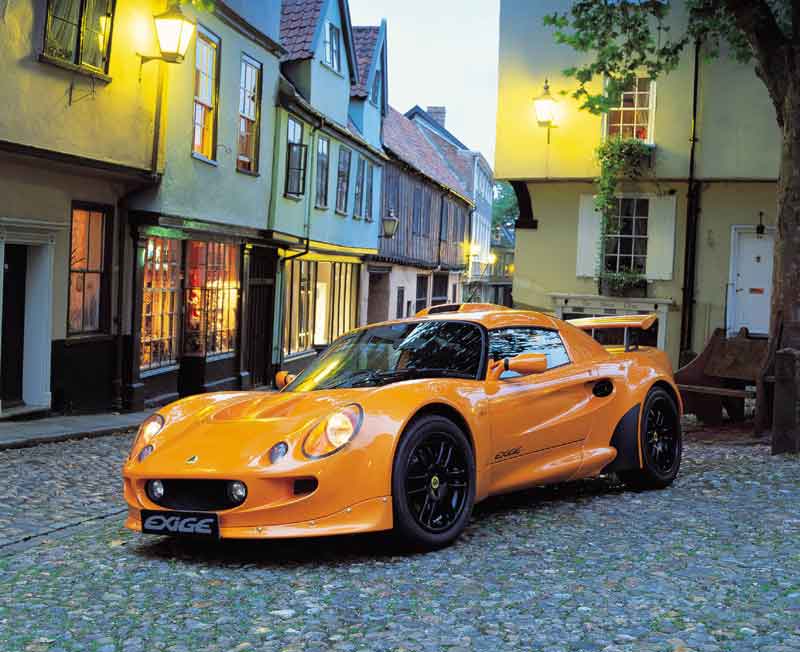 Another modification is to the panel above the engine bay, changed from a solid panel to a neatly styled transparent polycarbonate tailgate glass and composite moulding to improve rear visibility. The Sport Elise's roof forced air intake is retained to work in combination with new cooling vents in the tailgate, recognising the fact that unlike racecars, road cars are sometimes stuck in traffic.
Inside the Exige has two seats, rather than the single centrally located item in the Sport Elise racer; the central driving position was considered, but Lotus engineers decided that if you own a car as thrilling as the Exige, you'll want to share the experience with friends and family. Both seats feature optional race-style four-point harnesses.
Mechanically the Exige has the same broad track as the Sport Elise and the same wide wheels and tyres, although slicks being a tad impractical for road use, it's fitted with a set of specially developed Yokohama A039s. It has the excellent Lotus sports suspension with retuned spring and damper rates to exploit the exceptional level of aerodynamic performance and high levels of downforce. Slowing the Exige down shouldn't be a problem either with the top class AP Racing front brake calipers and 282mm diameter cross-drilled and ventilated discs all round.
Nestled beneath the Exige's engine cover is a 179PS (132.5kW) derivative of the 1.8-litre K series motor. Although hardly lacking in power in standard form, this engine can easily be upgraded to 195PS (143.2kW) using products from the Lotus performance accessories range.
In fact, owners wanting to personalise their Exige can upgrade many aspects of the car using accessories not just from the standard Lotus range, but from the Lotus Motorsport range, too.
The Exige is a completely new model in the Lotus line-up that, in the great tradition of Lotus founder Colin Chapman, is quite literally a racecar which has been converted for road use. In fact, some of the very first Lotus cars, such as the Lotus 8 and the legendary Lotus 11, were track cars made road legal.
The Exige is available throughout the Lotus dealer network, priced at £29,995 across Europe.