Lotus M250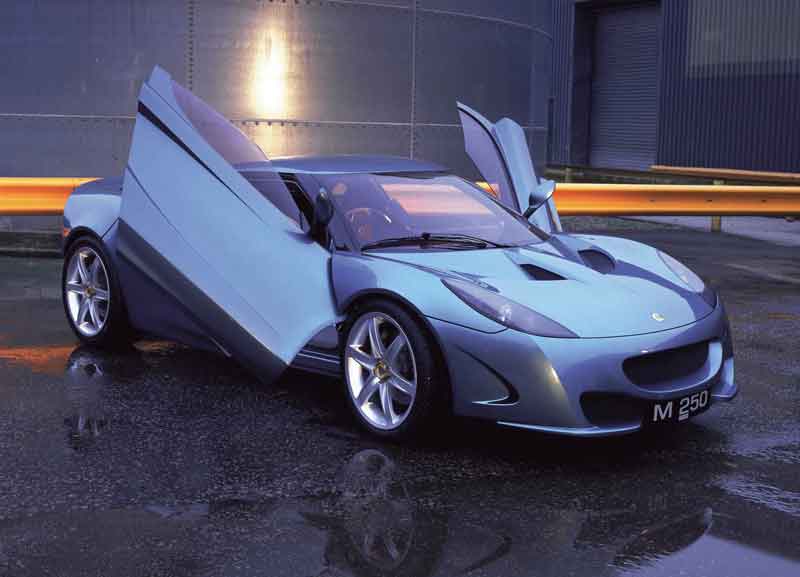 Stunning Lotus coupé gets green light
It's the news that everyone has been waiting for - Lotus is putting the fabulous Project M250 coupé into series production, with production expected to start in the early part of 2002, and a price tag of approximately £40,000.
With styling little changed from that of the concept car first shown at the 1999 Frankfurt Motor Show, the lithe and sleek Project M250 will set new standards of performance and handling within its price segment. Blessed with the same strand of Lotus DNA which makes the Elise so special, Project M250 uses the very latest composites technology to keep its weight below 1000kg; this not only helps give it true supercar performance - 0-60mph in less than 5.0secs, 0-100mph in under 11.0secs - it also allows for unrivalled agility and unprecedented performance.
Power for European versions of Project M250 will come from a Lotus-developed, mid-mounted, 250bhp 3.0 litre V6 engine.
By translating all the attributes (and more) of a much more expensive supercar into a £40,000 one, Lotus is bringing the thrills and excitement of the supercar experience to a much wider audience. So although Project M250 will have price rivals, it will actually have created a niche all of its own. And that niche sits mid-way between the Elise and Esprit.
The announcement to build Project M250 reflects the fresh spirit of optimism inside Lotus; dealers already took over 1000 orders while it was still just a concept, showing that this excitement is wholeheartedly shared by the outside world.
Project M250 - it's a true Lotus, without a doubt
There are good sports cars, then there's the Lotus Elise - it raised the game right throughout the market and remains unbeatable, particularly for sheer driving pleasure. But Lotus has learned many lessons from the Elise, and Project M250 looks set to improve upon its multi-award winning formula. It will be a superlative driver's car, but then you'd expect nothing less from Lotus.
As far as Lotus is concerned, the path to dynamic brilliance is the one signposted 'light weight'. Project M250 uses a development of the Elise's bonded extruded aluminium chassis, and its bodywork will employ high-tech solutions and innovations through the use of advanced composites.
Not only will these technologies help to keep the weight below 1000kg, combined they create a bodyshell with class-leading torsional stiffness. It's the ideal platform on which to mount the suspension components - a rigid base allows the chassis engineers to fine tune and work magic with the suspension set-up, while the light weight enables the chassis to respond crisply and swiftly to a driver's inputs.
For that same reason, Project M250's throttle response will be electrifying and its acceleration brutal. It will feel as if it has much more than just 250bhp, and in the mid-range (the part of the rev band you use most often) its performance will be simply breathtaking. The standard quoted acceleration figures tell only a very small part of the overall story.
Speed isn't everything
Top speed of Project M250 is limited to 155mph. Although the car could go faster, Lotus engineers have been able to design in far greater aerodynamic stability at normal (though still high) driving speeds, by artificially restricting the top end.
The reasoning is that optimum handling should always take priority over a top speed which looks good only on paper. And fine handling and agility (from which springs genuine driver satisfaction) is what marks Lotus cars out from the crowd.
For the same reason Project M250 is rear-wheel drive and doesn't have a microchip anywhere to help the handling along. The Lotus Ride and Handling team believes that if a chassis is good enough you'll be able to feel exactly what the car is doing; if you overstep the line a little, then a well sorted chassis will allow you to drive your way out of the situation.
Good drivin', good lookin'
The requirements of homologation and general development work means that Project M250 may change in detail from the car you see now. However, all the basic elements will be carried through to production - the compact and well proportioned lines, the cab-forward design, the short overhangs, the aggressive yet elegant look. It's a car with visual as well as dynamic 'attitude'.
It's also a car with a strong Lotus identity, as Russell Carr, Chief of Design, explains: 'We had an open brief to design Project M250, but we though it important to create a family link with the Elise and 340R - you can see it in the sleek and athletic proportions, and through details such as the top-exiting front radiators and the stylised side vents.
Russell Carr continues: 'Project M250 is highly distinctive and original. I'm particularly pleased with the seamless way it blends flowing, sensuous lines with crisp, contemporary design elements.'
Power, poise, style... and comfort
A hard-edged, red-blooded driver's car it may be, but Project M250 boasts all of the creature comforts expected of a car in this price band - air-conditioning, central locking, electric windows, and even the option of satellite navigation.
The hi-tech interior is spacious, too. It's designed to accommodate a 98th percentile male (in other words, big), and there's space behind the seats for not just one, but two sets of golf clubs.
The cabin is so beautifully styled that you may just want to sit in it all day and revel in its detail. Scissor-action doors, which open outwards and upwards to facilitate easy access to the cabin, complete the impression that Project M250 is something truly special.
Target production volume for Project M250 is 4000 units a year, and a significant expansion programme at the Hethel factory is nearing completion to accommodate the new production lines.