Rosso Bianco Collection / P4130012
13/04/01
Maserati A6 G 2000 Frua Spider, 1956
6-Zylinder
150 bhp / 112 KW @ 6000
Top Speed 201 km/h / 125 mph
ROBIC Nr 93
One of the arrangements of the sale of Maserati to industrialist Omar Orsi in 1937 was that the Maserati brothers would continue to work for the company for another ten years.The brothers honoured the agreement and continued to work for the factory until 1947 when they left to start a new company of their own; OSCA. Orsi was on his own, but the Maseratis had left a newly designed straight six engine. Although it was planned to be used in motor racing, it would first find its way into Maserati's first Grand Tourer. Orsi understood very well that building just racing cars was not going to be enough to keep the company afloat, so he ordered his engineers to construct a road car. This would by no means be a mass production car, but rather a very exclusive sports car.
Dubbed A6, the new Maserati debuted at the 1947 Geneva Motorshow equipped with a Pinin Farina designed body. Poor performance, high price and bland styling did not make the A6 coupe a very big seller. A second version of the A6 was announced at the 1951 Paris Motorshow, but again it was not a sales success and only 16 examples were completed. In 1954 a third evolution of the six cylinder road car was introduced. Commonly referred to as the A6G/54, it was equipped with a completely revised engine, which now featured twin camshafts and plugs. This engine was directly derived from the Maserati single seater and sports racers and produced a more competitive 150 bhp. Another great help was the availability of much better looking bodies from Frua and Zagato. Production lasted for three years and 63 cars with a wide variety of body styles were built. It was replaced by the 3500 GT, which was more or less a production car, ending a decade of custom Maserati Grand Tourers. The Pitro Frua Spider body is seen here.
Pietro Frua started working just after WWII, with a design based on a Fiat 1100. His first major assignment was the production of a number of bodies for the Maserati A6. In 1957 he joined Ghia but left after a dispute about who actually penned the Renault Floride and became independent again. From then on a number of famous cars came from his studio, including his work for Maserati, BMW and Monteverdi. The car is constructed using the technique patented by Superleggera Touring (aluminum panels mounted on a fine mesh tube).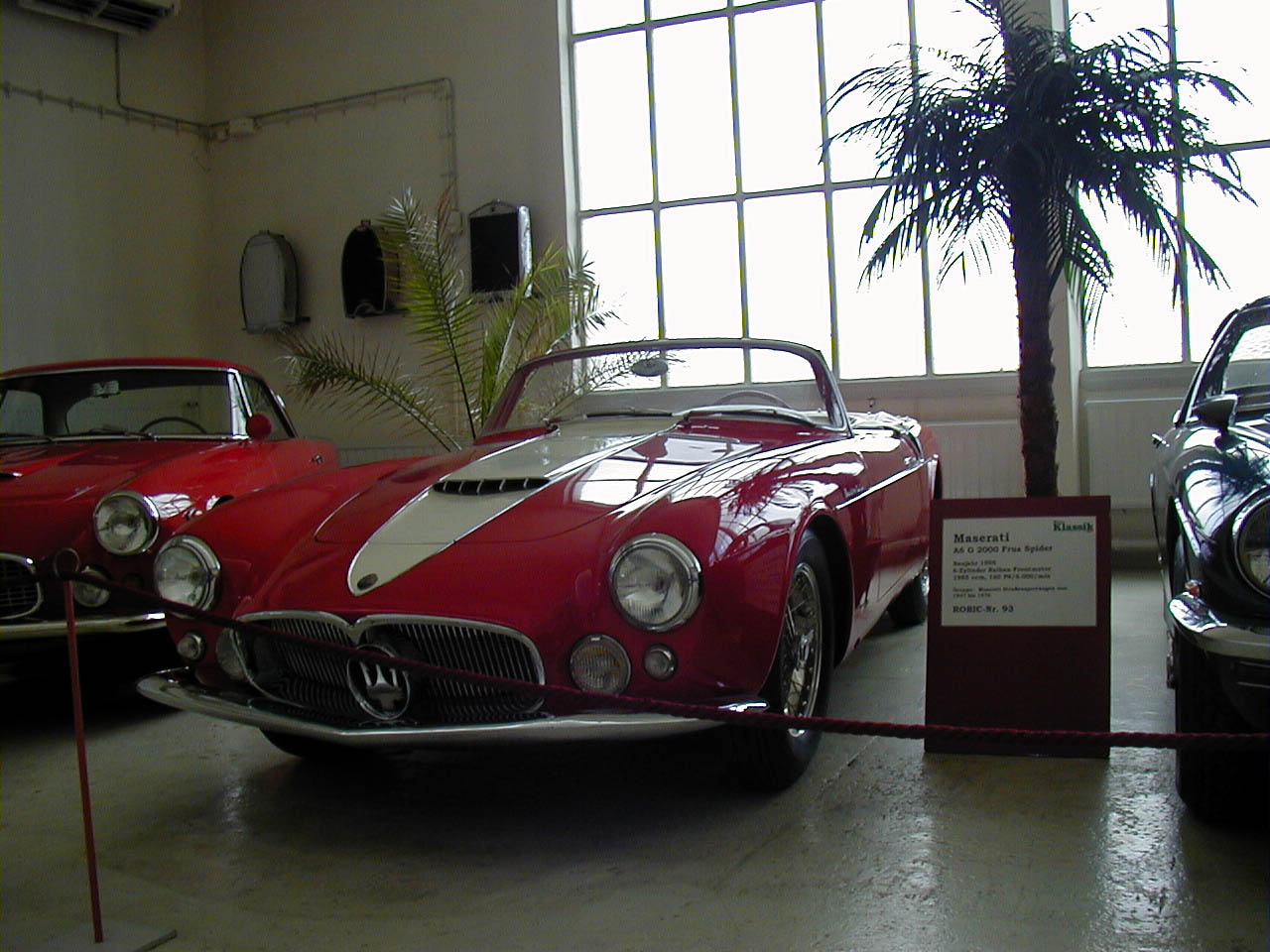 Carrosserie :

Body:

cabriolet

Convertible

Année :

Year

1957

1957

Energie :

Energy:

essence

Gasoline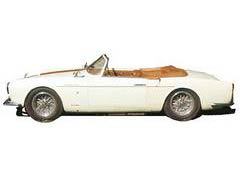 MOTEUR

ENGINE

Cylindrée

Displacement
1985 cm 3 1985 cm 3

Nombre de cylindres

Cylinders

6

6

Disposition des cylindres

Cylinder

en ligne

Inline

Nombre de soupapes

Number of valves

12

12

Alimentation

3 carburateurs Weber

3 Weber carburetors

Puissance

Power

150 ch à 6000 tr/min

150 hp at 6000 rpm

TRANSMISSION

TRANSMISSION

Roues motrices

Drivetrain

Propulsion

Propulsion

Boite de vitesse

Gearbox

A 4 rapports

4 speed

FREINAGE

BRAKES

Freins avant

Front Brakes

Tambours en aluminium

Aluminum drums

Freins arrière

Rear brakes

Tambours en aluminium

Aluminum drums

Options

Options

Servofrein

Booster

ROUES/PNEUS

WHEELS / TIRES

Jantes

Rims

16 pouces

16 inches

SUSPENSIONS

SUSPension

Train avant

Nosewheel

roues indépendantes, ressorts hélicoïdaux et amortisseurs hydrauliques, barre anti-roulis.

wheel independent coil springs and hydraulic dampers, anti-roll bar.

Train arrière

Rear

pont rigide, ressorts à lames semi-elliptiques et amortisseurs télescopiques.

Rigid axle, leaf springs, semi-elliptic and telescopic shock absorbers.

Controle de trajectoire

STABILITY CONTROL

Non

No

DIMENSIONS ET CAPACITE

SIZE AND CAPACITY

Empattement

Wheelbase

255 cm

255 cm

Poids à vide/PTAC

Curb weight / GVWR

1100 kg

1100 kg

PERFORMANCES

PERFORMANCE

Vitesse maximale

Speed

210 km/h

210 km / h

PRODUCTION

PRODUCTION

Début de commercialisation

Early marketing

1957

1957

Production

Production

60 exemplaires de 1954 à 1957.

60 copies from 1954 to 1957