Peugeot 205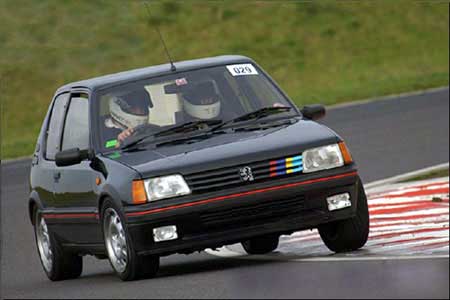 Bedford Autodrome

205 info (pdf)
Autocar Jan 87 article (pdf)
Autocar Test Report (pdf)
Renault 5 comparison (pdf)
Jackals 205 page here
The French automobile producer Peugeot manufactured the 205 for 14 years, between 1983 and 1987. The production of the car in the UK ceased a year earlier. The higher performing GTI hatchback was equipped with either 1.6 or 1.9 litre engines, producing over 105bhp for the smaller of the two engines. The 205 was awarded the "Car of the Decade" in CAR magazine in the nineties, and the 205 GTI is often cited as the hottest of the "hot hatches".
The lack of electronic driving aids and the oversteer experienced when cornering hard make the car fun to drive. The initial 1.6 power was increased by around 10bhp when the new XU5JA engine was fitted which had larger valves shared with the one point nine engine. The 1.9 litre engine produced 126 bhp, yet the power was decreased in the late models, down to 120. The decreased power was seen as an answer to the increased insurance premiums for the car which was badly affecting sales.

There were subtle differences between the 1.6 and 1.9 litre models, the former had clothed seats, smaller alloys, and disc / drum brakes; whilst the larger engine variation had half leather seats, fifteen inch alloys, and all round disk brakes.
Proof thet the Pug 205 is the best car ever here (flv file of Clarkson test drive)
Peugeot 205 1.9 GTi (non sunroof - 1990)
123,000 miles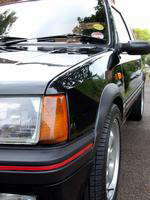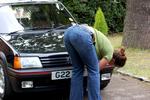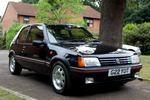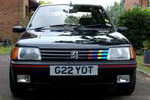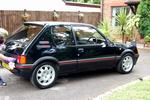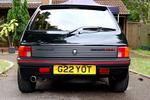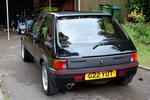 Above the standard car this car has had a few careful mods to keep in top condition and feeling like the sharp car they always were:

All suspension bushes replaced with polybushes

Uprated shocks all round and slightly lowered (does not look much lower than standard)

Full Magnex exhaust system including manifold

K&N K57i kit installed and correctly fitted.

All gear box linkages replaced and short shift kit fitted to give a short but as new feel to the gear change

In the last few months it had developed a weeping radiator , so it's had fitted a new radiator , new water pump and as it has to come off to fit the pump a new cam belt .

2 new front tyres rears look like new.

The car has a Cat 2 Thatcham immobiliser fitted.